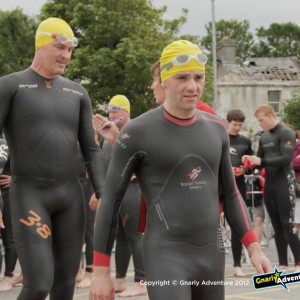 For a few years now I have challenged myself with different things. I'm a firm believer that if you put your mind and work into something you want to achieve you will succeed. Last year it was a mix of my business,to keep it going, and also my first marathon in Dublin. My aim was to do it in under 4 hours (with my own bad way of training!) which I managed 3hr45. For a few years I wanted to get into triathlon but just didnt have the time. But this year I decided I had to do it now and a friend of mine Jim McHale filled me in on all the details to get going.
So I joined the Ennis Tri Club and started the winter training at the run track and Fahy Hall with the turbo sessions. I had/have a few goals this year which were Ballyvaughan half marathon, which I have done the last few years, Hell of the West and Ironman 70.3  Galway and Lanzarote. Training was going well with STL's programs but I decided to join up with him as my coach. He set out a good training program and worked hard the last few months with it….I've come along way from my first duathlon in Limerick (I might as well have had a cup of tea and biscuits in my first transition!!) to where I am now.
My first triathlon was in Waterville and with little or no open water training (one evening with Johnny o' Laughlin in Quin lake) started very bad with not being able to swim… got around in under 22mins. So my race started on the bike, had a good bike and also a good run. Next up was the half marathon and again thanks to Stephan had my best run and finished 12th overall. After that I did the Tri the Burgh sprint, which was a sea swim and was a hugh improvement. I came out of the water in 27th and with a good bike and run made it up to 13th overall.
My next focus was my A race, the HOTW. I did the aquathon series that Go Tri were running in Kilaloe and found this so valuable. My open water swimming improved quiet fast and I felt a lot more comfortable and confident in the water. I did a few club swims as well as two weekends back in Kilkee. I knew now I was prepared for one of my biggest challenges!
That morning I had a good breakfast with eggs and a made up a juice of fruit and veg with natural yoghurt and a few more bits! Did a quick equipment check, loaded up the van and travelled back to Kilkee. Got transition set up, kept hydrating and was finally ready for the challenge! Did my run warm up and got prepared for the swim. I felt relaxed and ready and when we were released to got down to the water just started to get ready when suddenly the race had started! Got into a good pace and though navigation wasnt too easy exited the water in 33.42. I had a good transition 47 seconds and got out on the bike. There was a bit of work in this with the wind and rain and also I could have done with tri bars! With about 10km to go I started to prepare for the run, taking on a gel and fluids, along with some stretching with 3km to go. I was happy enough with 1hr24.12 and again had a good transition of 49 seconds and got out on the run.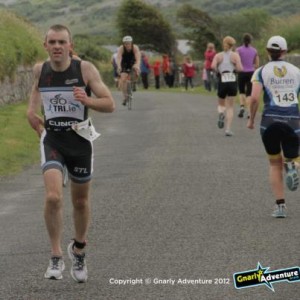 For the run I felt good, my legs were 'happy' to push. My runners had gotten wet in transition while out on the bike and about 4km in I could feel blisters setting in. The last 3km it was like something biting my feet and I taught the faster I go the sooner it will be over! 44.44 was my run time.At the finish I was very happy with my overall time of 2hr44.17 in my first olympic distance triathlon. All the hard training with STL had paid off and I enjoyed the event despite the conditions, but it was the same for everyone! Next is the Burren tri and then some hard training for Ironman Galway. Its also great to see the Go Tri team getting some great results this year with more to come!
In life if you have goals you wish to achieve, weather it be in sport or work etc, a little hard work with a positive mind will get you there. I have a little way to go yet in my goals but I'll keep working towards them!
Flash- HoTw race report from Race cars to Bikes