GoTri 5k a day January Challenge in aid of  ASD units within local schools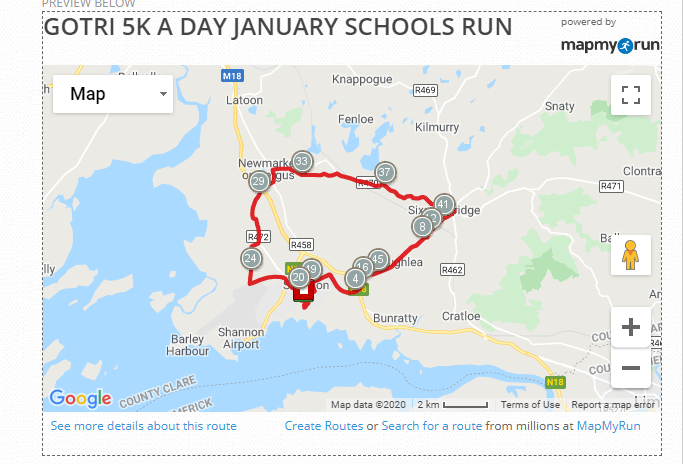 The schools local to us are
Shannon : Gael Scoil Donncha Rua, Shannon
Stonehall : Stonehall National School
Ballycar, Newmarket on Fergus : BALLYCAR NATIONAL SCHOOL
Sixmilebridge : St. Finnachta's N.S. Sixmilebridge 
A bright idea came up –  THAT – we should try to run to all the schools, starting and finishing in Shannon. The total distance is aproximately 41 kms – just short of a marathon which is 42.2km
This coming weekend we are hoping to give that a go and maybe just maybe we will run an extra few steps around the new Shannon town park ( Mckee park ) to make up the total distance.
We do anticipate a coffee stop for a refueling in Sixmilebridge before the last push for home.
If anyone wants to join us for part of it or all of it let us know – the more the merrier
Proposed for Sunday morning @ 8:30am leaving the Gael scoil – this may change due to the weather etc – any updates we will post again here to confirm the leaving time and location
all for the fun and joy of running for a good cause !!!
We hope this map works
http://<iframe id="mapmyfitness_route" src="//snippets.mapmycdn.com/routes/view/embedded/2858835373?width=600&height=400&&line_color=E60f0bdb&rgbhex=DB0B0E&distance_markers=1&unit_type=metric&map_mode=ROADMAP&last_updated=2020-01-13T04:37:19-06:00&show_marker_every=4″ height="400px" width="100%" frameborder="0″></iframe><div style="text-align: right; padding-right: 20px;"> <a target="_blank" rel="noopener noreferrer" href="http://www.mapmyrun.com/routes/create/">Create Routes</a> or <a href="http://www.mapmyrun.com/routes/">Search for a route</a> from millions at <a href="http://www.mapmyrun.com">MapMyRun</a> </div>
GoTri 5k a day January Challenge