What a day it was. April 14th has been my favourite day of 2012 so far.  I descended upon the race venue at the sunny hour of  7am for a race start of  7.26 am with the ladies race up first. Obviously I was super excited to see our own Aileen Morrisson and Gavin Noble race but the real excitement lay within the New Zealand automatic qualification spot for London for the first Kiwi to cross the line in the top 8. ( It was their last chance as the team was named last week. )
To see a race on the world cup series run right before my very eyes was something I wasnt expecting to get to see on my travels over here, but to get to see it in SYDNEY of all places was absolutely ridiculous and to top it all off, to have 3 teams vying for olympic qualification was absolutely ridiculous and the season opener too – haha I can be so poxy sometimes! Smiles all round on that day as you can imagine!
The swim start was very intense. If it felt that way for me, I can only imagine how the women felt themselves. Silence descended upon the pontoon – ready ? BOOM. All the athletes dive in and its hell for leather for the first 500m metres. Strong swimmers make their way to the front – decent swimmers hope for the best and stay in the pack and the weaker swimmers just get beaten up like I've never seen before! Rough az doesnt even begin to describe the ''swimming'' around the buoy, if you can even call it that. A fight for survival I would say! Someone has to come out on top – and when I say that I mean it in the literal sense … someone swims on top of everyone else and makes it out the far side , everyone else is shoved down and struggles to keep any form of a stroke going at all!
Transition time – Sydeny has 2 seperate transition areas. T1 – blue carpeted with all the bikes, T2 blue carpeted with all the runners and the HUGE finishing line! After the swim, the women made their way to their bikes – quite the run to T1 but none the less. Out on to the bike course and off they go. The crowd moves like a swarm of bees. Everyone legging it up the hill that the women have to climb a million times over! Some clever people brought their bikes with them to watch the race – clever thinking! Others, like me, were on foot and were getting our own run session in during the racing itself…whose clever now??!!!!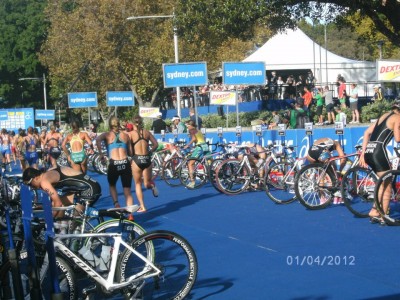 Aileen had a great swim and exited the water in 4th – pretty classy in a WCS race. She biked really well, staying in that main pack all the time –staying out of danger. She looked strong and ready to hit the run hard.
I couldnt even begin to express how in awe of everything  I was. Olympic champs running by me, world champs running by me and sure throw in European champs and Asian champs and sure … there I stood – gobsmacked by the entire show! Its hard to put into words how cool an experience it really was.
The run was pretty cool – when you are less than a meter away from the athletes running by, it really gives you a proper insight into how much pain they are in. Obviously, as an athlete you understand the pain but at the same time, you will never actually know how much pain they put their bodies through because well, plain and simple – you are not them! Grimicing faces and tired bodies ran by lap after lap and you could see the pain written all over them. All you can do is cheer them on in hope that a familiar sounding Irish accent will help drive them on – home support can go a long way Im sure of it! Who's to know if they even hear you shouting for them but at least you tried!
The womens race had an unbelievably exciting finish with Erin Densham making another great break and winning her 2nd race in a row. She seems to be running out of her skin at the moment and its making the posible Aussie Olympic team look stronger and stronger – they have yet to be selected.   ( Emma Moffat is the only certain spot at the mo.)
Aileen ran to finish in 28th place – she said after the had stomach issues on the run. You cant help that so she ran pretty well considering. A boi Aileen!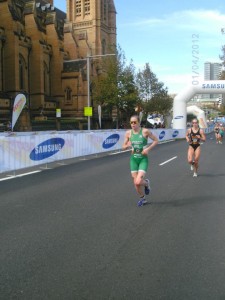 One thing I realised while watching the race, that you definitely dont see on tv, is how much goes on beyond the top 20. There are athletes making WCS debuts and nothing is noticed of them. Racing on the world circuit is quite the bloody achievement so when you actually take time to watch every single last body come over the line and see the joy ( although they look absolutley shattered) in their faces , its really something special. They had set themselves goals for that race, maybe it wasnt to come top 5 or podium or be first out of the swim, but the joy in their faces proves that those minor goals were achieved. Maybe it was only the nailing of both transitions, or maybe it was simply to give it everything and leave nothing on the course – either way, they work as hard at the top 20 finishers and by god does it show! Im pretty sure the last athlete to cross the line, although slightly sadened by that result, took away positives from that race. Not everyone is going to win or podium or have the perfect race in their WCS debut so I commend every athlete that races at that level.
Quick toilet break and it was a major sprint back down the hill – the tempo section of my run session that day – where the start of the mens race was soon to start. Again, the intensity at the start of the race is something I dont think you can really appreciate unless you are actually there. The men dive in and all you see is white water – so much carnage going on in there, you just hope nobody loses a limb!
The mens race was majorly important for me! I had swam in the weeks running up to the race with Kris Gemmell ( whose hometown is where I am living in NZ) and Ryan Sissons ( who is only 23 and was last week selected for London) so I had a wee connection with the race that I've never had before. In the run up to the race, during our swim sessions, all the talk was based around the lads and the Sydney race and the focus on the Olympics etc etc etc so I was pretty excited to see how the race would unfold.
For Kris Gemmell, who, this week turns 35, it was his last chance to make his last olympics and for Ryan it was his last chance to make this first olympic team and gain the opportunity to experience the olympic dream. The protocol was, finish 1st Kiwi over the line within the top 8 and BOOM – olympic spot sorted!
Unfortunately for Ryan his dream came to an abrupt half on the first lap of the bike where he crashed out and was rushed to hospital with a suspected broken nose and collar bone. Obviosuly not the ideal situation. All confirmed after that he was ok – thank god!
Kris on the other hand, had a great swim, did what he needed to do on the bike and played his cards right on the run to finish in 7th place, 1st Kiwi home. I cant even explain the emotions that ran through me in that moment when he crossed the line. ( you'd think I was Kiwi) Im not going to lie and say my eyes didnt fill with tears, I wasnt expecting to feel that at such a happy time but I guess my head was more in the game than I knew! It was pretty damn cool!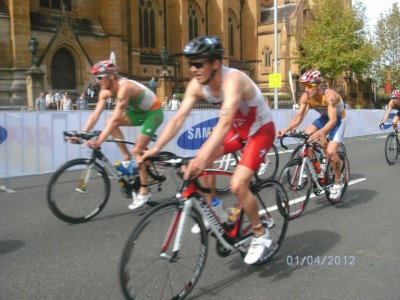 And as for watching MACCA, first hand try his hand at olymapic qualification – that was just something I can say I will never experience again. I saw history in the making right before my very eyes and it was ridiculous. He finished first Aussie over the line as he needed to do but he finished down the result sheet a bit lower than required. If he had sealed the deal on that day I probably would have died of happiness. I wouldnt have been able to dream of more exciting stories but none the less I saw it all happen up close and personal.
Sydeny was quite the experience and I will cherish it forever. I've had such an exciting weeks training this week just gone, purely because Im still buzzing after the race. Nothing better than wearing the winners swim cap to get you going every morning as you jump into the pool!
Sydney you have set the standard high and I expect you to top it when I arrive over the next time round….
You can follow Ailbhe on her travels in New Zealand on her website www.ailbhecarroll.com
GoTri Athlete Ailbhe Carroll reports from the 1st ITU Cup race of the year from Sydney Australia