The now annual "bank holiday" GoTri Triathlon training weekend incorporating the Pink Baloon 10km and the Tri the Bay Swim went ahead last weekend with great success.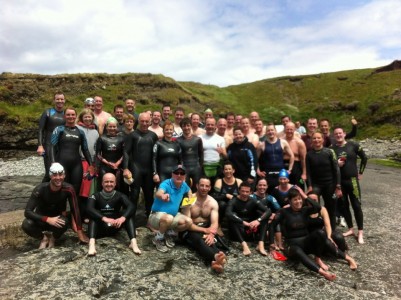 The swim sessions over the weekend focused on doing the simple things right and aiming to complete the big bay swim, the difference in all the athletes was amazing.
Simple drills to practice in the pool for open water success
Front crawl double hand scull breathing to the front
Front crawl single hand scull – sighting to the front breathing to the side
front crawl single hand scull -with single arm pull sighting to the front breathing to the side
The kilkee bike course is never an easy cycle, the winds are very unpredictable and if its raining it can be miserable. The athletes on camp however did not let this phase them. 3 seperate groups took on the course with the locals passing on some tips and Gally keeping everyone on their toes with the final hill reps.
Coaching Tips for the big day
The bike section doesnt start until the gravel pits, let your hr fall after the swim
Spin your legs, do not be in the big ring
Make sure you are in your bike shoes by the end of the beach
The run course starts on the bike course, dont kill your run on the last hill.
Race smart: dont forget your nutrition
The bank holiday weekend in kilkee is a hive of activity and we are blessed with all thats going on. We always take part in the Pink Baloon 10k in Aid of Breast cancer awareness.
This is a great way of testing your legs and your times against whats going to happen on race day. Day 2 of the camp, your legs are always heavy feeling and its not easy to run fast times. Unless your Davy Fitz that is….. 🙂 so taking on the Pink Balloon run is always a great way of testing your pacing strategy for race day.
Run Tips for the course
long hill reps 4 x 5mins holding 85% hr off 2mins recovery
focus on running tall and not leaning at the waist
driving the arms that drive the legs
shorter faster steps
A big thank you to all the Gang that helped out over the weekend
A special thanks to Gally, Dave, Eugene and Cillian
You the athlete make GoTri a success, a big thank you to all who took part in the training weekend, if you have any questions please email info@gotri.ie