Well here it finally is, almost a month late. My Art O'Neill Challenge race report! It's probably hard to talk about the event without briefly going into the history behind it. The inspiration for the challenge dates back to 1592 where Art O'Neill, his brother Henry, and Red Hugh O'Donnell made their escape from Dublin Castle where they have been held in captivity at the hands of the British. Despite being malnourished, poorly clothed and not possessing any Garmin devices of any sort they made a break for Glenmalure, a stronghold of the O'Byrne clan who were allies of the two families. They chose a route that went across the top of the Dublin & Wicklow Mountains as the N11 wasn't in great nick at the time, still being fields. To cut a long story short Art O'Neill didn't survive the journey, falling foul of the freezing temperatures just short of Table Mountain, while Red Hugh O'Donnell was rescued from the brink of death and subsequently lost the use of his legs for some time as well as both of his big toes. For the past 50 years or so walkers have traditionally completed the route as the Art O'Neill Walk but in 2009 it was turned into an official event in order to raise funds for Stuart Mangan, a talented young rugby player who was paralysed from the neck down during a rugby game.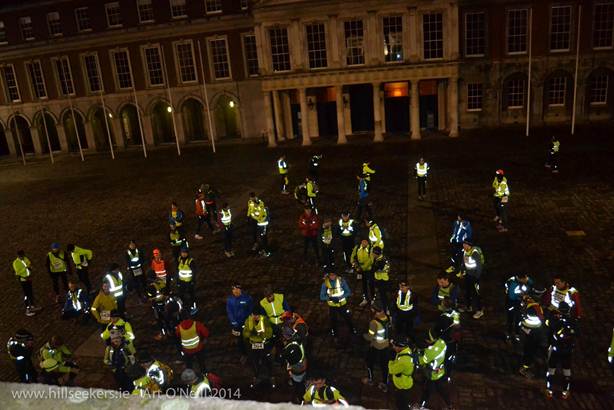 At 11pm on Friday night I met up with the other members of my team in Dublin Castle for the event registration. Brian Meskell is a good friend of mine, a regular training partner and a great athlete but tonight he was going to have to struggle through as he had been laid up with a chest infection for a couple of weeks and hadn't managed to get any proper training done. His brother Kevin was also running with us, again a fit guy who was a bit nervous ahead of the event about being able to keep up with Brian and myself but both fitness and toughness runs in the Meskell blood so I knew the two lads would be able for a good race. Our fourth member was someone I had just been introduced to a couple of weeks before the event, Carolyn Hayes, a triathlete from Newcastle West who by all accounts was a very strong athlete but it was her first time doing an event of this kind so we were unsure how she would cope with the rough and tumble of the second half of the course. We had a feeling she'd do well however and if she had any nerves she didn't show it – all we saw was excitement! Despite the few challenges that the team faced we were still very optimistic and we aimed for a sub 7 hrs 30 min time. That should have been enough for a Top 20 finish based on previous results and would be enough to bring Carolyn in as winner in the ladies category. In a strong field including 3 international ultra-runners we felt we'd be very happy with that result! We had our mandatory kit checked… which is no joke when you experience how easy it is to get lost out there and you freeze in minutes once you stop moving… and we handed our backpacks and change of runners in for transport to Checkpoint 1. Before we knew it the 2am start time was upon us and there was nothing for it but to start running through the streets of Dublin until we got to Glenmalure 55kms away.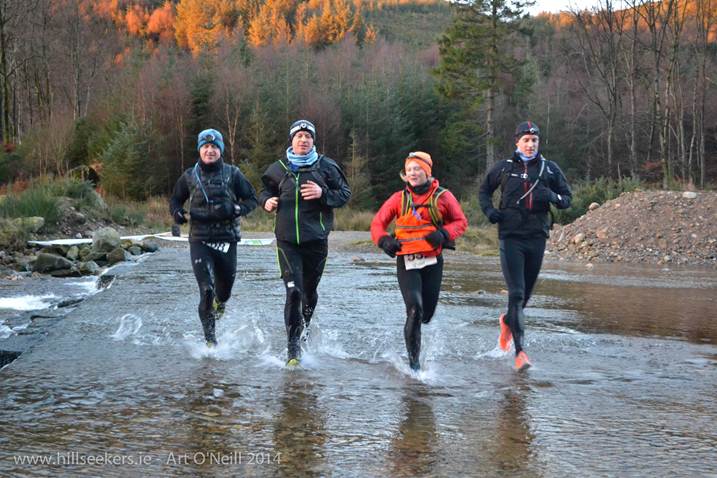 The road section was always going to be the hardest for me. We started out at a steady pace, no heroes at this stage and we found ourselves in the middle of a fairly large group who obviously had a very similar pacing strategy. The kilometres ticked away as we passed every sort of night owl and got a mixture of support and abuse depending on how many drinks were had by the people shouting at us! We chatted away as best we could to maintain the spirits but I find long distance road running very difficult mentally so I just receded into my melancholy mood and let the other team members chat away amongst themselves while I ran along behind trying to stay in auto pilot. Leaving Dublin City behind we passed Firhouse and began the climb along the roads into the Dublin Mountains. At this point the gradient increased and the going started to get tough, the heart rate shot up and we had to regularly check our pace to make sure we weren't over exerting ourselves. Of the large group we started with most fell behind while a small group of three managed to stay ahead of us. Approximately an hour later we started to pass the walkers who had left at midnight, 2 hours before the ultra runners, and the greetings between the competitors helped to while away the kilometres. Coming towards the end of the 30kms however we were starting to feel the strain as we hadn't carried much water or food and we were very glad to get to Checkpoint 1 where we could refuel and get our fell runners (like trail runners but with very deep lugs on the sole for grip on soft & wet ground) and bags on ready to tackle the mountain. We had intended on getting through the checkpoints fairly quickly but unfortunately that plan kind of went out the window as we messed around in bags changing shoes, headtorch batteries, t-shirts and then stopped (for far too long!) for some soup and a bit of a warm-up beside the fire. Eventually we remembered we were in a race and we hit off into the darkness leaving the comforts behind us. Looking at the chip dib screen I could see that we were comfortably inside the top 20 and not too far off the top 10 so we were still going well.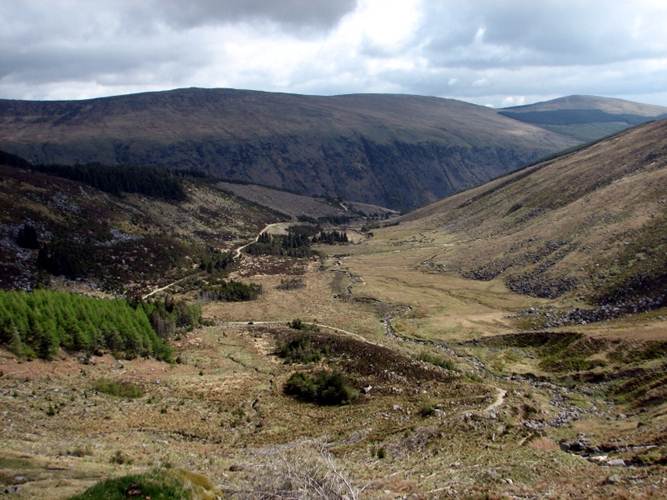 Finally we had gotten to the part that I enjoyed. The dark mood lifted and the varied terrain and concentration required to keep my footing helped to lift my spirits and loosen my legs. We kept a steady pace along a fire road initially even passing out a couple of runners who didn't like getting their shoes dirty and before long the trails were gone and we were straight onto the side of the mountain. As we had climbed into the hills we had come up into a mist which meant that visibility was quite poor but then since we were engulfed in darkness anyway it didn't make much of a difference as from this point onwards we would have to rely on our navigation as we had no path to follow, no visibility ahead (wherever that was) and since we were towards the front of the field there were few lights ahead to follow. Plus there was always a chance that the person in front of you could be lost! So we had to find our own way. The mountain section starts with a long climb through heather over the top of Black Hill and down into the Kings River Valley. Here we got our first reminder of how important it is to pay attention to our navigation as after a few minutes of running towards the valley, as we thought, we met a group of competitors going in the opposite direction. At first we made jokes with them about doing a different event until we realised that it was actually us that were going in the wrong direction. We had done a 360o turn in the dark without even knowing it. We corrected our course and started up a second GPS unit so that we could cross reference the two devices. We would cross a river at the foot of the valley and try and navigate our way to a gateway in the forest at the other side that would lead us to a trail running as far as the second Checkpoint. The terrain on the way into the valley was very soft and uneven with thick heather and plenty of chances to break ankles. Before long we found ourselves adopting the cyclist warning system as I shouted from the front about obstacles ahead so that the following team would have a chance to avoid. On a couple of occasions we had some close calls with deep sinkholes which were a few feet in diameter but up to 10 feet deep where someone could disappear down without us even noticing until they were gone. Eventually we found our way down into the valley and crossed the river before picking our way along the side of the valley through a mixture of heather, rushes, rocks and soft ground to meet the gate to the fire road. This piece of navigation was quite tricky as if you got it wrong by a few metres either way you wouldn't be able to see the gate and would end up going up and down the hill at the edge of the forest to find the gate. But thankfully we found the gate, crossed the river and made our way down the fire road as far as checkpoint 2.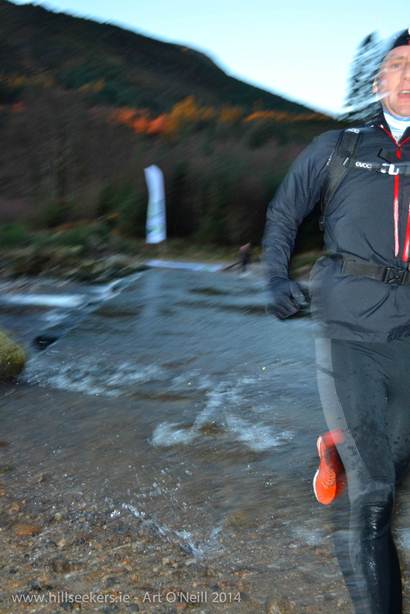 In Checkpoint 2 things are fairly straight forward, there's no clothing change, just refuel and get going again. We somehow still managed to use up almost 9 minutes eating some porridge and drinking Red Bull! But this time we managed to resist the fire and got our asses back onto the mountain. Another quick check of the laptop leaving Checkpoint 2 had us right around the top 10 mark and I knew we were going to be strong on this last leg so I was hopeful at this stage for a good finish. This final leg was going to be the toughest but the good news was that we only had about an hour of darkness left before we could enjoy the sunrise. The final stage starts with an undulating fire road and good progress as far as a river where we go off road again and follow the edge of the river up through a valley as far as a steep and freezing hill climb (hands and knees for a lot of it) up to the top of Table Mountain and traverse over to Art's Cross. At this stage we were starting to feel the kilometres in the legs and the steep climb through the boggy ground was really burning the legs and lungs. At the top there wasn't much banter as we made our way across to Art's Cross where we took a minute to get some more fuel in and take some pics in front of Art's Cross. (On reflection…..why??? We were in the middle of a race!!??) The section from Art's Cross back to Glenmalure can be the most challenging even though it's mainly either flat or downhill but the terrain is very rough with huge fissures or bog holes strewn across the landscape that you have to continuously climb in and out of for a couple of kilometres. Once you get to the end of that section you find yourself descending into Glenmalure Valley and running along the side of a very steep grassy gradient with a nice fall off to your left should you lose your footing. To be fair though the worst that would probably happen is that you'd eventually fall into the river about 100 feet or so below. Soft enough landing then.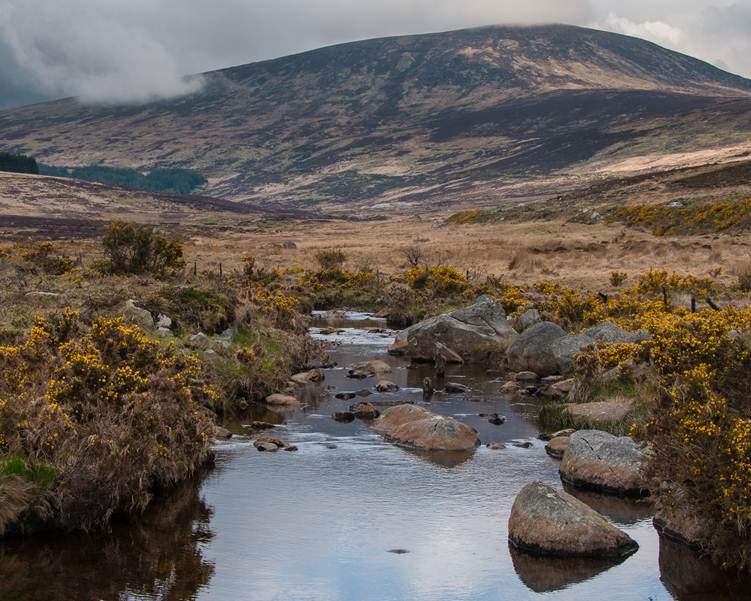 We hadn't seen any other competitors for some time so we were very surprised as we ran/stumbled along the side of the valley to see 2 other competitors come up behind us out of nowhere. And to make things worse one of them was female so it looked like we had a contender for Carolyn's first place finish. We put the foot down as much as the bodies would allow and struggled on through the rough terrain until we finally emerged on the fire roads and trails that would take us to the finish line, approximately 4kms away. As soon as my feet touched the fire road I stopped to turn around and I could see Carolyn coming not far behind me with Brian and Kevin a few seconds behind her again. Unfortunately what I also saw was the other 2 competitors literally metres behind the lads again. After running for 6 hours you don't want to be pipped this close to the finish especially when the last few kilometres were a bit less technical than the rest. We regrouped and started off down the fire roads at the best pace we could manage. A couple of hundred metres down we had a snap decision to make, there was a short cut to the left through rougher terrain that we could take or we could stay on the fire road which winded down towards the finish a bit more but it would allow us to maintain a more consistent pace. We decided to stay on the fire road and as we passed the turn-off I turned around to see our challengers taking the short-cut! So it was going to come down to two things, which gamble paid off and who had a bit left in the tank if it came down to a duel to the line. We continue down the fire road for a few hundred metres until we came upon the spot where the short cut rejoined the road and as it turned out our gamble didn't pay off, the two runners came bounding out of the shortcut about 150 metres ahead of us. At this stage we were tired, stiff and even though we knew we were close to the finish it was difficult to keep the legs moving never mind to enter into a battle to gain back the few place we'd lost. We carried on for another few hundred metres when suddenly another runner came out of nowhere and slid past us.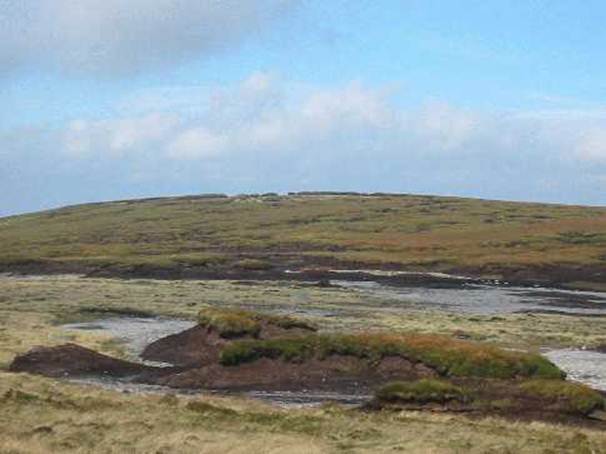 Losing the places was really starting to play on my mind so I had a quick chat with the rest of the guys to see who had anything left in the tank. The hope was that we would all finish together but with the varying levels of preparation and illness it was amazing that we had all managed to stay together at such a good pace for this long in the first place. The rest of the crew weren't able to stoke up the fire any more so I decided to see if I could open up the legs a little and reel in some of the competitors that had gone ahead of us. I took off down the trail for the final 3kms and found that I had more in reserve than I thought. I passed out the first guy very quickly and he was already at his max at that point so he was happy to let me go. I could see the male and female runners in the distance and within a couple of minutes I had caught them and overtaken them on a downhill section of the fire road. From here on in it got tricky though. The path turned off the fire road and continued along approximately 1km of what could only be described as the most treacherous grouping of wet slippery and sharp rocks that anyone could ever envisage. Picture the road up to Satan's house in hell. Travelling over this section at slow speed is difficult, at high speed is suicide and one slip will get you a broken bone, simple as that. Once I got to the other side of the hell road it was back to fire road and I had settled into a fairly quick but steady run at this stage as I didn't feel any need to slow down or speed up, I still had some fuel left in the tank so I was enjoying the faster pace over the uneven ground. I started to notice footfall behind me which told me that the male runner I had passed had decided to have a go at regaining his place. So without looking around I put the pedal down again and started eating up the terrain, before long the footsteps faded and he decided he was fine where he was. Ahead of me I could make out one more competitor in the distance. I kept the fast pace up but didn't have any expectations of catching him as we were inside the last kilometre at this stage and the finish line was almost visible. But the road surface as good, my legs felt loose and I was travelling well. The guy in the distance however wasn't so lucky. He thought he was alone, he was stiff and was moving slowly. I caught him very quickly and blew past him with only about 150 metres to go. He didn't hear me coming until I went past but by God did I hear him when I was gone past. I've never had so much abuse shouted after me in a race before! I crossed the line and saw the clock, 6 hours and 43 minutes. 45 minutes ahead of our target time and the burst I put on at the end allowed me to move up to 8th place. I caught my breath and shook hands with some of the other competitors, aside from the guy I passed close to the finish who wouldn't shake my hand. I then turned around and headed back up the trail to meet my three other team mates so that we could cross the line together. I felt very guilty leaving the others close to the end but at the same time I think it's up to each person to do their best when it comes down to the finish like that. As a group the others got an amazing result to finish 12th but they also have as much a share of 8th place as I do because there were times in the race when they helped spur me on and we all helped each other maintain focus and morale. Having crossed the finish line it was time for the most rewarding cup of hot chocolate with marshmallows I've ever tasted before we peeled off the wet, cold and dirty clothes for some nice dry ones. Finally Brian's girlfriend Eleanor came to the rescue and drove us from the finish back to GLenmalure lodge for a nice big brekkie and even a sneaky pint. Then we were back into Dublin for a few hours kips before hitting the bars of Temple Bar to rehydrate!! A good days work at an amazing event.
I have to say fair play to Brian Meskell and Kevin Meskell who must have had to put in a huge mental effort to sustain the pace they did when their bodies were probably crying out for them to stop. Brian was having trouble with his chest all the way through and Kevin never complained but you could tell he was having to dig deep. The most amazing performance had to be Carolyn Hayes though. A trip to Dublin the previous weekend to cover some of the course was her first time ever on the rough stuff but she took to it like a goat on steroids! Every step I took she was one step behind me and on the road section we felt like she was only going at 75% pace. An unbelievable performance from an unbelievable athlete which deserved a first place finish but she'll fight another day no doubt and I can only imagine what she could do to that event if she had a proper preparation for it. Aside from her athletic ability if you're ever looking for a team mate to maintain team morale then look no further, she seems to have enough energy to share with everyone.
And so to regrets… Carolyn's split times showed that she should have been first female to finish by a margin of about 15 minutes and with a new course record. What the hell were we doing at the checkpoints? Scratching ourselves in front of the fire and messing about in bags instead of having things properly planned out and getting back to the business of the race. And putting aside the question of why we stopped to take photos in the middle of the race what the splits showed us was….. why did we go to Art's Cross in the first place?? It was obvious from the splits for other competitors in the Top 20 and the routes we saw them taking that very few of them went anywhere near Art's Cross as it's not a checkpoint and not a dibbing location so most just cut a route straight for the finish line. Purists would say that in the spirit of the event you should go as far as Arts Cross but if they want us to do that next time they'll have to put a dibbing point there…. I'm heading straight for the finish!! So if we had been a little bit less naïve we'd have a female champion and a podium finish for the Mens with all our team also inside the Top 10. Now that would have been a good days work! He's never happy I hear you say J I'll be happy if they put Art O'Neill on again for next year and we give it another hell of a go. Any takers???
Kindest regards,
Paul Tierney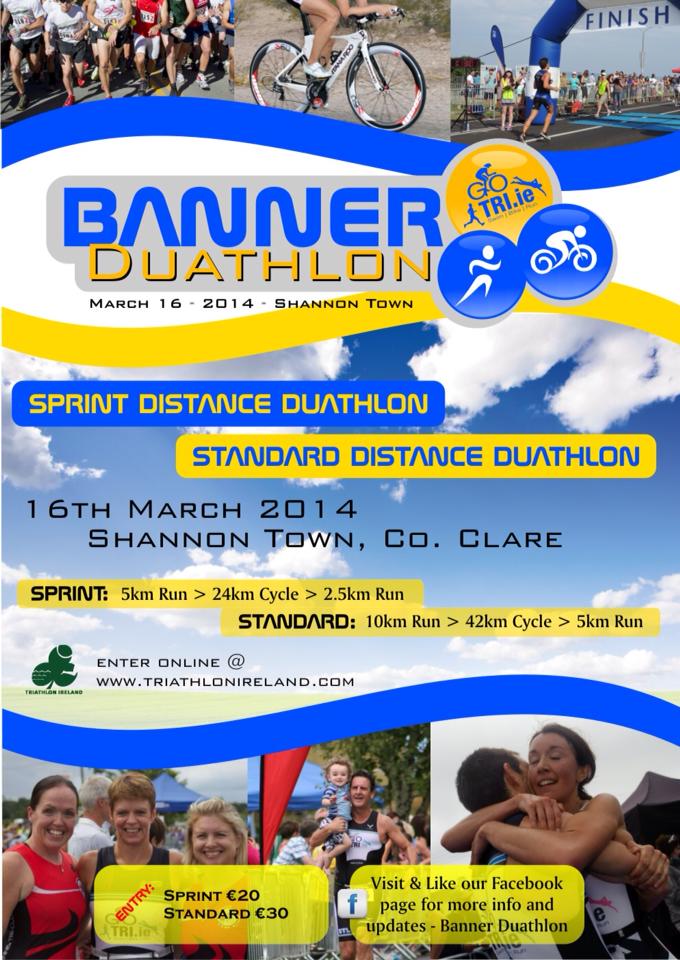 Paul Tierney -Art O Niell Challenge Race report