The weather, the heat, the sun, the sauna running session. A big well done to all who took part. We had an unexpected amount of volunteers and crowd support this week — we think a few were put off by the high temps — 🙂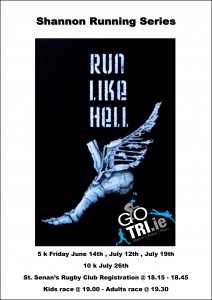 Ennis Track athletes Mairtin Crooks/Grealish and Anna Crooks too impressive wins. The GoTri duo of athletes ran smart and very impressively to win in such hot conditions.
Times/results night 2 Race 2 Shannon Series
In second place in the mens we had Paul Fitzgearld who put the hammer down in the first lap to challenge not too far behind in 3rd place we had Rise and Shine run group leader Paul Tierney. The GoTri athlete training for adventure races improved from round 1 where he took 4th place.
In the womens race in 2nd place Ennis Track had another 1/2 with Becky the bullet Coughlan coming home in flying fashion. In third place we had Shannon Lady Grainne Kissane who was cheered on by Daddy and baby as she crossed the line with a huge smile.
The junior 1500m lap was won in flying form Connor shangher from  Liam Murphy and Dillion Coughlan coming home in third place
The junior 5k was won by Jaime Kelly ( who had in his head to chase Mairtin 🙂 with Thomas Cox coming home in 2nd place both lads making a lot of runner jealous with their great splits 🙂
well done lads.
If you haven't already done so please add Shannon running series on facebook
Please help spread the word about the Shannon 10k on 26th of june
Shannon Running Series Rnd 2