Shannon Running Series 5km No.1 victor Andree walkin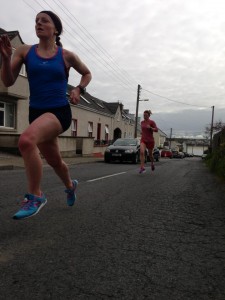 What did you think of the shannon 5k  course
Nice course, good surface, no potholes (thanks Clare Co.co) and as flat as promised!  Great to have 2 loops, first once ideally to get into your stride and then try and go for it on the second…Negative split…IDEALLY:)
 what advice would you give people coming to the 5k on the 12 of july ?
Bring a friend and/or a small person as you can run with them in their little race beforehand for your warm up!
 whats your favorite training session ?
Its got to be Hill Repeats up Ballycuggaran or more recently up Dunlicky Hill Kilkee, great sense of achievement & (relief:) when they are done and usually a nice view from the top of the hill.
 what is the best advice you could give someone starting out in running and wanting to take up running races ?
Usually the hardest part of any run is putting on your runners and getting out your front door, once you get to that point you are half way there:)
race night no.2 is the 12th of July sign on ST.Senans Rugby Club at from 6:15 
ShannonRunning Series Ladies Winner interview Andree Walkin