Trevor Askin the beginner triathlete and baby making machine, father of 3 under 3 and owner of a medium side business gives us his take on taking on the Tri life.
Mags Magurita Jones… a former female rugby star and all round, I aint swimming in the lake with out my eyes closed star, has not stopped shining since taking on her first Tri and now an addict 🙂
GoTri asked them both the same 5 questions and see below for the answers…. its all about the team spirit 🙂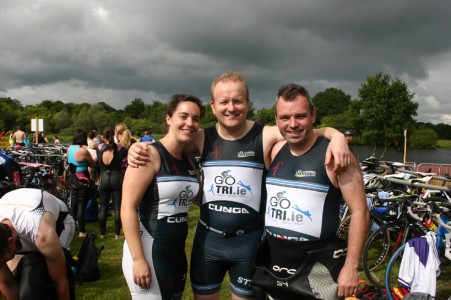 Question 1:
Swimming…. really is the killer for first time triathletes. You have both come a long way, how did you find your first 750m race?
Mags………. I really thought it was going to be a lot worse than it was, everything that i've been doing in Kllaloe all made sense once i got into the water in Castleconnell. I was really nervous before i got in but once the water hit my face the nerves went, it was like survival mode and all I was doing was trying to remember everything i've been thought. I stayed near the back to the right, i wanted to be able to see the floats in the water and use them as my markers. It took a few minutes to get into a rhythm but i did thank god, only got kicked once 🙂
Trevor….. Well it was slightly different for me to the extent that I did the 750 at boru and a 500 at carraigaholt so even though I was a bit apprehensive I was confident once i got going I would be fine. Adrenaline is a great thing. I've a lot of work to do obviously. I've no intention of sitting on my laurels here though. I don't intend to be the last bike in transition this time next year.
Question 2:
Transition… a sprint or a jaunt? 🙂
Mags…….. T1 was good thanks to all the help from the GoTri crew that were in transition at the beginning with me. I knew that everything was set up the way it should be for me to change quickly. I was asking lots of questions, sorry guys, you all gave great tips and advice, thanks Liz, Oliva, Mike, Darragh, Albert and Denise, even though Darragh was looking at me funny at how i was getting into my wet suit haha. As i was getting out of the water i was thinking of the night we did the wet suit drills and how was i going to get out of it quickly, thanks STL. T2 wasn't so good 🙁 The thought of having to run (or my version "wogging") 
Trevor…… I was a small bit disappointed with myself here actually. Only for Liam Kennedy ' holding my hand' pre race I wouldn't have checked my tires, made sure my shoes were prepped properly. I wouldn't have pre walked both transitions. He took me for a warm up spin and gave me some sound basics. I know all this of course but this time on the day I got caught up and side tracked with trivial issues instead of maybe focusing on me. Making a checklist and follwing that next time. I registered the day before boru and didnt this time and found it put pressure on me as I was queuing for a while and this led to me getting anxious and unsettled. Transition itself. I Took my time in both areas and made mistakes but I'll learn from those.
Question 3:
Pacing on the bike, how did you both find the bike course at castleconnel worlds end tri?
Mags……. I had cycled the route 2/3 times coming up the event, thanks for the advise Andree. So gald i had because i knew where the hills were once we had turned at birdhill. I just worked away at my own pace, past a few people out on the bike, i knew this was going to be the only section i could do that on 🙂 Thanks for the company on the last km Trevor, i did my best to keep up with you!
Trevor…… I found it relatively easy, I've trained hard on the bike and being involved in different bike events outside of Tri was a big advantage. I didn't go all out on the bike and got an ok time so I'm happy with that.Question 4:
By the run, First time triathletes are usually wondering "who in gods earth came up with this type of race and why did i sign up?" after all the evenigns with the gotri gang and countless hours of training how did it go?
Mags…… I was thinking that and lot worse, Running is definitely my worst part of a triathlon, when i got off the bike i was starting to get upset with the thought of having to jog, i had to have a little word with myself and just get on with it. My aim for the day was to finish the course and enjoy it. And i did both 🙂 🙂
Trevor………. I found the transition ok actually, i ran very comfortably quiet quickly off the bike which has been a struggle for me in the past few events. on the day I had loads of energy and had a lot left in the tank during the run so I enjoyed this final hurdle for a change. Doing a few duathlons over the last few months definitely helped.
Question 5:
What was the best part of the race for you?Mags…… Best part of the race for me was coming to the finish line. Not just because I had completed my first sprint but My family and friends were at the finishing line with The Go Tri Monday Murder Crew shouting and cheering, It was the best feeling ever!! Thanks guys for waiting around, ye must have been frozen waiting for me 🙂 Ye are a great bunch of people to train with every Monday evening x
Trevor……….
Swim. I was second last out of the water but it definitely was my most consistent effort to date. Swimming is a huge challenge for me. I love a challenge! 
Overall a very positive experience and I defo have the bug. I cant help but have this competitive outlook and approach towards the sport which I find enjoyable.
Also My coach didn't make the event and never communicated this to me even though I text him the day before. All I can say is who ever she is she must be worth it as he is very fussy when it comes to the ladies and can be a bit high maintenance I'd say and a bit of a diva also. God bless her who ever she is!
Trevor and Mags give their reaction to their first triathlon in Castleconnell