The view from the rear view mirror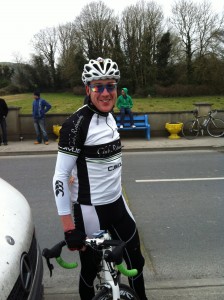 Timeline
4;30 sweep roads put out signs
4;35 curse at oneself for bringing the wrong cable ties
5;40 finish signs and sweep and road markings
6:15
 pick up father whom you have begged to marshal a cold corner
6;30 sign on
6:35
 Damo shows me how to use flashy lights for jeep
6;45 all riders signed on
7pm
 on the button race starts after a grumpy greeting
8:03
 race ends – mike Storan Damien Roche mark Shanahan 123
8:18
 pick up signs as liam grabs other signs and marshals
8:30
 say thanks and well done to mike and rest in well car park
8;40 leave for petrol station as I'm out of diesel
*note to self must provide oneself with mobile coffee dispenser
Race organisation is great crack, most of the time, a headache some of the time and a passion all of the time. A need to push performance in others.
Lead car is a nice job, safety vehicle and you get to see the action. Good position for the coach within

Training Race night 1
2 groups
Beginners and intermediates go together. Advanced behind 
at 2:30
For night 2 we will put in 3 groups no matter the turnout.
The experienced Sportif riders came to the fore in group one on the first lap. Nial, the Clarecrusaders riders Ailbhe and a few more working happily together but I can see a few dropping on the back already. Hence need for  a first group. Some might need a full lap advantage. Some of the "pros" could do with the chase workout 😉
By the finish line hill the first bunch already in tatters was caught by the aggressive ridding of advanced bunch. Mike, Mark, Jarlath, Aidan and an Old Boi from the Nichols Roche junior team where riding strong.
With 1.5 laps remaining Mike Storan of Planet Tri racing put in a dig and rode powerfully to hold off a group of 8 riders.
Mike riding in fear looked back time and time again as the bunch behind stop n stalled. Waiting and anticipating moves from Jarlath or mark to ride after the now disappeared Storan.
Having friendly faces in your corner as your trying to steal a victory is always needed. Mark Shannan was having none of it as cane into the last section he broke from the bunch chomping at the bit in search of clean air to chase for bragging rights in the training circles.
Damien Roche – storans ever faithful friendly lutenent galloped after Shannnan and once clear rode in tandem with the Dolmen man but when punch comes to shove and Roche knowing his team mate had won wanted to make his mark.
Blazing battles of flying elbows ….. Or tactical supremacy Roche took a gallant uphill finish as Storan looked on with clapping hands
1 -M.  Storan- Planet Tri
2 – D. Roche- planet Tri
3- M. Shannon – Dolmen
A big thank you on the night to Liam Kennedy , Malachi, Patricia , liam kitson, Lawrence Kelly and Mick Lynch for all the marshalling help.
Need to get time gaps and groups right for  next week.
"I think i will experiment with setting the advanced riders off first with a4/first time club riders next, then a3 and intermediate group. this will mean the advanced riders have to do an exrta lap but will also mean that when they do catch the other groups they will be more tired and might give the others chance to get on the train to the finish line"
Feedback welcome
Wednesday night training league – round 1