Gaelforce West 2017 – 2 Years in the making!
by Philip Purcell
So here I am …..on the start line with a great bunch of people ..no not just people…friends from the GoTri family that I have come to love over the last 2 years. You see it was two years ago when I joined and in that summer, while knowing I could not do GFW 2015, I went on a training weekend to Killary to go over the route. This expedition was led by Paul and with a bunch of us stuffed into 2 dorms we scaled the course over 2 days, I had now found my next sporting challenge which was very different to my days of playing football or golf.
In the weeks and months leading up to this, I had the pleasure of trying to share the tips/tricks and any knowledge I had gotten from the GTA crew, with those that were new to this adventure racing lark, where in our small group we pushed each other forward in prep towards the scary task of tackling GFW 2017. 6am starts on Wednesday's , Saturdays and even a bank holiday Monday was where we laid down our foundations, Mad? Yes of course we were, but as they say 'the only time success comes before work is in the dictionary'…..so we needed to put the work in to get to the start and then hopefully the finish line. I was the person sending out the texts etc., but in reality having training companions pushed me to acquiring the mileage I needed also, a big thank you to them.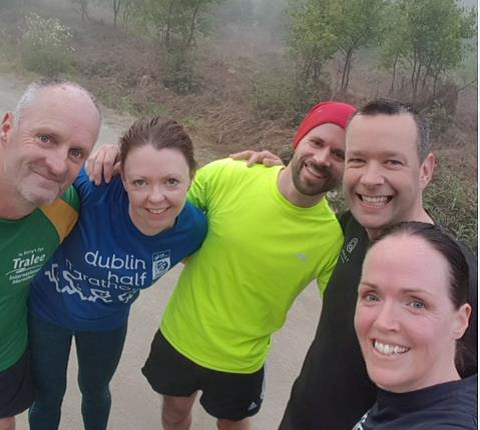 A day off on Friday, to get on the road early , so I join the fun vehicle crewed by Kevin and Erin, where we meander (mostly my fault with things to do in Galway) our way to bike drop near Delphi. We unload our speed machines, attach or pre-planned nutrition/hydration and rack them, well in all honesty I went through my checklist 3 or 4 times to make it sure the bike was fully fuelled for transition. Happy (apart from Erin telling me I should pump my tyres the day before a race) we head off to take the route via Louisburgh to Westport. I eagerly wait for the road that joins where we come down off Croagh Patrick to cast my eye on the final hurdle the following morning, it seems ok , but will it be after the pounding my body will have taken.
Into our hostel, which was perfect in terms of location for start and finish line, we head to registration and get our race packs. Shortly afterwards the sun is out and its time to head for some hydration. Outside one of the pubs we gather and as time passes on we grow as a group. The laughter, piss taking and just plain good old banter has everybody in good spirits. Somebody suggests a gentle 2k , so Kevin, Loren and myself do a quick loop of the town, to the jeers of the GoTri lads as we pass them, but it felt good, yes I feel good about what lays ahead. Next plan is to get some pasta so to an Italian , again to the mix of stories and laughter. One final stop at the local SuperValu where numerous GFW hopefuls stock up for the morning. Back to hostel, final prep, gear laid out, one of two jokes and then silence……time to go asleep……..
Kevin's tweeting birds alarm sounds at 4am and like in military fashion people are jumping out of beds in the dorm, all with different short terms goals (shower/food etc.) but after just over an hour we start heading to the bus collection point. It's great to get on the bus where we sit in 3's, all grouped together for selfies with smiles. We pull up close to Glassilaun beach where after a quick race for the portaloo's, the start line and the clock working its way to 7am awaits. Last minute prep as we pose for the battle of the photographers (Sarah you won) and I quickly try to meet all GoTri people for a best of luck hand shake/hug and wish them well just before the race briefing starts. Then to the sound of the hooter we are off…
My thoughts are slow and easy as we start the climb on the road, its 2 k to the top (similar to our training in 12 OCH) so just ease into the race. I see STL, Niall and Kieran B just in front of me so happy days when I get to the top still feeling good but as the rain has stopped I am a bit warm in my Inov8 jacket…..so now I plan to master the fast decent while I take off my race vest, then the jacket, then stuff the jacket away and back on with race vest and as nobody passes me I think 'Ta daaaaaa'….and that Paul would be frowning if he saw me ☺. The next section is uneventful as the road slides by the waterside, as a few pacier runners go past me as I stick to my pace and then we turn up the hill going off-road. Quite quickly I start to pass some of those guys again as they dance around puddles and inside I am smiling. I even pass the Ironman Kieran B as this uneven ground suits me better. I make up a good few places as I pick the best route while saying 'excuse me'…..'coming up on your right' etc.…..as I pass more people. Drink, I must remember to drink as my fears of hydration issues come back, then it's onto the firmer road of the famine way and some of those people claw their way back, KB one of the first to get his revenge. Karl passes me on the section up to the road as I take another good drink (my aim is to have my 500ml consumed by the time I get to the bike), onto the road and not much traffic from cars or competitors and I see Sarah and Lisa cheering which gives me a little lift ☺. Then off the road and down through the trail, I think is there anybody I can catch. Just as I pass through the softer section I can see a competitor in front of me and make it my aim to hit the kayaks at the same time. This will be my kayak buddy methinks…
Dib , life vest on, dib again and with oar in hand I get to the kayak, the slightly shorter guy asks where he should go and I tell him to get in the front. We push off and quickly I get a little worried. He starts repeating something he must have seen in Hawaii 5.0 where he repeat paddles on one side. I ask has he much experience kayaking and he says 'once or twice'…..I hope my mind did not shout 'noooooooooooo' too loud! Ok so , I tell him that he just need to paddle consistently and I will do the steering from the back. He says ok and then questions where we are going. I give him my plan and we are good to go and start making progress on a few other kayaks. About ¾ the way there he start his double dipping again and I am tempted to strike out with my paddle but just say 'keep the rhythm consistent, and I will change course as needed' and he confirms and quickly we reach the other side , I jump out, off with life vest, quick shake of hands and I'm off. It's my first time doing this section of the run and it's a lot more boggy that I thought. I keep a high line (remembering tips from previous GFW racers) and steadily make ground on a few. Out onto the road and to the bit I was not looking forward to, the long road to Delphi and beyond. I hear footsteps behind me and its Loren (his taking it easy is now faster than my race pace  – fair dues – TV has been good for you pal) we chat for a minute or two and then he slowly goes past and pulls away. I don't even see him at transition but that's ok I have somebody to hunt on the cycle.
Nutrition into me and out onto the bike (after a wave from our cheerleaders as they park just before transition). I have been looking forward to this as its where I had put more effort in while training and seen good progress. Just the one big hill to deal with and they rest is relatively ok I thought. As I take the first turn I have caught a couple of cyclist so all going to plan and I gaze ahead to see who else might be in my range. Next plan is to get the banana into me which is successful but then a shadow starts to appear on my race, my calves are starting to cramp ….oh balls as I still have the big climb to do and approx. 25k of the cycle, then CP , then the off road to Westport all ahead. I keep going but not pushing as hard and get over the hill ok (just ok with only a few tweaks) ..down the decent and even after this section my calves are tightening and tingling. I try all I can to loosen them (dangling legs, massage, stretch down on pedals etc.) but no joy. At this stage I am losing a bit of heart and wonder at what stage I fall off the bike in pain. A few cyclist pass me (even a guy on a mountain bike) and then I pass STL/John who are calling a friend on the phone. I chug along on the bike and get to the main road. On this stretch John Ryan appears and cycles with me. We share our race story so far and he tells me why he is not wearing his toe clips, as he was cramping, due to being on the toes all the time. Hmmm should I discard the use of my power grips, after 2 seconds of consideration, out the feet come and rest them on top of the power grips, I'll try anything I thought. We turn off the main road and I gesture to John to kick on, but he is happy to stay and keep me company. In the next few mins my calves stop aching and I am back in the race (well with a plan of finishing). Onto the bog road when this devil wind is hitting us hard as we manoeuvre around the pot holes we gain on a few places, and it's always fun to see the cyclist face and hear their comments about that bog road for the first time…☺. While trying to navigate a load of puddles/potholes in the forest section and also allow a MTB guy to pass I collide with a soft bush but get back moving fast with a smile. Up the hill and onto the final stretch to CP. Legs are feeling great now as I kick onto transition as John drops a gel on the ground. As I enter transition I hear calls of ' Come on Philly, I'm fecking freezing waiting for you all day' from a good friend who was up for the weekend.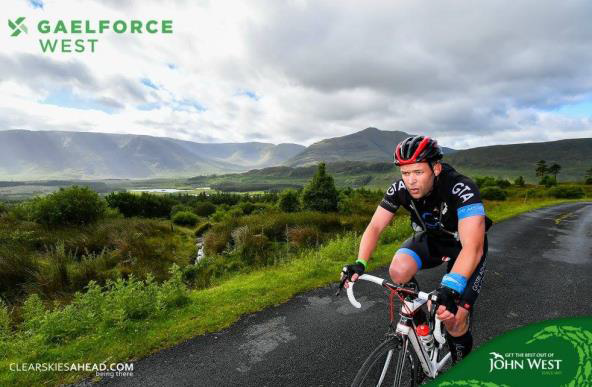 Myself and John begin, what for me will be a slow climb up CP. John seems eager to run more than me so again I tell him to kick on but to no avail, stubborn B***** I think to myself, while appreciative of the company! We see Alan descending nearby and shout encouragement. A slow pace to the zig zag with a bit of grappling upwards. Thighs are heavy now and I have a couple of micro pauses to stretch out the back and kick on again. This is the slow process up CP which I begin to hate more and more now, why oh why would somebody bother to go up there, really! I start to chastise myself for this hellish torture I am putting my body and mind through, this will be the last time I climb CP I say. A few hello's and well done to passers-by and them more familiar faces appear, Kevin, Brian, Jim, Kieran, Karl, Loren (not sure who else I saw) with a few high 5's exchanged its onwards and upwards with a few balance issues (felt like falling backwards a few times). Then it appears, the one thing that was going to make be happy, the sight of the little hut just before the church, I know I am nearly there. My right thigh is burning which is worrying as I think it may hurt more going down, but calves are grand now. Dib at the top (where John awaits) and I suggest a quick stretch of calves and thighs and we start to descend. Shortly we pass Kiera and then Aoife, I think should I have waited and raced with them as if I had known they would be so close……but sure can't change that now, time to get off this hill. I give it a good go for a few mins and look back and see John a bit behind, I give a gesture to come on and say its handy to which I get a funnel of friendly abuse. I get down further and again check how my now racing partner is getting on. I kick on again and getting down close to the shoulder I meet Dean who I stop to see how he is….where we exchange a few words and he moves on as he wants to get up CP and get it over with. I get down to the shoulder where I dib again and turn to see on John's progress and I see Kiera race past him and fly down the mountain. By the time she passes me John is talking to Dean too….I think oh come on John (apologies for this). When John dibs I tell him we are going over the side after a short bit and its easier than the top bit and over we go. I look to see where Kiera is and she is nearly down to the last flattish part as she races past a few more. Will I catch her on the bike, not now methinks. I wait for John who expresses flat running as his preference where I tell him I thought we might of caught Kiera but not anymore. She is only a dot in the distance. Eventually we get down to the bog side and after a few skids, tumbles and slides we dib and are back at transition. I think a sweet fairy may have passed by and left a load of jellies at johns bike to which he picks up and start to tuck in while I am getting the last of my water into me and bin some unwanted nutrition to be lighter to get home.
John and I race down the road section and take the sharp turn left up the trail. We make nice progress and catch about 3 cyclists. Bikes on shoulder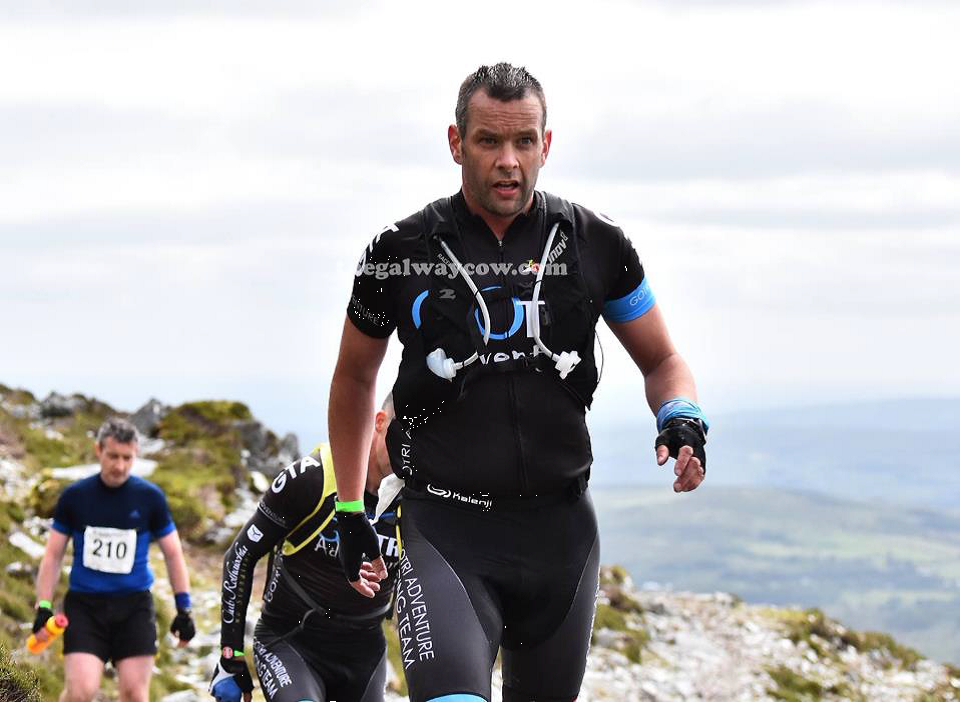 we skip and slide the most rocky part until we are back on the bike, pass out the embers of a bonfire and back onto firm ground. John may not like descending CP but he has no fear on the bike. We swish around a few bends and then I see some racers on bikes ahead of us, but looking nearly cost me overshooting a bend or two (and the gravel scared me). As we approach I see a GoTri jersey in front of me and John skips over the central layer of gravel and races down the right-hand lane where he frightens Kiera. I cross over too and follow John's lead and say hello as I pass and then for the next section I rattle over the uneven surface with tears in eyes from the wind and see a marshal signalling to the garda of our arrival. A little bunny hop across the gutter and the final section is under way. John has opened up a lead but soon puts the breaks on and waits for me. We start a nice pace and push the legs to take us home to Westport, still on top of the power grips, with no calf issue we hit the first T-Junction, thank the marshals and then skip past a few cars as we get to the final T-junction and turn right. All downhill from here I think, race is done, and we speed down the road until we are ushered to dismount at the marshal. We round the bend and run down the final hill and turn right, we pass our bikes to some strangers (finishers) to mount (tks guys) and we stride to the green and white banner saying 'Finish' where the GoTri Finishers have gathered and we cross and dib in. Medal received, race print-out obtained and into the tent for some food. The best oranges I have ever tasted await and with some water and soup to hand I go to meet the rest of the team who have finished. We shake hands and pass on congrats and the results and times are shared, my respect to those super athletes on their great races. Kiera is in at this stage too (still feel bad for not waiting for her on the bike but I blame John for racing ahead ☺) with a super performance later to be confirmed as 7th woman home. Then the word comes shortly that Aoife is parking her bike and we gather at the barrier to cheer her in, followed by Dean then Mike Darcy (I think). I check and see if anybody passed Erin and Dave as I had not seen them during the race to which I got an estimate how much they had left. A short while later the GoTri group gather at the barrier as the last of our family run to the finish line and get the job done to mighty cheers. A few more photos of us in our race attire and its time to move the show indoors.
As we are wrapping up I take a few moments to take in what had occurred today, it was my first Gaelforce West, it was a major learning moment (power grips too tight), it was a fantastic occasion, it was unreal to share the start line with so many people and this incredible journey which have given me so many great memories, I thank you all. I am not the fastest, I am not the most knowledgeable, I basically hang around the tail end of the racing section of the club and I enjoy it…..no, I love it.
It goes without saying that without my families support I would not be able to put in the hours needed for training, thank you. On top of that a small group of people were happy to be led by me for our training plans and 6am starts (you will never know how proud I am of what you guys achieved) and also to Paul who was the secret behind any knowledge I shared right up to the final tapering weeks, thank you all.
This is a special club with great athletes and even greater people which I am glad I have found, I look forward to our next challenge together.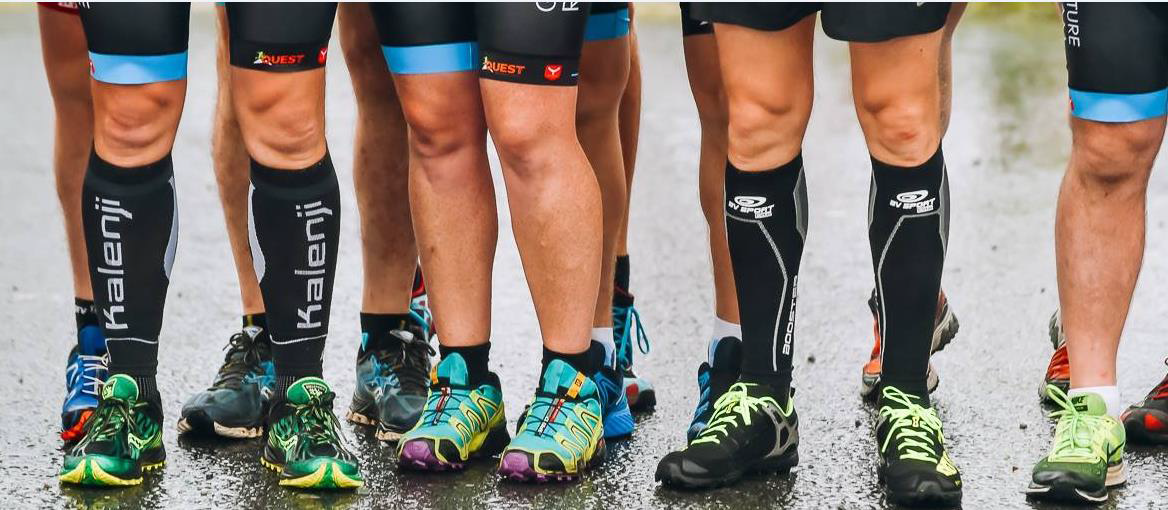 Gaelforce West 2017 – 2 Years in the making!