Gaelforce 2017
by Niall O'Grady
Now I'll not say I had no training done. As with many at the club who are training across multiple disciplines, I'm doing some session or other 5 or 6 days a week. I will say I had no specific training done for Gaelforce and felt pretty unprepared for it. In the couple of weeks leading up to it I as a little annoyed at myself for not choosing HOTW. Swimming and triathlon had been my focus this year, why take on this distraction? That attitude stayed with me right to the start line. But no further.
Trip up to Westport was good craic. Light traffic, good laugh with John Ryan. Time flew. Couple of pints outside by the monument with the GoTri crew were most welcome. Nice Italian meal and resisted the strong urge for a night cap. Bad night sleep. I had a headache I couldn't shift and there was lots of snoring – and complaints about snoring, in the room. I was popping panadol from waking to the start line. And we're off.
I eased into the first run (which is unusual for me, I usually burn myself out early). I had no times in mind and knew a long challenge lay in wait. I watched John Ryan shoot off, there goes the plan to tackle some of the race in company. Looked out for others I might work with on the bike. Chatted with Kieran Keating for a few, then as we turned off road I watched STL and Tierney distance me. I was slow over the rocky stuff. On the less technical terrain I found a good rhythm. I get desperately negative when racing but once I started gaining a few positions – I was off and racing. Caught up with Paul and John Meskel, chatted a minute and pushed on. I had STL in my sights as we got back onto smooth road. Only when within 50m of him did I notice that John Ryan running with him, and pushed on to bridge to them for the kayak. The master plan to get a train going on the cycle might materialise yet. I caught the boys and lead them out as we got cheered on from Sarah and Lisa before the turn to the kayaks. I resisted the temptation to ask the girls who was up the road, but that's what was on my mind. "Together we push each other forward", perhaps it's a bad attitude from me but when racing there's also an element of "together we chase each other down". I eased off a bit coming to the kayaks to rejoin John. We had discussed kayaking together if within sight of each other at that stage of the race. Jump in, paddle on. Uneventful kayak, no ground lost or gained. John face-planted into the water getting out of the kayak. Soaked, 'twas gas. Starting the bog run alongside John and STL and found I opened a small gap on them. Looked behind, push on or regroup? Push on. I enjoyed the road section of the second run, the watch was showing I had close to 19km in the legs at this stage. Time to have some fun on the bike.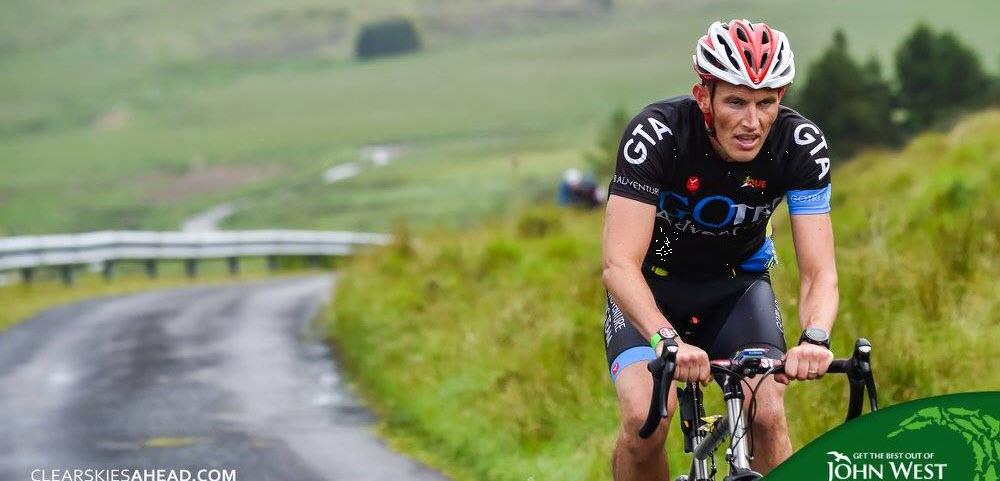 I love cycling. In the past I've had a tendency to use the bike leg as an opportunity to rest up a little. I decided to push hard and forget about what was to follow. STL and John Ryan were entering transition as I leaving. I had little doubt but that as a duo they'd catch me. I wasn't looking back though. I'd see a blue stripe up the road and chase it. Where's Karl Fogarty? Where's Joe Laffan? I gave a shout to any clubmates I passed to jump on (note: I'm not a complete asshole). I was feeling good and happy to lead a train. A couple formed but none really lasted. I passed speedy Sheehy before the turn to the off road section and prepared myself for the rough stuff. I pushed a big gear over the gravel and was pleasantly surprised that it didn't seem as nuts as when I'd ridden it two years prior. Blue stripe up the road which I knew to be Joe, passed him and the group he was with and was delighted to stay on the bike through to transition.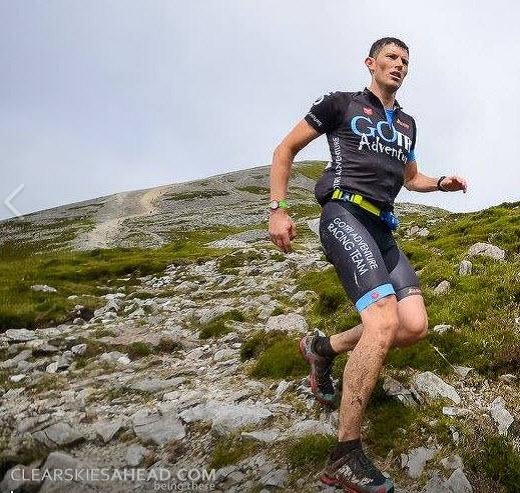 Croagh Patrick was a steady hike. Joe caught and passed me on the zig zag and I pushed myself to keep him in sight. Ran some short sections and ground it out on the rocky steep stuff. I resisted the strong temptation to stop for a few seconds on the way up. Keep moving forward. Deccie passed on his descent with a joke about taking my bike cause he was punctured, only half joking it turns out. I saw Alan flying down as I got to the twisty bit before the top. Great relief to see the tent at the top. Reckoned Joe had 30 seconds on me. Said a quick prayer (when in Rome ..), dibbed, and turned for home. Unfortunately for me Joe is well able to descend, while I'm desperately cautious. Doubling back on the race let me see how others were doing. Great to have so many teammates competing. Gave a shout of encouragement to anyone I saw. Encouragement like when Kieran Boland asked me whether he and Karl were close to the top I didn't lie and said, No! Dib at the shoulder and consider going down the zig zag but once 10 yards from the marshal I took the direct line. Still very cautions and no sign of Joe. Started thinking of the finish and calculating that I could be on for a good time based on Aoife's nugget of analysis on the bus that morning that the top of Croagh Patrick was less than an hour from the finish line.
Second bike leg was really enjoyable. I was paranoid about puncturing and walked parts of the skelp I'd love to have chanced riding. Once back on the road I got down on the drops and TT'd it home. The long straight into Westport showed me Joe was out of sight and there was nobody closing on me. Finish was a great buzz, dismount, run past the chipper with the bike, rack it, and run to the line. First cramp of the day hit my calf with about 20m to go, hence the stupid face on me in the pics. Dibbed, checked the time and was delighted. Highlight and shock of the day was when I heard the MC announce that some lad finishing behind me was the 23rd competitor home. Jesus, was I top 20?! No. I wasn't. I was 21st as it turns out but was really chuffed with that.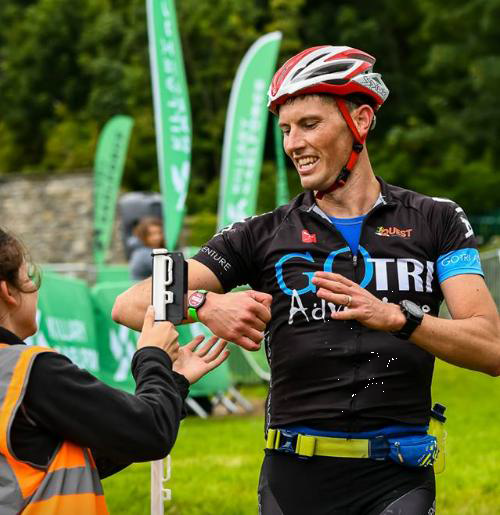 Great craic relaxing with teammates and seeing others finish. Every member of the team got an equally warm reception. Finishing line reactions varied, always going to be a case in racing with a competitive bunch. I couldn't have been happier. It was one of those days when everything went, well I was going to say " to plan", but as there really was no plan I guess I'll say everything went as good as it possibly could have for me. Post race party was brilliant. Knew I'd not sleep during the day in the hostel room so enjoyed hanging out with the crew, recalling stories from the race for the evening and into a great night out in Westport. I was one of the first to retire, shattered. Back now to thoughts of triathlon with a goal of improving my swim endurance. Buoyed by the confidence Gaelforce has given me I feel I've a better chance of competing over the longer triathlon distances. I'm definitely going to keep an eye on the adventure racing calendar though. There's nothing like them.