The unfound finish line
by Dean Rudd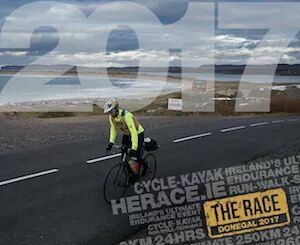 My journey for  THE RACE started for me way back in mid 2015, not even sure of the date now, and I remember hitting the send button on my pc and feeling sick to my stomach all day, knowing the task that lay ahead, training was always on going but the focus was on the standard adventure races, DAR, KAR, Gaelforce, MOXIE etc… coming into October the focus changed to THE RACE and the tactics and focused training we would need to do.
We had a long day on the bike in October and my biking struggled, I knew in part the bike I had was not the best fit for me, so a new bike was put on priority list, a long look at what was on offer and in price range, I made my choice and after much haggling on price got the bike I wanted.
Before the Christmas break, I knew I had to improve my biking so for the 2 months before Christmas I was at both Turbo sessions each week, both spin classes each week with strength training one day a week in the gym as well, I think STL was sick of looking at me during those months.
The Art O'Neill was coming up in January and I knew I hadn't been putting in the long runs as much as I should as the bike was my focus, so after the Christmas I changed my focus to get the longer runs in during the week with longer cycles and brick sessions at the weekend, I was surprised at how comfortable I was at getting the running distances in, and the Art O Neill was certainly a challenge with the snow but I felt comfortable after completing it and had nearly full mobility the following day, a far cry from how I was the previous year, this gave me a good assurance that my training was coming on, the focus on bike and running was benefiting the legs and just as well as the RACE had over 235km between running and biking.
Many a night was spent on the turbo for hours, running through the sets and focusing on heart rate levels and the real tough grinding out the high gears, the brick sessions were long and cold and wet. The Kayak section was not one of any real concern, we did some training on it and I know I didn't do as much as I could on it, but the technique was there, we were to be rowing with the tide so really although long at 15km it was to be a box tick to just keep a steady rhythm and focus on the bike and run times as more ground could be made here.
Coming to last few weeks of the lead up, the emotions you go through are un-real, you could be sitting chatting and suddenly think about the distance, or a certain section and feel the oh shit what am I doing thoughts and at other times look forward to the challenge. The chat page we had created was great, but again coming into the final 2 weeks the chatter was getting less and less and in away you were comforted to know that each of our crew was feeling the same, the same thoughts, nerves, excitement and each taking those final weeks to focus our thoughts on our race and how each would run it.
The final week was spent preparing the bike, cleaning everything, particular attention to the drive train and chain, degreasing and oiling and ensuring the Di2 that I was fortunate to have was fully charged, fitting saddle bag (which was larger than usual as to carry more spares then normal) remembering about 4 days out that I needed different tubes with the longer nozzle for the deeper rims on my wheels – thankfully Wiggle delivered on time.
Then to packing the boxes. Oh sweet Jesus, how many times did I go through them, dry runs spent changing clothes, going from box to box to ensure all was there, nutrition planning and ensuring you had enough variety to not get flavour fatigue. I typed out lists and taped to the inside of the box lids so at each transition when I opened the box there it was, what time I should be here, what time I had to leave by, what clothes to take off and what clothes to put on, as you know with the race head on the simple things can be forgotten, so these were my cliff notes. I also put in little quotes for myself on each section and looking at the kayak one now "just paddle through" nothing else, for each of the other sections I had put in more as truly never felt the kayak to be the area to go out.
Heading to Donegal on Friday morning, texting the lads see how they were getting on, I was to meet Joe in Gort for a coffee, well I got the biggest shit scare of my life, tipping along up the motor way, bike on the rack (it's the type that goes on the tow bar), looking in my rear view mirror could see the bike, next thing heard something, looked in rear view and no bike, WTF. Stopped car nearly in middle of road, manage to pull into hard shoulder to find bike still attached by the wheel straps, and saddle bag in middle of the road, I was able to retrieve saddle bag which the clip had broken on, re attached bike and started heading to Gort again, the thoughts in my head were if I hadn't put the wheel clips on the bike would have come clean off and any car behind me would have gone over it – don't even want to think about it, got to Gort took bike off rack and the gear shifter/brake had hopped off ground but was fine just had to readjust back into position, checked front wheel, perfect nothing wrong, checked back wheel and very slight buckle, damn it, I could loosen brake a bit so rim wouldn't catch but this wasn't ideal, so after coffee and talking with Joe we headed off, I stopped into velocity bike shop in Oranmore and what a top bunch, mechanic dropped what he was doing and trued out wheel and with a purchase of a new saddle bag I was on my way in about half hour.
I then met up with Paul, Brendan and Stephen in Ballindine and finished out the journey with them in convoy, getting to bike transition drop in Rathmullen we were slightly behind schedule but we were fine, far from the last getting there, quick check of bike and gear I was checking in, race stickers put on helmet and bike and we were on our way to Gartan to register which was well organised and drop boxes were handed over and labelled a quick bite was had in the main building and over then to the boat house for the de-brief. The warning came for the kayak about the wind and how this would be fully in our faces for the duration and the water would be choppy, so basically don't fall in, the rest was fairly standard and nothing un expected.
Getting to bed at gone 10 the wind picked up outside and the rain, there was so much rain, I had dreads of the following day being extremely wet and cold but the weather was promised mainly dry, wouldn't be the first time weather man got it wrong, 3 am rolled around to quick, up wash, down for a bite back to room to put race gear on, going downstairs to the reception area you could feel the tension, competitors trying to make small talk, those who had support there, you could see the worry and concern in their faces thinking what are these lunatics up to.
Going out to the start line and feeling the cold morning air, putting on head torch and the nerves were at full tilt, a quick countdown to the start and we were off. My plan from the start was to take this run very handy, warm up the legs, keep calm and save legs for the first cycle which has been for the last 2 years the toughest section and at the de-briefing was described as the toughest section and it was this area I was most dreading but at same time knowing if I kept to my schedule on first two sections I could complete this.
Coming into Ramelton I felt extremely strong the legs were good, no aches, no pains, got into transition flipped open the box and had a quick look at my notes and my watch, I was bang on time to my schedule, my kids had also given me notes to put in each box, so at each point I could read them, so I read these and felt great. I had given myself a time of 30 mins for this transition but knew it would be quicker, taking less than tens mins to make the adjustments I needed in clothing and eat , I was on my way to the kayak, I met Jim at dock he told me Loren was about 5 mins ahead which sounded right in terms of our running speeds so knew I was on track, and he and his girlfriend helped me on with the life vest and Jim gave me advise to keep left going out as the tide was fully out and very shallow water on right. I kept very left going out and it was perfect advise from Jim, I paddled past 2 other competitors with ease and set about trying to get comfy, the foot rests seemed to be slightly different to the ones we trained on, one rest was just a stretch too far and the other was bringing legs too far up, a complaint that Joe and Loren shared with me, anyway I got as comfy as I could and had to alternate between the two position, I got a nice steady rhythm going and was going well for about 15 mins, until you cleared the dock area and the sand banks, then the wind hit you and the tide. I taught to myself ok, they warned of the wind so just keep going with the plan, I had adjusted in my head to allow an additional 15 mins on kayak and shorten the bike transition as necessary. I paddled on and knew it was slow, it was a grind as Paul said later it was like paddling through treacle and that was the truth, but hey we were all in the same water so just focus and get on with it. A shower of hail started coming down and I clearly remember telling the hail to just fuck off, not in my head but actually telling it, I ploughed on making ground slowly, getting to the half-way point or as best I could judge it anyway, I was well off time target, trying to quicken the stroke and take pressure off back which was getting fair sore at this stage was tough, I paddled on looking at the shore for reference as to how far I had moved, the rescue boats were checking in on everyone and as they said if were here 10 mins sooner we would be through but the tide against us was getting stronger. I gritted my teeth put head down and paddled as hard as I could, looking to the shore at my reference and realising I was moving so slowly, I looked at watch and it was 1030, I knew my plan was to be on bike leaving Rathmullen at 1000, what the feck had gone so wrong, paddling away and not making necessary gap cover to make cut-off my race was over, I was gutted.
I got into the transition truck met Joe, Brenda, and Loren, Brendan was just heading out and Loren was half way through getting ready and Joe was just in, how close I was. I sat on the bench, towel over my head and felt the tears coming up, I said no Dean not here these guys are getting ready, I asked if anybody needed anything as my gear was now just spares, I of course was expecting someone to say have you gloves or a buff maybe but Joe Laffan made me laugh with the request of "Would you have any pants" pants Joe how did you pack your box for transition, so anyway Joe got my pants and towel for that matter. I changed my socks to be somewhat dryer, I went out onto the pier area and rang my mum and that was it I let it out, my frustration, the thoughts of all the commitment, training, emotional, financial I was deflated but mums being mums brought me round, and she sent me a text, about being so proud of me and proud of everything I have achieved over the last few years, and she was right, I have achieved so much over the last few years, to be who I am today. I took a few deep breaths and taught I have team, mates but more importantly I have friends who are still in this and although my race was over I was going to suck it up and help where I could, so back over to transition and 5 minds later Joe was coming out, myself and Jim helped him with gear, lights and encouragement and off he set.
After getting some breakfast, Jim dropped me to Gartan, I had shower, change of clothes and got into car, I headed to Muckish to encourage the lads, I met Joe coming in and racked his bike, had a bit of banter with Jim and Daniel who were their also, Loren and Brendan were on Muckish but I didn't get to see them there. I tracked the lads on line and made my way to the checkpoint for the marathon run, I met Brendan coming in, racked his bike, turned off his lights, allowing him to get into transition to change, eat and get moving, on his way out I had to help with his torch as battery had come loose, wished him well and he was away, next in was Loren, again I helped with bike, also taking his watch off bike and helping in any way I could, Joe was in soon after and similar situation helping where I could. Loren was out of transition first followed by Joe, I wished them all well, jealous yes but so proud they had made it this far, knowing now they would complete it.
I made my way to the finish line, meeting Martin, Stephen and Derek on the way, getting out of car and encouraging the lads, they were flying, I got to finish line met Paul and congratulated him what an athlete and friend, truly inspiring to see the time he put in on the day.
I knew before leaving the finish line that night, that I would sign up again, so roll on round 2 and watch this space…..