The Race, Donegal March 5th/6th 2016
by Joe Laffan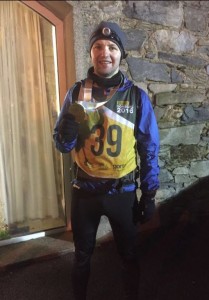 Just a small background information on myself before I start my report. I joined Go Tri club in January 2015 with the intension of getting fit again. After suffering a dislocated knee playing soccer, I had a couple of operations but when I tried going back playing in 2014 it just didn't work for me. So on the doctor's advice, I took up cycling and started back doing a bit of running. My aim for 2015 was to complete Kilkee Hell of The West. So I joined up with Go Tri to learn to swim properly (I'm still learning!) But in my first training session I remember there was a bit of a buzz about the place with lots of members asking how the lads were doing in The Art O'Neill Challenge. I had to go home and Google Art O'Neill, and when I saw what was involved I thought "fairplay play to them, but that's madness!" Yet nearly 12 months later to the day, I found myself standing by Arts Cross with the Go Tri Adventure crew!
The idea about the Race first came to me around April 2015. I had only met the Adventure crew around March as I had an interest in competing in the IMRA runs and Gaelforce etc.
At one of the training sessions, Paul Tierney handed out a list of events we might be interested in, and I heard the lads talking about registering for The Race, again I had to go home and Google this. When I saw what was involved I thought, thanks but no thanks! I was nowhere near ready for that and knew it would require a serious amount of training for me.
Fast forward to Oct 2015. After a busy summer of HOTW, IMRA runs, sprint triathlons and adventure races, I decided to take a couple weeks off after the Killarney Adventure Race, but when I went back training I found I had nothing to aim for and this was annoying me. It was then I thought seriously about The Race. I was feeling good and with four months training I believed I'd be ready. So I spoke to my wife Eimear, and explained to her what was involved. I knew I couldn't do this without her support and she was behind me 100%.
When I informed Paul Tierney that I registered, he had a bit of a smile across his face. I wasn't sure if this was because he knew I'd eventually register or because he was glad to have another Go Tri member in the team. But his first words to me were "Learn to love the bike!" more on that later!
March 2016
The week leading up to the Race involved some light training and going through all the gear required. Just packing and unpacking boxes. Trying to figure out nutrition etc.
After four months finally the weekend was here. Every day since I registered The Race had entered my mind. Driving up to Gartan in Donegal was probably the longest drive I had ever done. I was going through each stage in my mind, wondering did I pack everything (which I didn't!) checking the weather forecast.  Just before leaving, I was up early and had a good breakfast and thought that I'll check the boxes one more time. But when I came face to face with boxes I just couldn't face it, I just wanted to get on the road.
I met up with Dean in Gort for a quick coffee and chat. Unfortunately he had some bad luck with his bike, so he was keen to get that sorted. So off I continued to Letterkenny. After a couple of pit stops, 5 hours later I arrived in Rathmullen to drop of the bike. It was here that it really hit me, this is real!! I gave the bike a good inspection. Checked brakes, tyre pressure and that I had all the accessories I needed.
From Rathmullen it was on the base, Gartan OTEC. Here I registered, picked up my race pack and met up with Loren and Derek. We had a cup of coffee and chatted a bit, going through the route. We then got a meal of pasta and it allowed us to meet other competitors and chat with people who had previously completed the course, and getting any helping advice was a bonus.
At the race briefing the Race directors went through the course section by section and warned us that there might be a wind against us for the kayak section. I thought that might add a few minutes on to the time, but it shouldn't affect my race plan (I was wrong there!)
As I registered late, I wasn't staying in Gartan with the main bunch of competitors. I stayed in a hotel nearby in Letterkenny. The morning of the race, the hotel organised breakfast for competitors at 3am. We all arrived down, introduced ourselves and you could sense the nerves in the room.
After a good feed, I did my last minute checks and we headed off for the start line at Gartan. I must admit I got quite nervous here. I met with the rest of the Go Tri lads, had a chat. I was trying to occupy myself until the start. Eventually I just went for a small jog to warm up. Here I began to wonder, had I done enough, could I have trained more, is this a step too far for me. But I quickly kicked those negative thoughts out of my mind, remembering the training in early mornings, lunchtimes, after work, night times! Then before I knew it I was hearing 10, 9, 8 the countdown begun, this was it. I wished all the lads the best of luck and we were off!
5am, Stage One: Run 22km Gartan to Ramelton
For the entire race, I had planned to run my own race. At the Art O Neill, I made the mistake of going out to hard for the first half of the race, and then suffered badly for the second half of the race. So I learned for my mistakes. Here I just wanted to get through this in around 2 hours. My plan was to stick at around 5min 30sec per kilometre. The conditions were pretty good for the run, with only a few scattered showers and it was relatively mild. After about 7 kilometres I met up with Brendan. We chatted for a bit but we were both focusing on our race. We were both happy with the pace, so we decided to stick at it until the end. Although we didn't chat too much on the run, after a high in fibre breakfast, there were certainly other noises coming from us!
On this run I couldn't get over the support from locals. Standing outside their homes at 6am in the rain cheering us on. This gave me a little boost as we ran. One supporter stood out though, at around the 20km mark there was an elderly lady standing at her gate with a table, flask of tea, milk and cups! It was pissing rain, and there she was cheering us on. I was tempted to stop, but I thanked her and just ran on.
Stage 2 15km kayak Ramelton to Rasthmullen.
After getting through stage one ok, it was into transition for stage two. I was pretty wet, so I quickly changed my top half of clothes and grabbed some water and jelly's and was out the door for the kayak section. The weather was quite good at this stage, so I thought great, we missed the bad weather. At the kayaks, I met club member Jim Connolly and his partner Josephine. It was great to see support from them, and here they also helped me with getting on the life jacket. I tried to grab a kayak that looked familiar to the one I had trained with, but the marshal just told me to get into the one he had ready as they were all the same. I wasn't going to argue, so off I went. From the start, I could just not get comfortable with my legs and back. But knew I just had to deal with it. Early in the stage, Loren caught up with me and Brendan and here we were having a bit of banter as we tried to paddle through the extremely shallow water. All the laughing and joking was soon to change for me!
The weather began to change around half way through, and suddenly there was a shower of sleet and a strong gust of wind blowing straight into our faces! All I could think was just paddle paddle paddle! Soon the rain stopped but the wind didn't. Just to make things more interesting, I started getting blisters on my hands from the paddle. I was using paddle mitts, and while my hands were lovely and warm, it came at a cost! I began to fall behind Brendan and Loren as they chose a different line. At the briefing I thought we were advised to stay left, so I did. But I began to wonder was this a bad call as I saw two lads get toppled out of there kayaks as the wind and waves picked up!
After what seemed like forever I finally reached the peer. I expected to get here at around 8.45, but as conditions were so bad I thought, maybe it's about 9.15am. When I got out of the kayak and checked my watch and saw 10.10am, I knew I was in trouble as I had to get changed and get on that bike to make the 4 pm cut off for Muckish!
Here a marshal helped me out of the kayak and asked me my name and race number. He then put his hands on my shoulders and asked was I ok? Truthfully, I was borderline hypothermic, I was so wet and cold. But I informed the marshal I was grand, just a little stiff from sitting in the kayak. He then offered to take the paddle off me, but I declined the offer, instead I used it as an aid to get up the peer! I probably looked like an old man, but I soon loosened up and got into transition.
Here I met Brendan heading out on the bike and I met Loren putting the final touches to his transition. I also met Dean here, and he informed us he was pulled at the kayak session because they got caught in a strong part of the tide and were moving nowhere. I could sense the disappointment and I tried to offer a few words, but he was just gutted, as was everyone for him as he put in a huge amount of training for this event.
He was going through his box and asked if anyone needed anything. I instinctively just roared "PANTS", I need pants. I had somehow forgotten to put them in the box. One good thing here was it brought a smile to Deano's face, as he couldn't understand how I forgot them. But he gladly handed them to me and stayed around to help with me getting ready.
Stage 3 96km Cycle Rathmullen to Muckish Mountain
After a fresh change a clothes I felt like a new man. Dean and Jim helped me fill water bottles and attach a light to my bike and I was off. I'm not the strongest cyclist so getting to Muckish for 4 pm was going to be a challenge for me. As I knew there were hills, hills, and more hills ahead of me. It was here that the race plan went out the window and I figured I had to just go as hard as I could. It was difficult to get any rhythm as it was just up and down for the first 30 kilometres. But after about 40 minutes, I started to pass a few competitors. Although it might seem a bit selfish, this gave me a boost, as I thought to myself, I must be going ok if I'm catching up with others. On the way I always had a quick word with competitors. But one lad said "We won't make the cut off time!"  And I just said if we push hard enough we will. We had to be positive or else we were wasting our time. Along this route were some of the most beautiful parts of the country. But unfortunately I didn't have the time to be taking them all in. going downhill, I noticed some lads were freewheeling, where as I was just going hell for leather! At around the 60km mark, this caught up with me. I got to the top of what seemed like climb number 120, and I had to stop. I needed to try take on some food and water. Here another cyclist stopped for a few minutes and I tried to eat a roll, but I just couldn't stomach it. A local passing with his dogs chatted for a moment and encouraged us on and his dogs disposed of my roll pretty quickly too! Around this time, I began to think of Paul Tierney's advice, "Learn to love the bike", unfortunately I wasn't at that stage with my bike. While I do really really like it, I don't love it! It's something I'm still working on!
I got back on the bike and just tipped away knowing I had a couple of big climbs ahead, so I tried to save a bit of energy for them. Approaching Lough Salt, again I started to pick off a few competitors and met  Ciaran (who stopped earlier with me) as we went up the climb I passed out a few competitors walking with their bikes and Ciaran hopped off too, asking if I wanted to stop at the lake for a minute. But I informed him we didn't have time. Here also, I did not want to walk with the bike; I dug deep and found the energy thinking back to all those early winter mornings cycling up and down to the Golfballs in Cratloe from the four different roads. As I got to the lake, a supporter roared "It's all downhill from here!" needless to say I didn't believe him.
As I got close to Muckisk, I was really against the clock. I came to a cross roads where a marshal stopped traffic for me. All I could see was a hill in front of me, so I continued straight on up the hill. The marshal came running after me and roaring "RIGHT RIGHT, TURN RIGHT".  To be fair there was a big arrow and the marshal directing me, but I just had hills on the brain.
With about 15minutes to the 4pm cut off time, a competitor Eamon Diver pulled up alongside me on the  bike, asking if we'd make it. I said we'd be grand; they'll let us through after 4pm. He said we need a good flat road to make it; we both laughed at that as there aren't many of them in Donegal.
With the transitions in sight, I had about two minutes left. I was just about to get off the bike and jog/walk the rest. But just then I saw Jim and Josephine again and I thought, I can't get off in front of them! I could hear Jim roaring me on, supporting me. But it was border line abuse! He was like Davy Fitz on the side-line of an All-Ireland final. Telling me to drop the gear and get off that f**king saddle and move move move! As I passed him I sat down again, and he roared "GET OFF THAT SADDLE!" This was far from the soft spoken Jim you know. But as I crossed the line, the marshal was just smiling and said "8 bloody seconds to spare!" I don't think I would have made that time with Jim's support.
One more lad came in just behind me, and they just about let him through, then I saw Ciaran come in a minute after, and he was cut from the race. That's how strict they had to be. Due to the Mountain Rescue requests that no one be one the mountain after 6pm.
At the transition I got nice surprise too, where I met my wife Eimear. I really didn't expect to see her until the finish line. I gave her a quick rundown of what happened, and expected a kiss and cuddle and to tell me it's all ok, but she just gave me some home truths that, I've done really well to get here, now forget about the past sections and just get up that mountain. I knew she was right. As I collected my box for transition, the marshal was telling us all to hurry up. I was thinking, would you just give me a break. But again, they just wanted us to make the 6pm cut off time to be on the bike
Stage 4 Muckish Mountain
I was actually looking forward to this. This is my bread and butter, something I really enjoy. As I went to get changed I decided not to bother as I was already dry, so I just put on my runners and off I went. I met another club member Daniel Gallagher here, and he asked if I wanted company on the route. I was more than happy for him to tag along. About halfway up, I met Brendan coming down. He gave us a few pointers, and soon after I met Loren. A few words of encouragement exchanged and we all battled on. Near the top there was a bit of a trail, it was here Daniel encouraged me to run parts of this. I was feeling good so I ran at every opportunity. At the top, it was just a quick turnaround, and I started to jog. Here I passed out a good number of competitors as they were walking down, but I wanted to make up as much time as possible so I continued to descend as fast as possible. I had allowed 90 minutes for this stage, but was happy to get through it in just under 70 minutes. Down at transition I was able to change in to clean, dry clothes for stage 5. I also tried to take on some food, but again it wasn't sitting well in the stomach. So I decided I'd just graze away at bits of food on the cycle. Getting on to the bike I met Eimear, Barbara (Paul's fiancée) and Amy (Stephen's fiancée) Dean, Jim and Josephine. They were a great support, and although it mightn't have seemed like much to them, it really gave me a lift getting on to the bike.
Stage 5 68km Cycle Muckish Mountain to Glenveigh National Park
I was almost surprised how good I was feeling getting onto the bike at this stage. I think that the just making the cut off and the mountain run gave me a bit of a boost. I also knew the start of this stage was downhill for about 12km, so I decided to go as hard as I could and get as far as I could while it was still bright. At around 20km in, I met up with a competitor Seamus Morris. We got chatting and were tipping away nicely. I felt he was stronger than me on the bike, so I told him to drive on, but he was happy with the company and pace, so we were able to help each other for the rest of the stage. It was pretty dark for most of this cycle and road conditions were bad in parts, but we were pretty confident of reaching the last stage by after 9pm and at this point it was all about crossing the finish line. We didn't push too hard as we wanted to save some energy in the legs for that bit of a run in Stage 6. With about 10 kilometres to go in the stage, we met up with a couple more competitors, Enda and George and again here we all worked well together to get to the end of the stage. Arriving into the transition, again I was greeted by Jim, Josephine and Dean. As I got off the bike, they helped me rack it and turn off lights and take my helmet, all little jobs that just saved me the hassle of doing it. I couldn't thank them enough!
In transition, whatever stomach problems I had earlier had disappeared. As Jim got me a cup of soup, it wasn't long in my hand before I was sending him for a second one. Josephine and Dean were helping with water bottles. I put away a pot noodle and Muller rice. I was just starving. I eventually had to send them away as I was too lazy to look for anywhere to change, so I just did a full kit change where I was sitting. I knew I had about 6 hours ahead of me, so I wanted to be dry and comfortable.
Stage 6 Run 42km to Gartan OTEC along the paths and trails of Glenveagh National Park
After a good feed, a change of clothes and a bit of a stretch, I was off on the last leg. I was feeling pretty good and knew the first 15km was on a road, with a slight hill. So I decided to run where I felt comfortable and march fast up any hills where I was feeling pain. I didn't want to be cramping up at any stage. About 5 km in i met up with Enda again, where we worked well together. Running where we could, or shuffling up hills. I found it good to have company too. As I was starting to feel a little sleepy it was good to talk and keep me alert.
Around this stage too, I met Loren. Again, we encouraged each other. I offered to run a bit with him, but he said he was taking it easy as he had a pain in his knee and told me to go on. At around the 15km mark, we headed for Bridals Path, this was a trail section with about 7 km of downhill. At this section we got some water off the marshal, and he advised us to make good use of the downhill. So with that,  Enda and I  took off on the trail. It was by no means a fast pace, but we were moving along nicely. At the end of this trail we came to Gartan Castle, here we met marshals who offered us water and Coke. I declined the Coke, but on Endas advice, he thought the sugar might wake me a bit as I was beginning to get more tired. After the Castle we had roughly 6km of trail up hill. I was beginning to struggle a bit here but Enda was constantly encouraging me to run where possible and I tried to find the energy to do so.
With about 10km left, I told Enda to head on as I knew I was holding him back. He offered to stay on as we were so close but he was in better shape than me so I told him to just go. Around this point I pulled out the iPod to try wake me. I was just so sleepy; all I wanted to do was lie down! I was so close so there was no way I wasn't crossing that line, but I did start to worry whether I'd make the 5am cut off time. Just then, I started to come across a few competitors, and again, this gave me a boost. If I was passing people out, I couldn't be in too bad shape. Again, every time I met competitors, there were always a few words of encouragement exchanged.
With the final turn into Gartan, the adrenalin started to kick in. it's amazing I thought. I've been out on this course for nearly 23hours, but there's still a bit of a kick in me to run over that finish line.
To say I was happy was an understatement. I felt like I had just won Gold in the Olympics. This was a real challenge for me. It's hard to train as often as I'd like with family and work commitments. But I'm lucky to have a supportive wife and son and also to be part of the Go Tri club. Without all their support on the course, I'm not sure I would have made that finish line.
As I crossed the line, and received my medal, I just fell into Eimear's arms, so happy to see her and to have finished this race. Then I met all the Go Tri crew, they were finished many hours ahead of me, but they waited around until we all crossed that line. Which goes to show the great spirit of the club.
All in all it was an eventful day. I had a few doubts in the kayak and on the first bike section as to whether I'd finish, but it goes to show if you dig deep, you'll always find that little bit extra to keep you going.
"The body has limits, but the mind is boundless"
This time last year, there was no way I was considering entering The Race, 12 months later I have the medal around my neck.
"The Race" Report by Joe Laffan