Banner Duathlon 2018
Full details : Reg opens :9am closes sharp 10:15 — Entry online via — TriathlonIreland.com
Race start : 11am sharp 
Cost = 25€ for Triathlon Ireland Members — IF not a member of triathlon Ireland  you will need a 1 day licence. available on the day with Entry costing €30 ( junior entry is only €5 )
a lot of first time athletes will take out a one day licence to experience duathlon or triathlons.
you will see the sign asking if you need a one day licence, just ask if you have any further questions
race happy 🙂
race details : 4.5km run…… 21km bike…… 2.5km run
Lead sponsor for 2018 is Ei Electronics and we are delighted to have them on board again. We would be lost without them and our supporting sponsors Block Mesh, Mrs Breens coffee shop, M&G transport, Clare Co.council, Hertal
 Junior details — Entry €5
Registration Timetable

9 am

Registration opens for all – adults and juniors

10:15 am

Registration closes for adults

12 pm

Registration closes for juniors
Race Start Timetable

11 am

Race start – Adults

12:30 pm

Race start – Ages 6 to 11

1 pm (approx)

Race start – Ages 12 to 15
Distances :
| | | | | | |
| --- | --- | --- | --- | --- | --- |
| Age | Run | Bike Loops | Cycle (Tarmac) | Run | Colour Code |
| 6 – 7 Years | 250m | 1 | 2.2 km | 250m | Green |
| 8 – 9 Years | 400m | 1 | 2.2 km | 400m | Blue |
| 10 – 11 Years | 1km | 2 | 4.4 km | 600m | Red |
| 12 – 13 Years | 1.3km | 3 | 6.6 km | 1.3km | Yellow |
| 14 – 15 Years | 1.9m | 4 | 8.8 km | 1.3km | Black |
Route maps per age group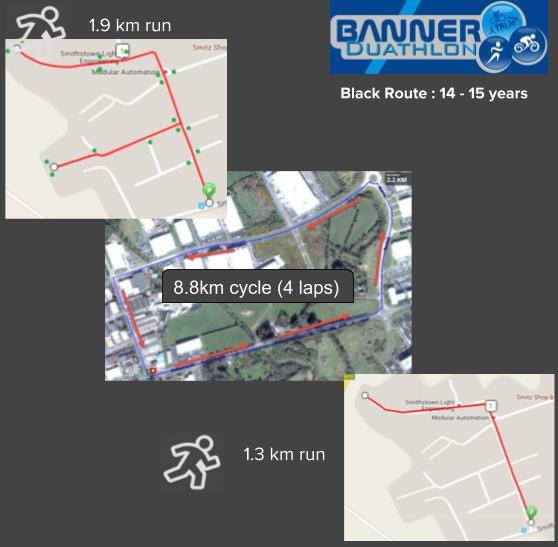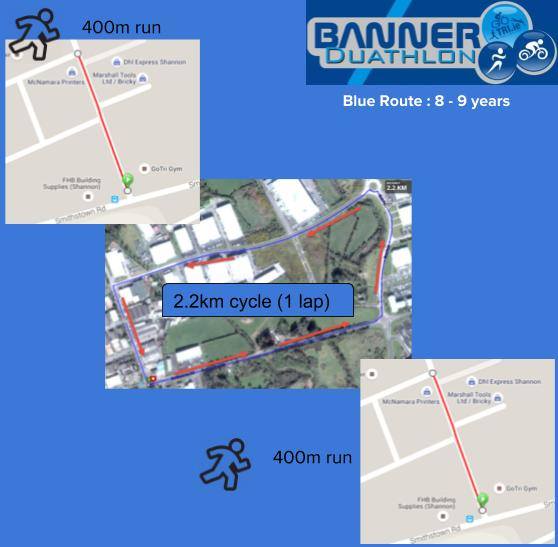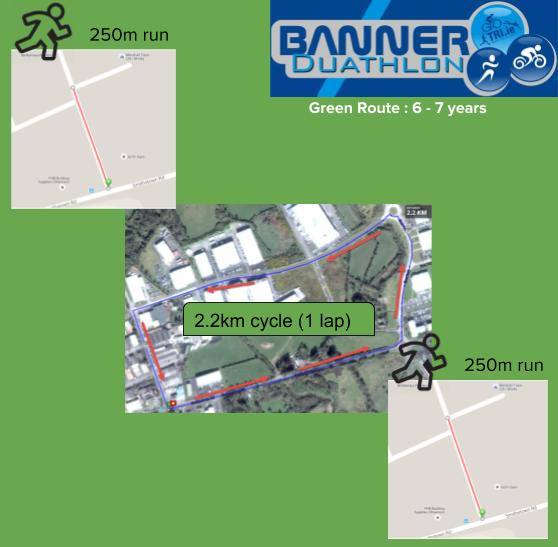 ………………………………………………………………………………………….
Race Results 2016
A huge 'Thank you!' goes out to everyone who helped make the Banner Duathlon 2016 a great success. Special thanks go out to all athletes who showed up despite the cold & wet weather, the numerous marshals who did a great job keeping everyone safe & our primary event sponsors, EI Electronics and Limerick City College.
Full Race Results can be downloaded below:
Junior Results will follow
---
Sponsorship News 2016
We're happy to announce that local company Ei Electronics came onboard to support this year's Banner Duathlon. Ei Electronics have been great supporters of our club in the past and we're proud to continue this great partnership.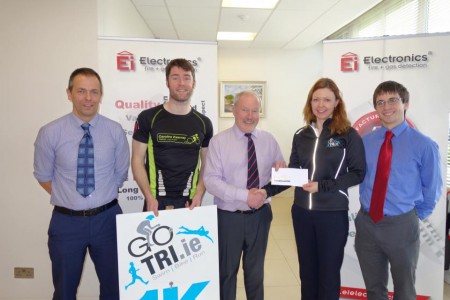 ---
Banner Duathlon News 2015
Delighted to announce Modular Automation are coming on board as race/event sponsors.
Modular s head quarters in Smiths town Shannon Industrial Estate are only around the corner from our club house and event head quarters.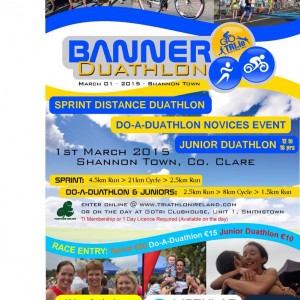 A big point to note from last year is that there is no standard distance event this year. We have introduced a new event in the Du-a-Duathlon format where we hope to encourage as many first time athletes to take on the duathlon challenge.
Every great journey started with a single step.
Yours in Sport
STL

The Banner Duathlon has a new date for 2015
On march the 1st 2015 — Save the date 🙂
Entries are now live on www.triathlonireland.com /  https://www.triathlonireland-newserver.com/local-races.html
We have a new race course for all the athletes this year. Please note that only some of the videos are correct. We will have new course video and course information asap
yours in sport
STL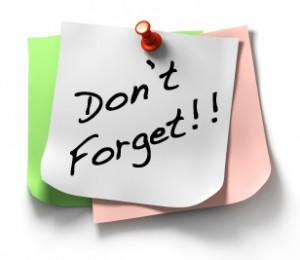 Lots of exciting new coming soon about the race.
A huge thank you to all who made 2014 a huge success, we cant wait to welcome you back in 2015 for a bigger and better race
Yours in sport
STL
Sponsors
Location: Shannon Co.Clare
Start time: 1pm
Registration: Wolfe Tonnes GAA Club house bar — 9am until 12pm sharp
Prize giving: Wolfe tonnes GAA club
Toilets/showers : St.Senans Rugby club- TBC – please respect the facility – no loitering and no littering.
Standard Distance: 10k 42k 5km
Sprint Distance: 5km 24km 2.5km
Online Entries via Triathlon Ireland website.
Please note for all athletes — you must have a triathlon Ireland racing license or  1 day licence — no licence no race.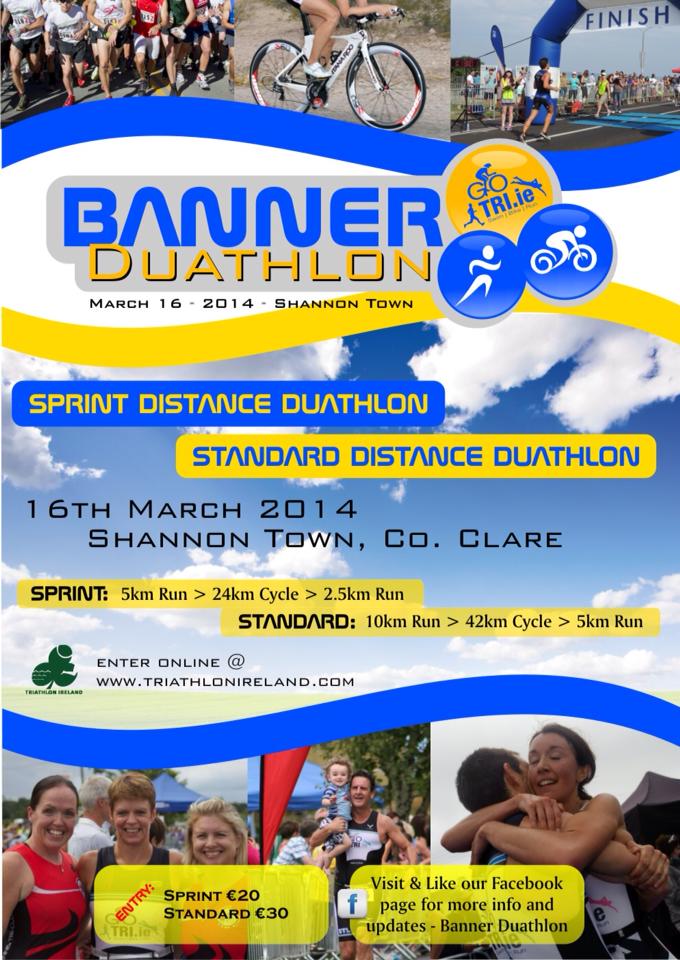 Basic rules for beginner athletes
helmets are compulsory – no helmet no race
always remember to attach your timing chip to your left ankle
bike must be road worthy – both brakes must work
runners/appropriate footware must be worn
torso must be covered at all times – no flashing
Competition rules
when you start to race- make sure your chip is on and your number is showing to the front (number -belt)
on entry to transition – put your helmet on first – do not move or touch your bike until helmet is securely fastened
on exiting the bike transition – do nomount until you have crossed the mount line
Do not draft behind your fellow competitors – draft marshals will be in place
on your return to transition 2 – do not cross the mount line on your bike
rack your bike before taking off your helmet
on exiting transition – number to the front ( give it everything you got, best of luck)
Other notes
Please respect the environment – please do not litter
Please respect your fellow competitors – honesty policy in place for drafting and cheating.
Please respect our marshals& volunteers – you get to race because they are sacrificing their time
Please encourage all your athlete buddies to the finish line
 Event Sponsors
If you or your company is interested in sponsoring this event please get in touch with info@gotri.ie  we would love to hear from you.
Current sponsors:
Limerick City College 
Limerick City College are proud sponsors of the GoTri Racing Team for the 2014 season. Check out all the courses they have on offer on their website.
Askin & Sons – Water & confectionary
Trevor is a club member who has been very supportive in all the clubs activities. Askins Amber & Cost cutter shop is located in Limerick, on the Killmalock road towards Ballyneety. The garage is a 24hr station for all your hot food and petrol needs
Current supporters
Dave Fitzgerald — FitzFlora: Website
Fitz flora is located in east way business park, near the NTC centre. Dave and his business specialize in all things flower related.
Dave supports this race with vehicle support and Victory flowers.
BIKE COURSE VIDEOS
Please excuse the voice over — STL had a cold. hope they help for race day.
bike course video 2– TRAFFIC LIGHTS to TT COURSE LEFT HAND TURN
video to be added shortly 
Bike Video 3 – decent into New Market on Fergus

bike 4 –
Return route to right hand turn and decent back into Shannon
&nbsp