Guest blog : Oscar De Greggario : Rants
Guest Blog :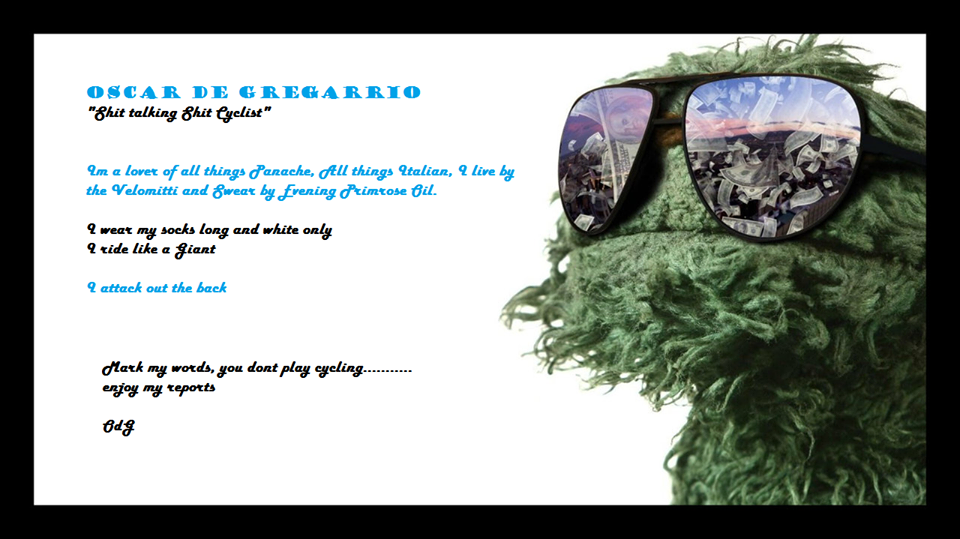 The clare championship preview .....
The burden of the Burren and the exotic numerous options from A1 to A4 is a hard nail to hammer. Any club in Clare can win the Clare champs and it will come down to a bit of luck, a bit of planning and a lot of legs.
Let's look at the basic outline of the course
* A flat start to crusheen 
* An undulating but flat road to Tulla
* A horrific climb up Mahera
* A gloriously fast decent 
* A flat road back to crusheen
* A little dig into a draggy finish
Realistically the course is not that hard outside of one long hill that is not much outside of the length of an FTP test but year after year the selections are made here.
Those selections might not be, the be all and end all of the race but the hill no matter what way teams look at it has a great influence on how the event unfolds!
The sprinters hate it
The rollers are hesitant on it
The climbers love it but ..... it's too far from the finish line to make it alone.
So the cards and poker has to be played and that's where the debates will start.
The heads of each local club are pondering the time gaps and looking at the best riders within their perspective clubs and thinking of plans..... all these of course can go to shiiiiite within the start line and testosterone filled "young"old lads still want their 15mins of fame but let's for one second think that the club comes before the individual and start there.
Something to ponder however : Clare for all the growth in cycling has realistically 2 junior riders ? What are the clubs missing ?
Clubs in terms of ranking ?
* The Burren cc
* Club Rothaiochta cc
* Dolmen cc
* West clare cc
* Traderee wheelers cc
* Clare crusaders cc
* Riverside Cc
Clubs not in Clare but with Clare riders
* Greenmount Cc 
* Velo revolution
There are more than likely other clubs with Clare riders of note but alas I cannot think of them. Apologies
The top riders of the last few years on a head to head .......
Mike Storan Versus Mark Shannon
Who has it ?
Both riders have a touch of class about them and both have won big and both have won the Clare champs. Mike probably tips the scales on this particular race and has been racing a lot longer but has Mark got the greater power ? And the bigger team to maybe edge things in a head to head ? China after all might not have the best military equipment but would win any war on numbers !!!
Since the Clare championships have been revived approximately 6 years ago who has won it ? And how ?
2012 Jarlath Hassett /Mike Storan / 
2013 Mike Storan / Vinny Gleeson /
2014 Jack o Shea / Cathal Russell/ 
2015 Mike Storan 
2016 Steven Gerrarty/Jason Fitz 
2017 Mark Shannon / gearoid Howard
Jack O Shea's win in 2014 from recollection has been the only bunch finish and one contested by the a3/4 as the A1/2 bunch played a little too much Mickey with the mouse.
Hassett's win in 2012 was a 2 up TT away for much of the day with Storan. To win on the line.
2013 a small break went up the road in the closing 10k of the race with everyone watching and waving as it went away.
2015 I can't remember for some reason but alas the name on the plate says it was a break away.
2016 Burren tactics and a strong A3 group of riders saw Stephen Gerrarty and co hold off the A1/2 bunch
2017 again another break with Shannon riding across to the remnants of a group up the road and powering home for the win
These small illustrations tell us a few things. A bunch sprint is highly unlikely unless the A4/3 have a meeting and put aside individual glory until after the mohil.
A break containing the right riders can win it and more than likely it better contain a Mike Storan !
Let's break down the biggest hitters from each club by the list above
* The Burren 
* Mark Shannon 
* Stephen Gerrarty 
* Brendan Talty 
* Ger Troy 
* Gearoid Howard 
* Jarlath Hassett
An abundance of talented individuals, a burden or a pleasure ? I'm sure the cranky northerner aka Gary the boss will dictate the tactics but a general consensus is that if Mark and Jarlath can work together they maybe unstoppable. Strength in numbers but also in expectations
* Club Rothaiochta an Sionnaine 
* John Butler 
* Richard Quinn
* Rene Stendam
* Alan Dunlea 
* James Bullman
After a brilliant M&M classic John Butler can put his hand up to lead on this one. A 4th place finish ahead of many big names will give the man a huge confidence boost ahead of this coming Thursday night. CRns will need a bit of luck to be on the right wheels at the right times
* Dolmen cc 
* John Colleran 
* Cathal Russell
* Derry Mcnamara 
* Albert Murphy
They might not like the sound of this but Dolmen are really struggling for a winning ride. Look to Derry to hang with the A1 group and a top 10 placing but without a game changer this club will need to follow and maybe that's there positive ? No one will be expecting them to work
* West clare Cc 
* Pardaigh ? 
* Karl Kinsella
If one ever looks back at any footage of the old Clare cc races they'll see a huge number of West Clare Cc jerseys but in recent times and since Jack o Shea has gone awol the club is in Decline. However a young Karl Kinsella gives them hope. He will be found down the back of any group waiting for a sprint! He puts all his cards in that basket and why not he has a great kick
Other teams to note will be ?
Greenmount Cc pairing of Vinny Gleeson and Mike Storan ...... needles to say these riders will both be in the mix and both won't want it to come to a bunch finish. Expect fire works on the homeward bound roads if it's all together.
Velo revolution has the ever green Barry Sutton approaching 50 years of age he still has the famous kick that has placed him up and down the country.
After all is said and done how do I see this race unfolding this Thursday night ?
I expect it all to come together before Crusheen and for a small break to go away to contest the finish.
I would love for the brave of the A4 & A3 groups to stay away
And I dream about someone winning solo from a daring move on the Mahera mountain
In every sense of the words "the best of mechanical luck " to all on the night and hosting club Dolmen cc
Ride like Feck 
Oscar