Upcoming Events
The Time trial fundraiser for Oliver Gunning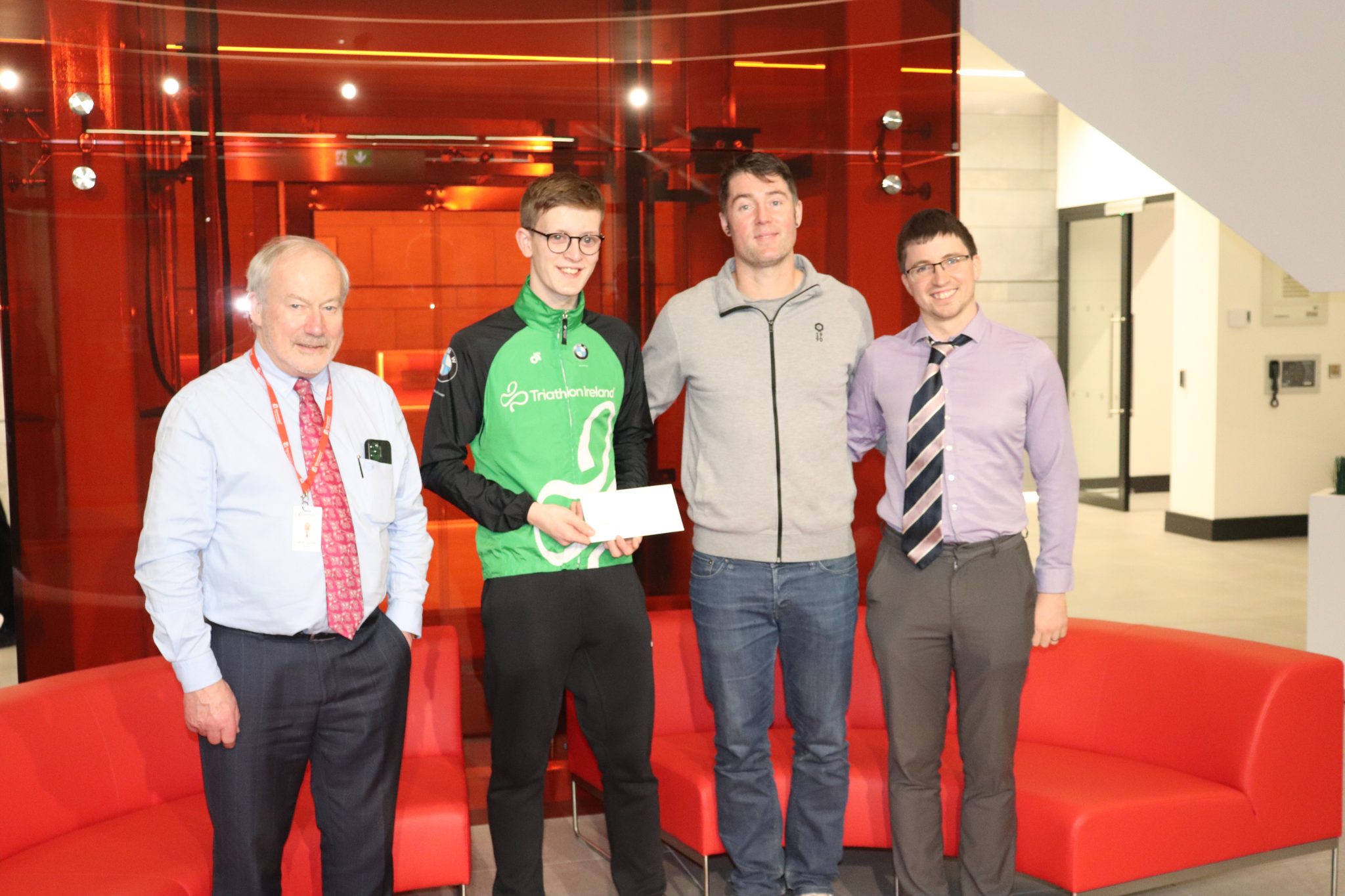 On December 18th, 2021
The GoTri team through their weight behind Oliver Gunning this winter to help him and his family raise fund for a new tandem bicycle. Oliver who is a PTVI athlete is guided at times by club man STL and we hope the funds raised can help Oliver on his world and Olympic journey.
Link to Irish cycling news article here for results and back story  HERE
What did we do ?
We organized a 15km time trial - on our traditional course 🙂
We dragged Oliver and his family down from Northern Ireland 🙂
We got support from one of Shannon's Best companies in Ei  link here to Article from Ei  Here
We made the cakes and drank the coffee 🙂
We as a club want to thank everyone who donated and who marshalled on the day to help make it a brilliant day out
Big Supporters 
Ei Electronics (special mention to club legend David Richardson for all his help)
Limerick Triathlon Club : with Phillip Manuel and co we want to say a Hugh thank you for their club support and in supporting the prizes on the day. We couldn't have run the event without their support.
Back Baller & Noel Marshal : Noel is always going above and beyond to help the club out. From spot prizes to cakes, coffee and laughter.
Local Cycling clubs and Triathlon clubs : Wow - a big thank you to local Clare and Limerick clubs who donated to the fundraiser. Club funds are under serious pressure from covid measures and we want to say a big big thank you to all those clubs who came on board to donate and to take part.
Special Mentions : 
James Bullman Painting , JVC Motors,
The Results and race report here on Irishcyclingnews.ie (  a big thank you to Barry for all his help and support)
a huge huge thank you to everyone who helped out on the day, without you nothing happens, you know who you are 🙂
The club are training towards the following local events in the coming months
The Banner Run series -  The clare run series - Gorgeous Gort 5km - Limerick Half and full Marathons
Limerick Masters swimming Gala and Swim Ireland's Swim for a mile - GoTri training swim league
Limerick Tri club Duathlon -
Joey Hannon Tri - kilrush up the creek - Hell of the west - Nenagh events -
If you want to get involved - let us know by email or drop a message to the facebook page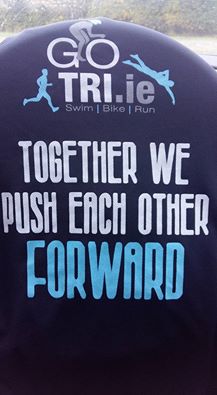 The GoTri Shannon Summer Run Series 2019
The races will be run on 4 Wednesdays in August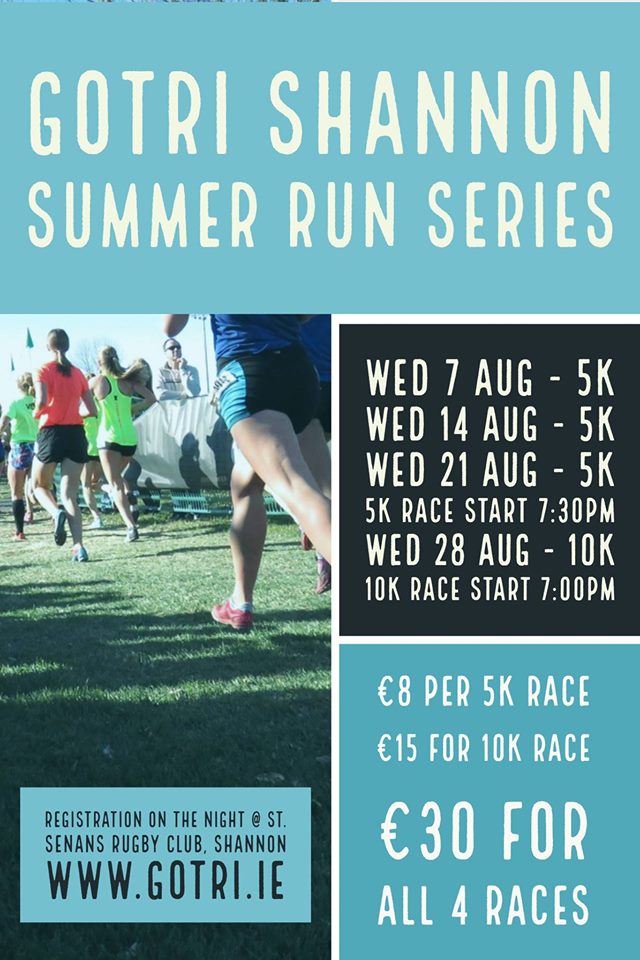 Cost for each of the 5k races is €8, with the 10k costing €15, or sign-up for the series for a discounted rate of €30.
The main aim of the running series is to get people out running, whether this fits in to a couch to 5k plan or you aim to take first place, we want to get people out running and enjoying themselves.
Looking forward to another great event this year!
Flash back pics with a very special one of Curly





please note this is not an STL event and is run by GOTRI Triathlon club committee
any questions of information : please contact the Alan Webb at GoTri triathlon club Facebook or email : gotritriathlonclub at Gmail dot com
The GoTri Shannon Summer Run Series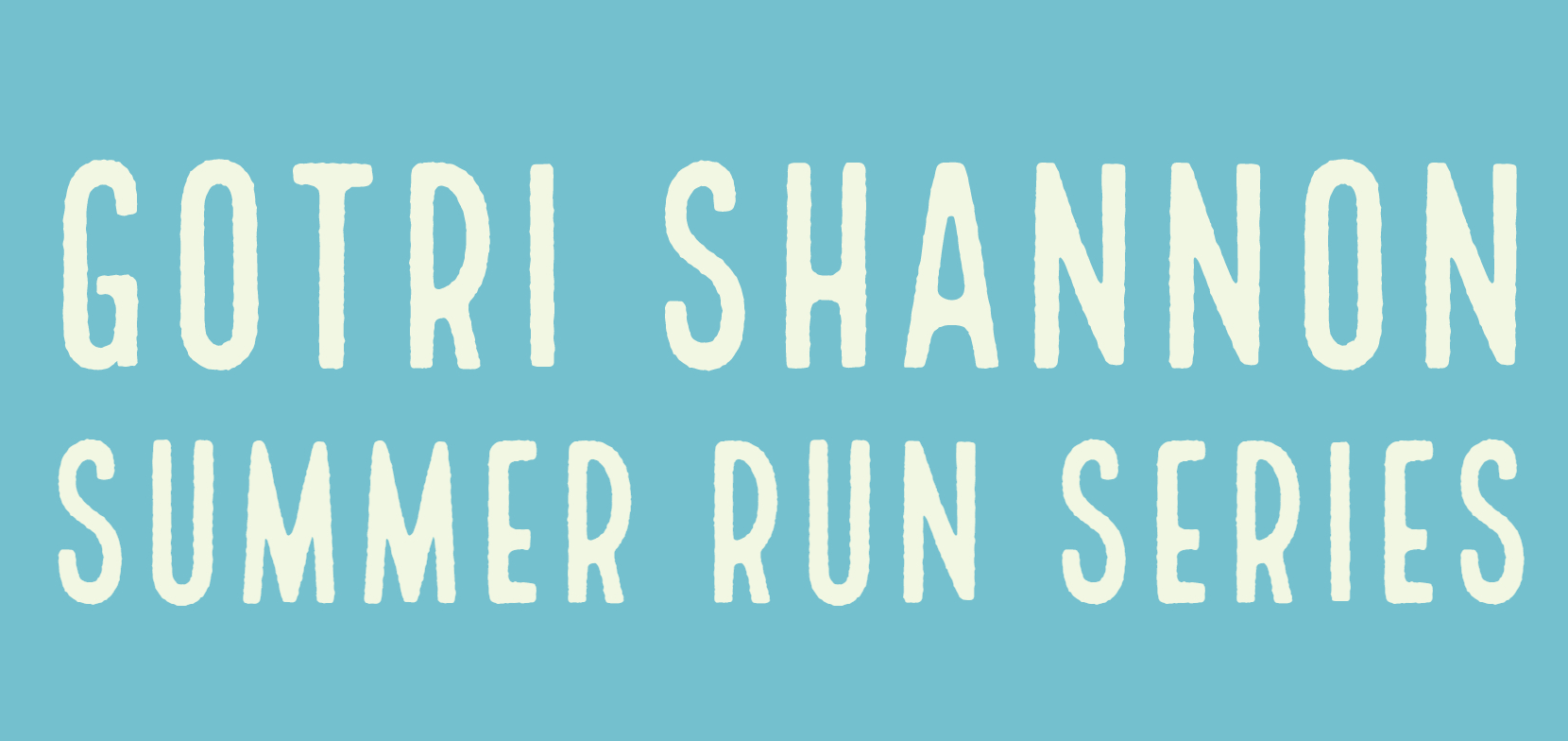 We're kicking off our Summer Run Series again this year on Wednesday 8th of August. The run series is for all abilities and we'd love to see all the people that took part in the 5k a day in January come along and take part too!
The races will be run on 4 Wednesdays in August
August 8th - 5k race
August 15th - 5k race
August 22nd - 5k race
August 29nd - 10k race
Cost for each of the 5k races is €8, with the 10k costing €15, or sign-up for the series for a discounted rate of €30.
The main aim of the running series is to get people out running, whether this fits in to a couch to 5k plan or you aim to take first place, we want to get people out running and enjoying themselves.
Looking forward to another great event this year!
See the Summer Run Series event page for more details.
The Bunratty Mile Swim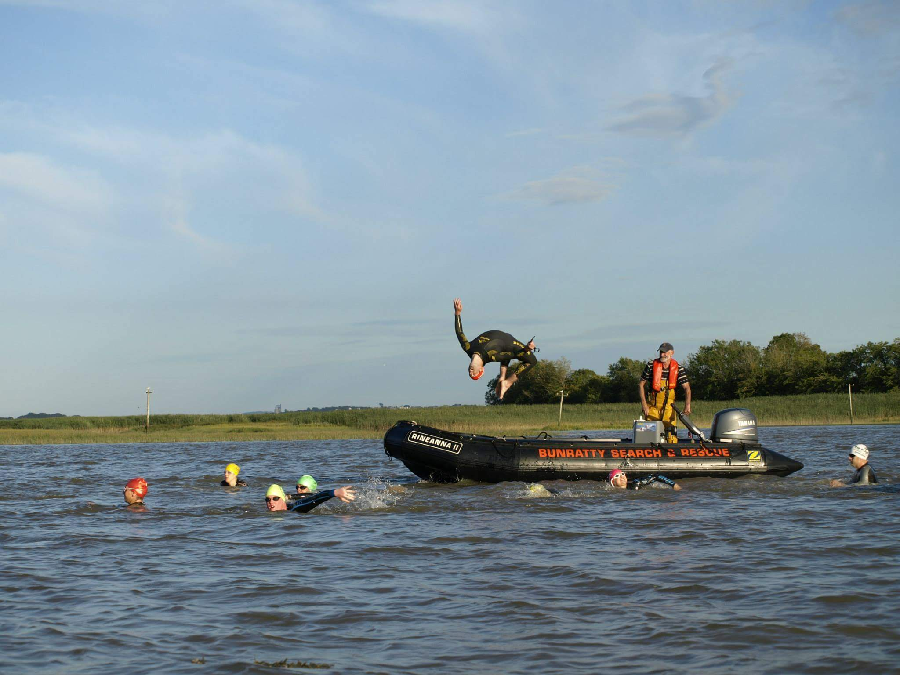 The now annual event will take place on July in aid of Bunratty Search and rescue Saturday 7th July @13:45
Bsar will be providing the cover and support for the event which was a huge success last year.
Race Director Mairead Elliott of GoTri/Shannon Masters hopes to have another big crowd attend the event with 100% of all monies raised for towards the Bunratty Search and Rescue team.
Link to registration :https://register.primoevents.com/ps/event/TheBunrattyMileSwim2018 
The Bunratty Mile Swim is a fund raiser swim in aid of Bunratty Search & Rescue. All funds go towards the BSAR which is a voluntary organisation dedicated to providing search and rescue services in the Shannon Estuary. 
The swim will take place on Saturday 7th July @13:45 starting from a small island located up the Bunratty river, participants will swim 1 mile down stream to the slipway at the search and rescue headquarters. All swimmers must be capable of completing a 1 mile swim, with the adequate licence affiliation. The event will be handicapped based on ability. 
There will be tea and cake in the boathouse after the swim finishes. We hope to see you all there! 🙂 

The M&M Memorial Classic  2018
After a great first year we return with the M&M Memorial in 2018, Dermot Radford stole the show with a great late attack to take a brilliant win for the Tipp wheelers club. A man that shines over the local TT courses can he do it again in 2018 ? only time will tell.
Club Rothaiochta once again get behind supporting local events by organizing the event through Cycling Ireland so C.I points are available.
Prizes for the top 10 overall, Michael Lynch Memorial cup is up for grabs between the A1/A2 riders, Malachy's Cup is up for grabs between the A3/A4 lads and The Melanie Lynch Memorial cup is up for grabs with the ladies.
We have two sprint primes which will be on laps 3 and 5 overall with a prize up for grab on each of those. Hotly contested last year !!
Clubrothaiochta will also award a prize for first club rider home !!
Anyone that has taken part in the club training events will know the course very well. The only exception being we do 9 laps in total. At all times we ask that people respect the locals, the rules of the road, the marshals and most of all each other.
Michael Mel and Mal were all former club members who helped to shape and form the club down through the years and we are excited to remember them on this special evening.
Sign on 6-7pm @ GoTri club house : unit 1 smithstown Shannon
Race start : 7:30 pm @ Wells church 1.5km away from sign on please allow time to cycle there. We ask that all riders park at or near the club house
Registration is online only (numbers are limited), details can be found here via Clubify - https://clubifyapp.com/public/clubs/1145/products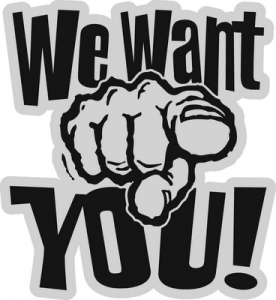 Club house Cafe will be open from 3:30 that evening if anyone is around early and wants a coffee before race starts etc. Toilets and changing area available
New event coming to our local town - Shannon
May bank holiday Monday at Shannon Swimming Pool
First wave will start at 9am


Check out our TT section   www.gotri.ie
Junior MTB Academy
Time: Mondays, 7:30pm - starting on July 17th
45min on first session
Cost: €2 (the funds will be used to maintain the club's junior bikes - charge applies to everyone, no matter if kids bring their own bikes or not)
Night 1 is free
Location: Meeting at St. Tolas School
Requirement: All kids need to hold a Triathlon Ireland Junior License (€5 for 0-14 years, €10 for 15-16 years - licenses can be purchased on TI website)
Sessions will be a mix of riding / skills / fun. The club has 10 bikes available to be used on the night if your child does not have an own bike.
Any questions, please don't hesitate to email info@gotri.ie .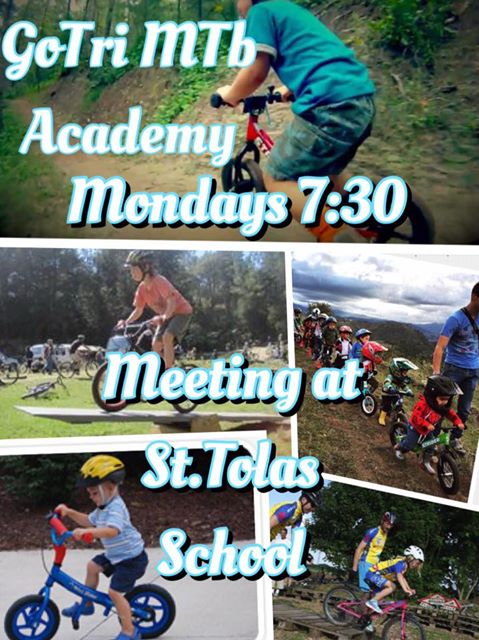 GoTri & Shannon Masters Night Swim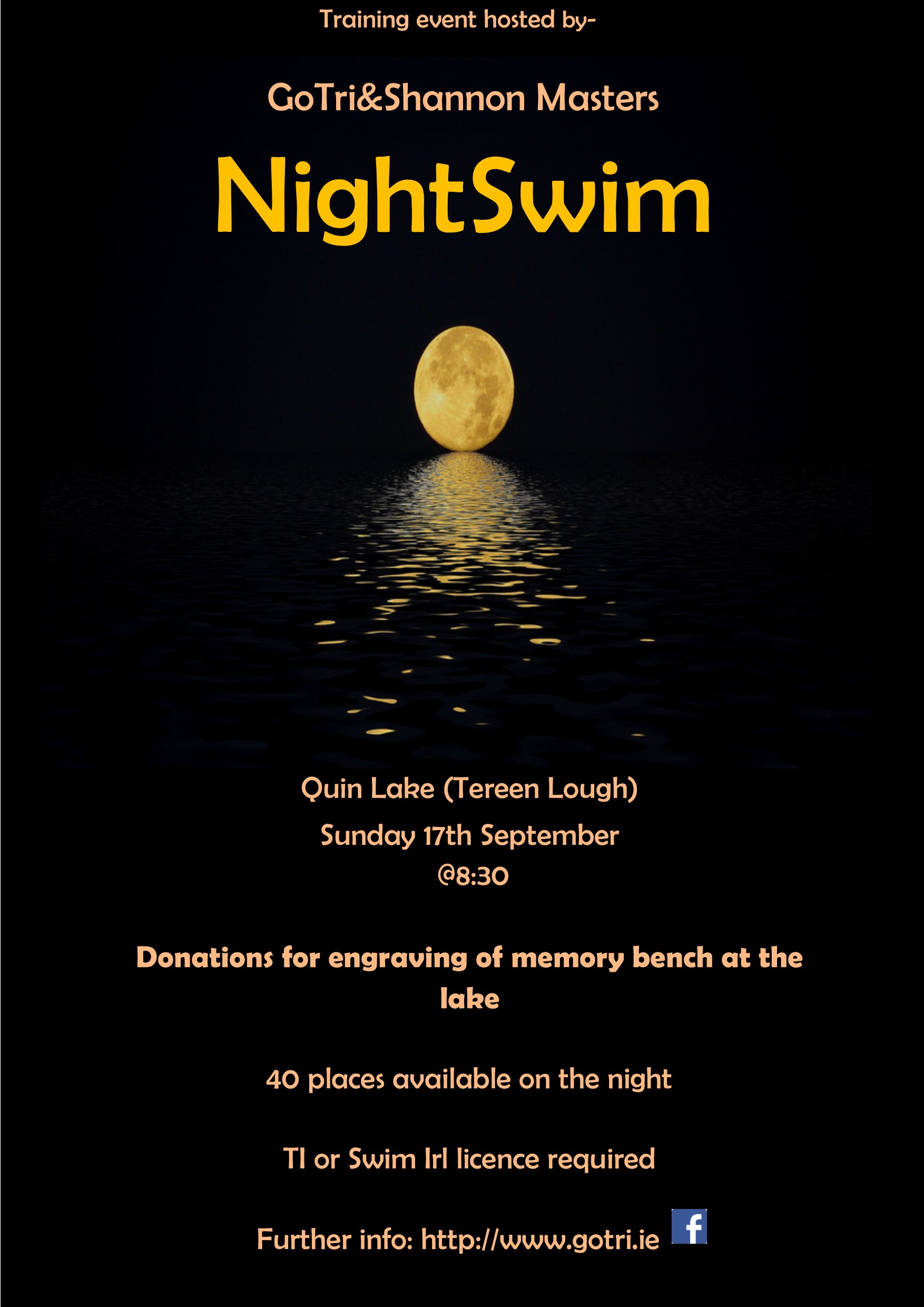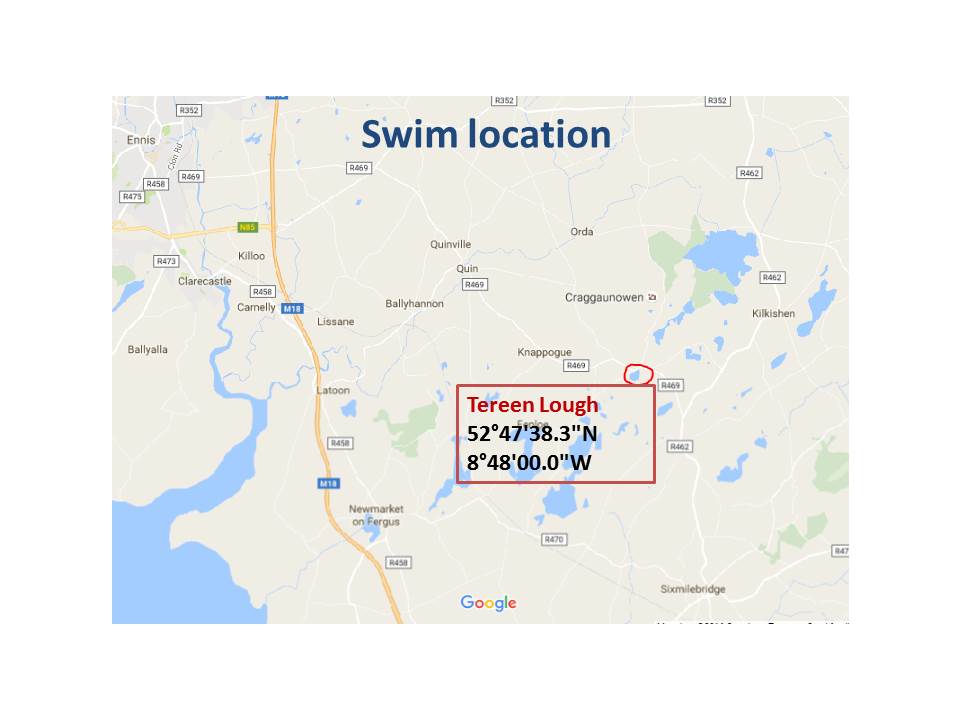 Banner Duathlon 2018 
takes place on
April 8th

in Smithstown Shannon @ GoTri
This year our Lead sponsor is
Ei Electronics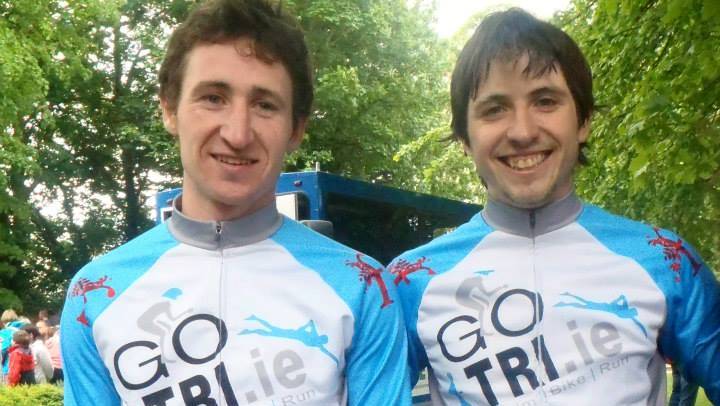 Duathlon National Series Race
9

th

April 2017 - Race Results
Now that the dust has settled, it's time to get a huge 'Thank you!' out to everyone who helped make the Banner Duathlon 2017 a great success. Special thanks go out to all the athletes, marshals, organizers & spectators. We've seen some great racing with new course records in the male & female category.
Full Race Results can be downloaded below:
  
Details of the 2018 GoTri club members league will be released over the coming weeks but the First race in our Club series is happening this weekend. 
The Ennis Duathlon takes place this coming Sunday in Barefield just outside Ennis.
Check out their info Poster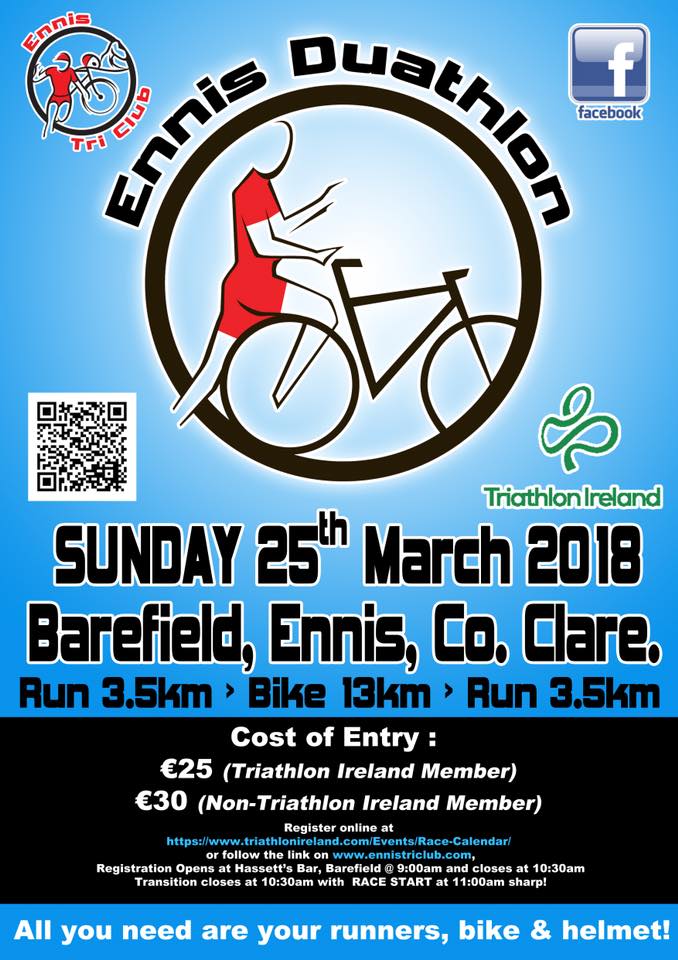 We look forward to checking out how our club members chase the club prizes 
GoTri Club League 2017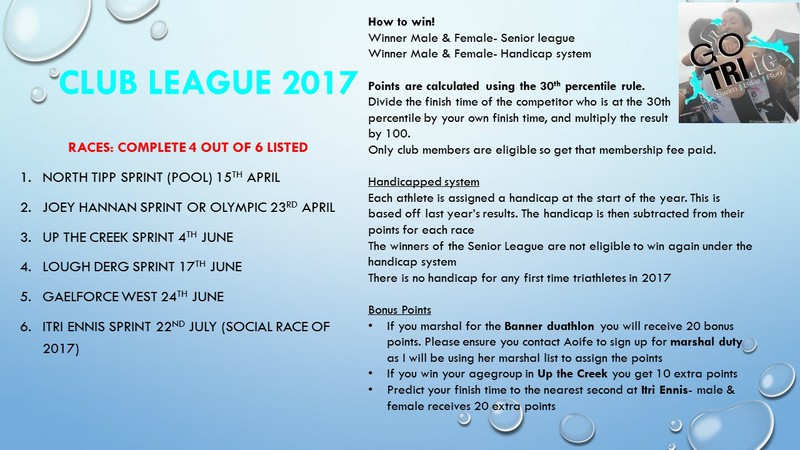 Clare Time Trial Championships - Results
Well done to all on the great performances at the Clare Time Trial championships. Exceptional results and times by all participants and congratulations to 2016 victors Mark Shannon and Mairead Elliott. Cycle with pride as 2016 Clare TT Champions.
WINNERS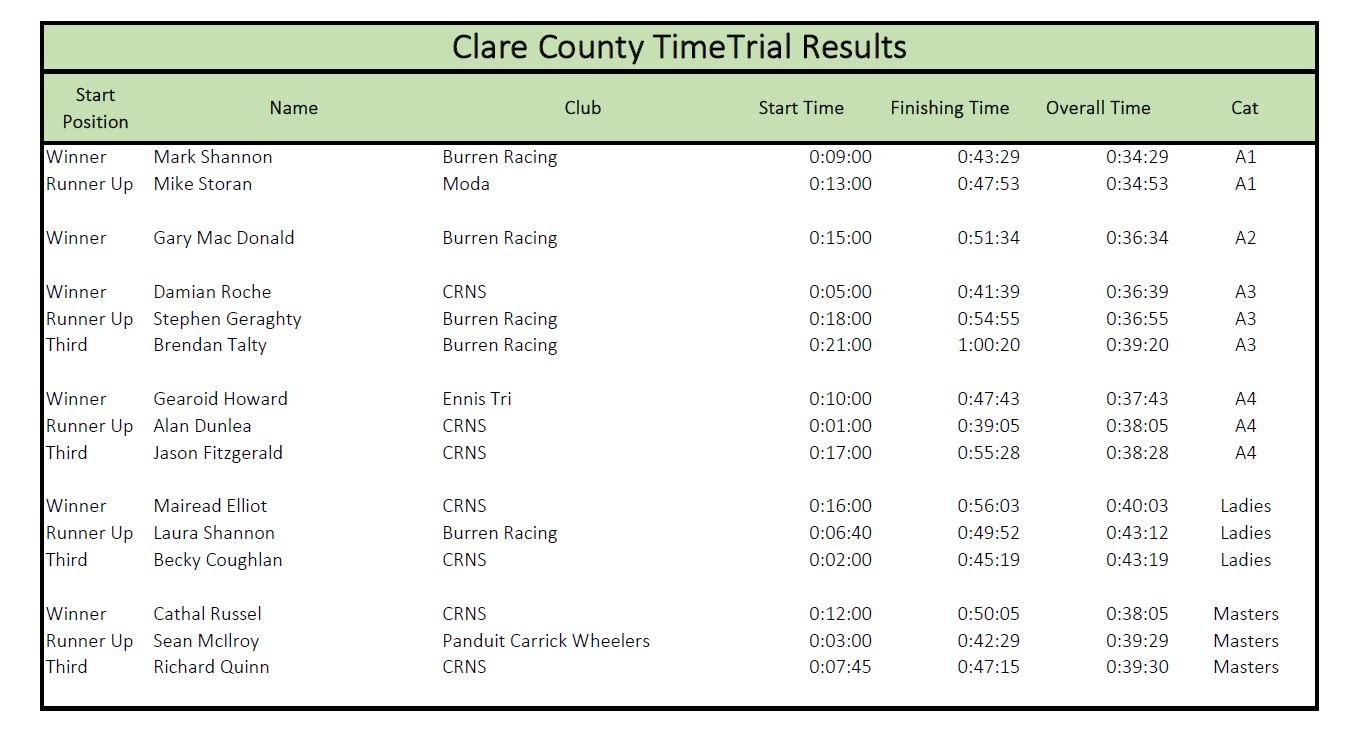 OVERALL RESULTS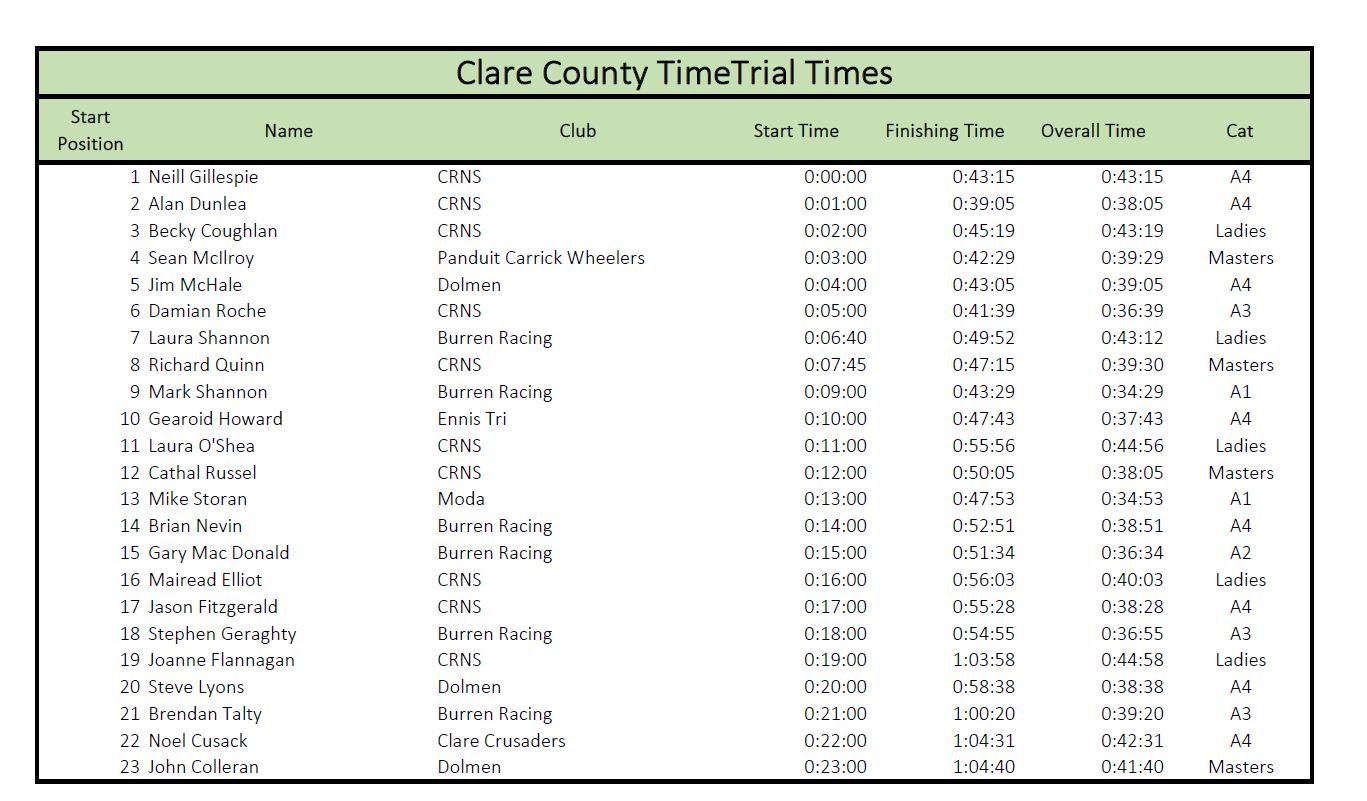 Until next year, a big thank you to all our marshals, medics and members for supporting this event, Cycling Ireland and M&G as club sponsors.
Yours in sport 
CRNS committee