Upcoming Events
Summer Running Series 2017
August 2nd - 5k race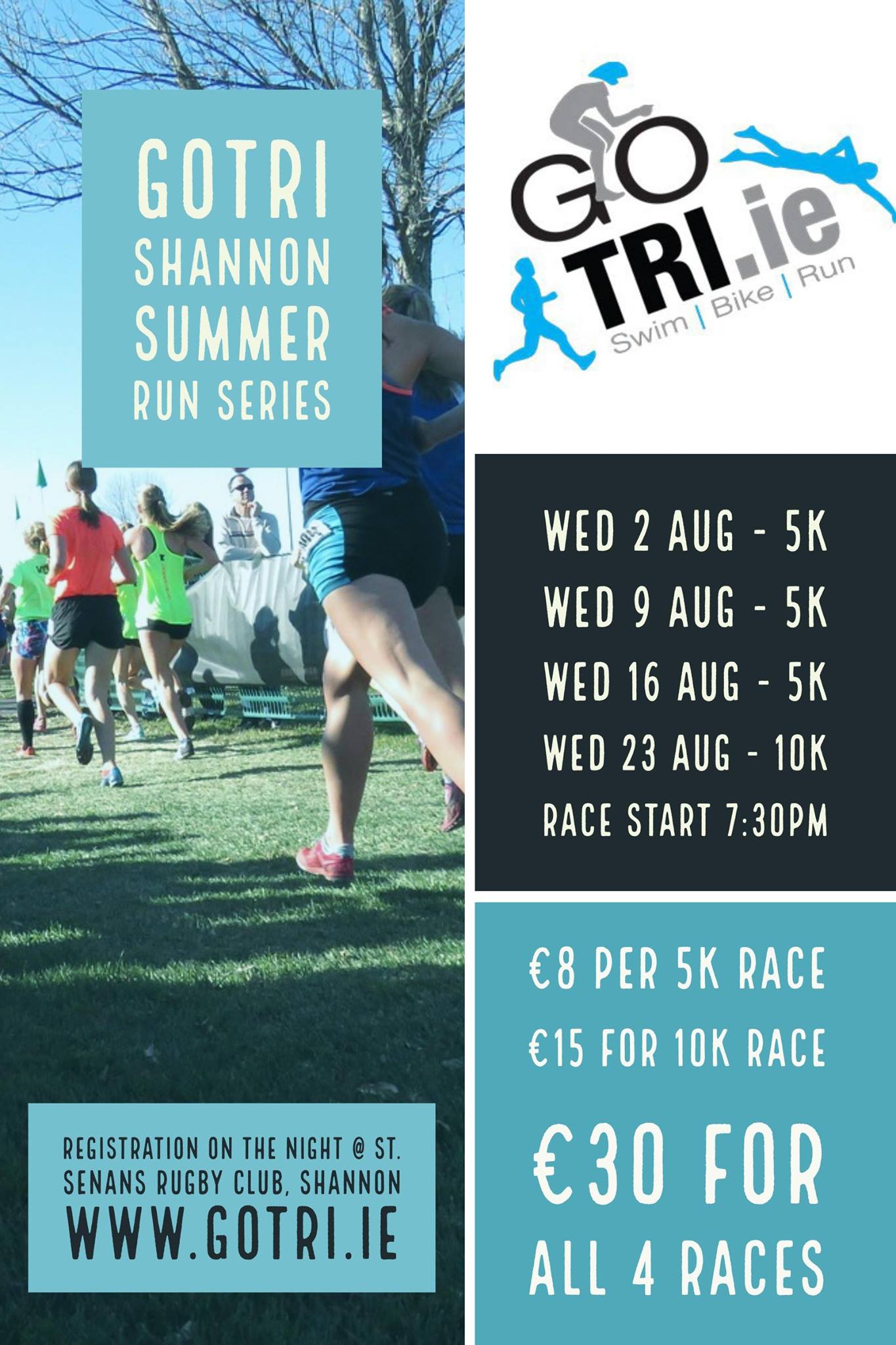 August 9th - 5k race
August 16th - 5k race
August 23rd - 10k race
The race series will consist of 3 x 5k races with the final in the race series a 10k race.
The run course is super flat and is perfect to get a PB and we are hoping that people will take part in the
series and track their progression each week.
Cost for each of the 5k races is €8, with the 10k costing €15, or sign-up for the series for a discounted rate of €30.
The main aim of the running series is to get people out running, whether this fits in to a couch to 5k plan or you aim to take first place,
we want to get people out running and enjoying themselves.
Races kick-off each night at 7:30pm, with registration open in St. Senans Rugby Club from 6:30pm, hope to see you there!

Malbay Swim (August 20th)
this event is not hosted by GoTri
Join the inaugural Malbay Open Water Swim, White Strand, Miltown Malbay. Distances ~1km swim & ~2km swim in the sheltered bay of White Strand in stunning West Clare surroundings. Find all information here and download the entry from.
Junior MTB Academy
Time: Mondays, 7:30pm - starting on July 17th
45min on first session
Cost: €2 (the funds will be used to maintain the club's junior bikes - charge applies to everyone, no matter if kids bring their own bikes or not)
Night 1 is free
Location: Meeting at St. Tolas School
Requirement: All kids need to hold a Triathlon Ireland Junior License (€5 for 0-14 years, €10 for 15-16 years - licenses can be purchased on TI website)
Sessions will be a mix of riding / skills / fun. The club has 10 bikes available to be used on the night if your child does not have an own bike.
Any questions, please don't hesitate to email info@gotri.ie .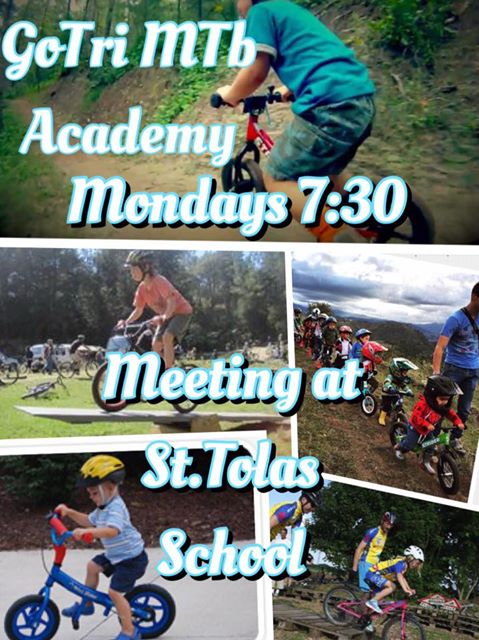 GoTri & Shannon Masters Night Swim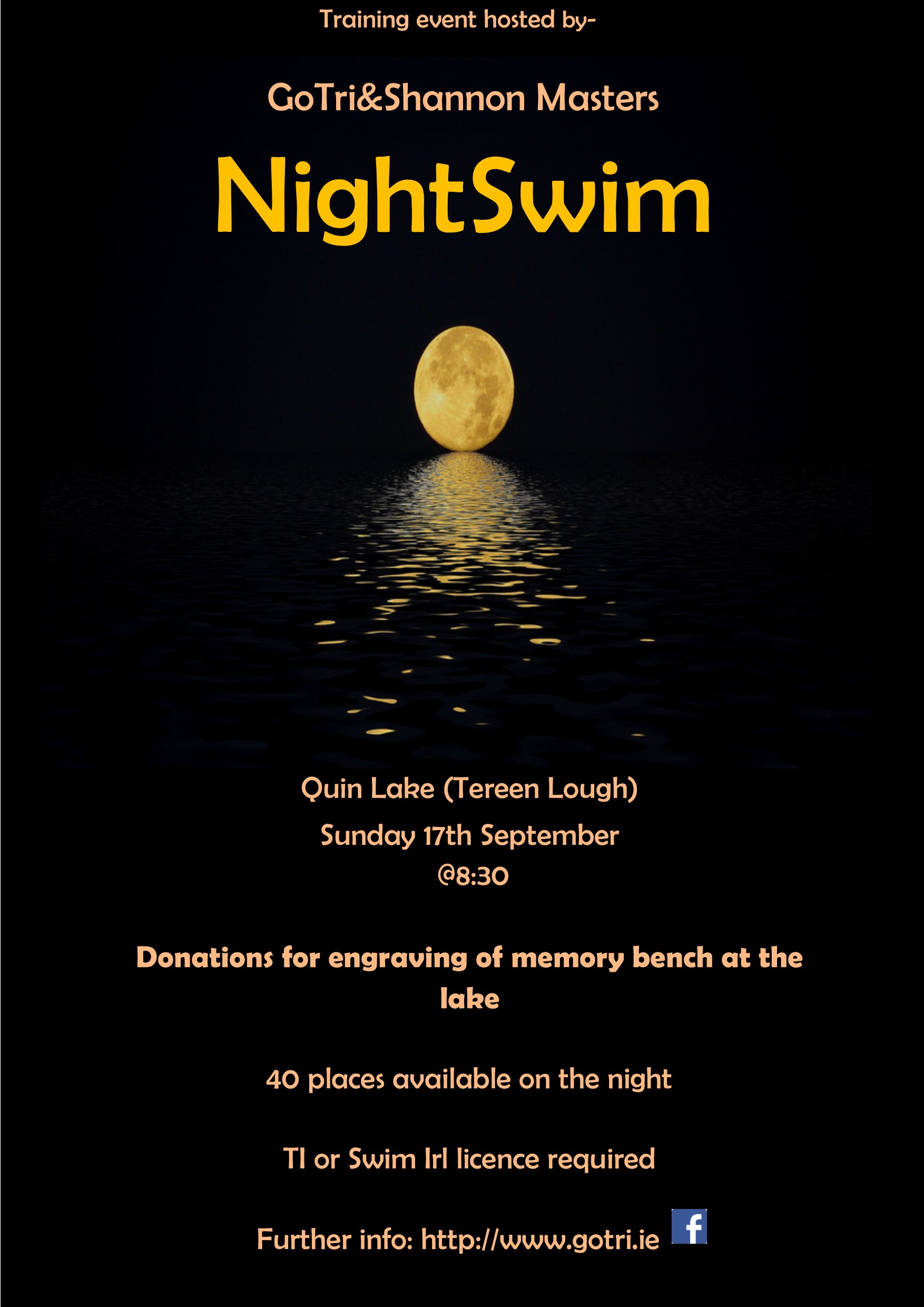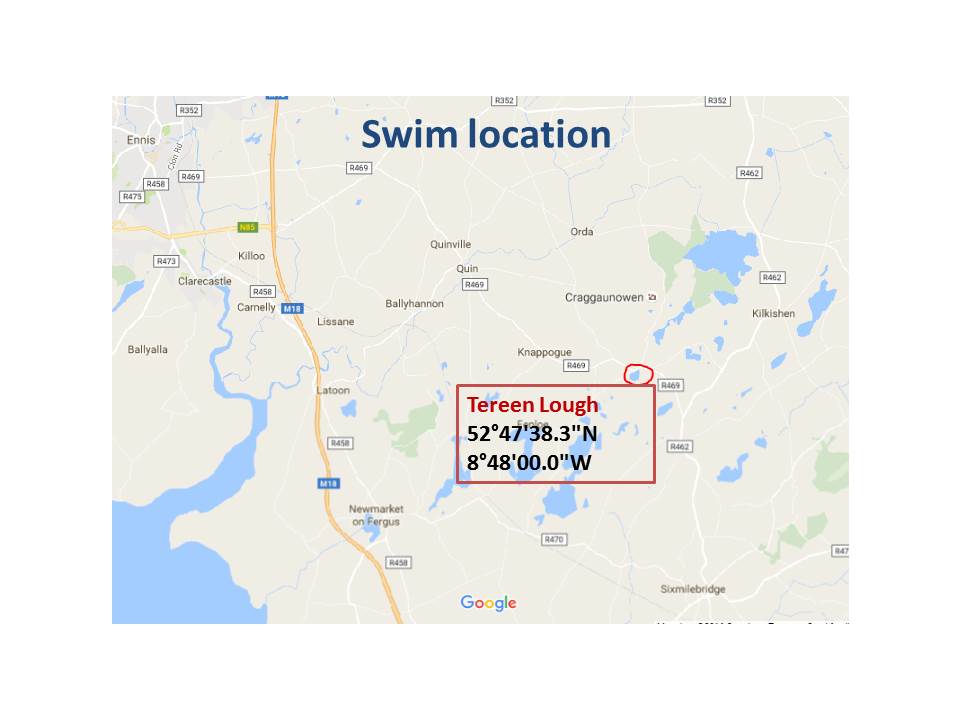 Duathlon National Series Race
9

th

April 2017 - Race Results
Now that the dust has settled, it's time to get a huge 'Thank you!' out to everyone who helped make the Banner Duathlon 2017 a great success. Special thanks go out to all the athletes, marshals, organizers & spectators. We've seen some great racing with new course records in the male & female category.
Full Race Results can be downloaded below:
GoTri Club League 2017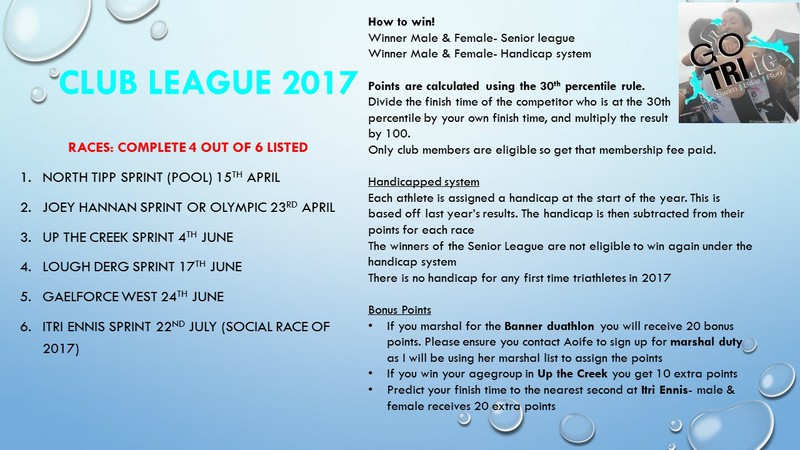 Clare Time Trial Championships - Results
Well done to all on the great performances at the Clare Time Trial championships. Exceptional results and times by all participants and congratulations to 2016 victors Mark Shannon and Mairead Elliott. Cycle with pride as 2016 Clare TT Champions.
WINNERS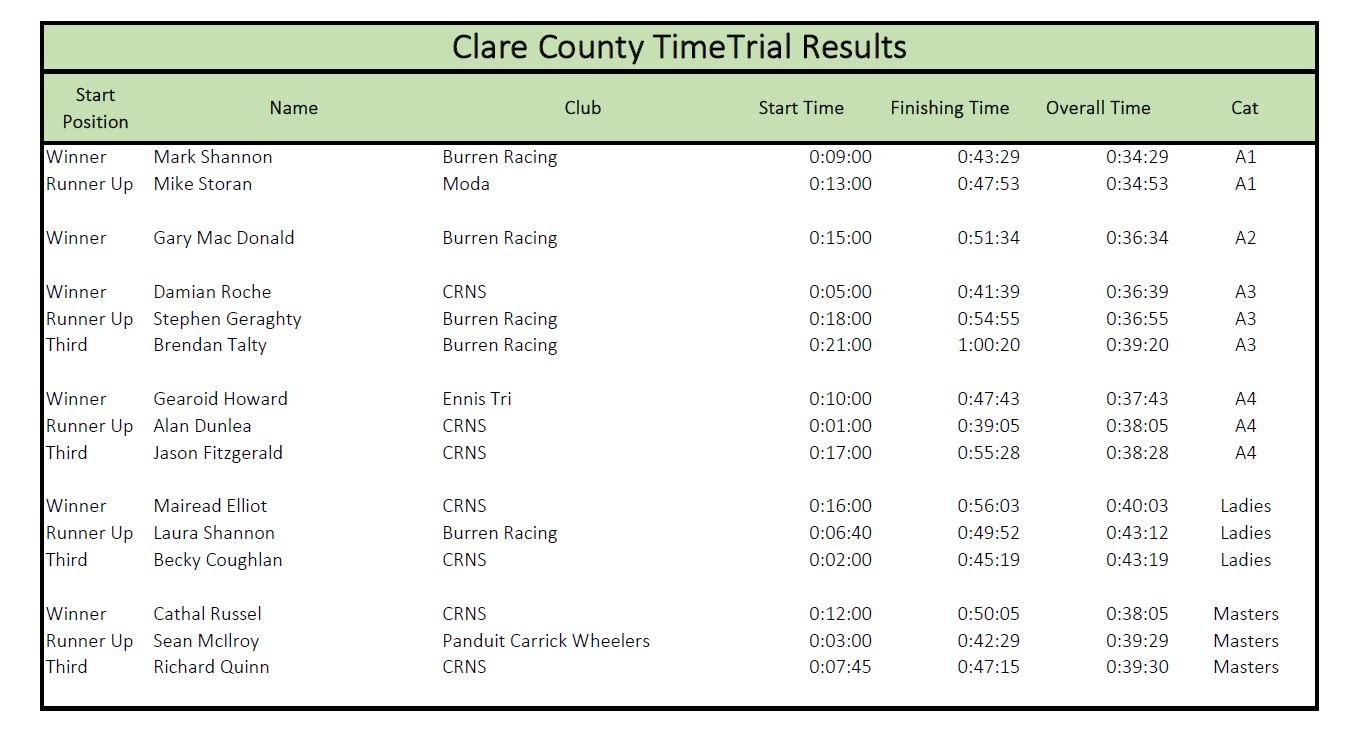 OVERALL RESULTS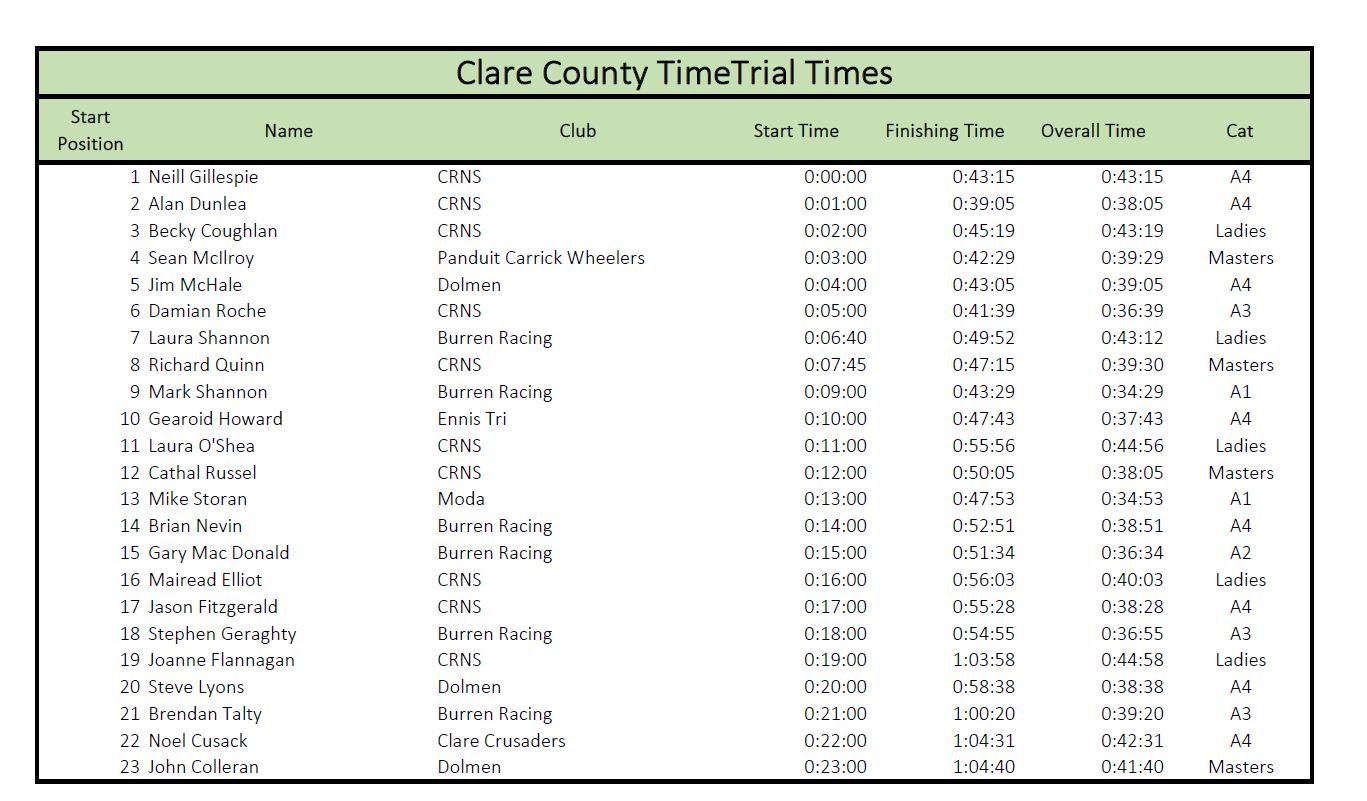 Until next year, a big thank you to all our marshals, medics and members for supporting this event, Cycling Ireland and M&G as club sponsors.
Yours in sport 
CRNS committee