BMOH 10k - Race Report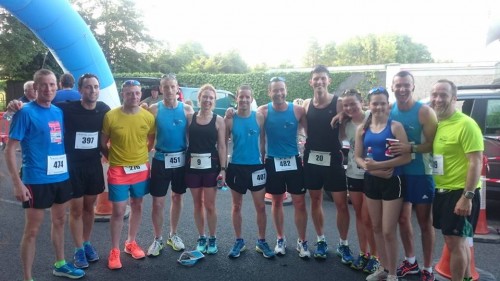 by Declan Murphy
BMOH (Bridge Milers Olympic Harriers) hosted their annual 10K road race Friday June 3rd – To say the club have been blessed with good weather for this race is an understatement with conditions akin to Rio with temperatures in the Mid 20s for the last number of years.
A number of GoTri athletes had decided to target this race with a dedicated speed program from coach STL in place from 6 weeks out and this was executed mainly on Monday nights by the group. The sessions involved reps at goal race pace which saw some huge improvements by the team as the weeks went on. It was also a reality check for some of us athletes to what their actual goal pace should be. A sample of the speed sessions was:
10x1K off 45sec rest at race goal pace
3x2k off 90
4x2k off 75
2x1k, 3k, 2x1k
8x1k
5k tempo and strides
I was coaching the Bridge U6 hurlers that evening so warmup time was limited as was the bants with the other 11 GoTri runners that started (and finished) the race which began outside the Sixmilebridge school. The race took you up a short incline before a nice downhill leading up to the first 1K mark. The field was starting to get separated at this stage with James Sexton providing a running commentary telling us Colm Turner and Keith Lynch were breaking away from the field. As we approached the Mart the sweat was pouring and the thought of water at the 2.5K mark kept us going as we tried to hold on to our target pace. I was in 4th place at this stage running just off the guy in 3rd.
After a quick drink and shower we belted on towards the Bridge version of Augusta (AKA Walton Lodge) where everyone in this area has hit a golf ball on the Pitch & Putt course at some stage – A lot of us were wishing we were on the 18th green now finishing or the 9K marker in our case but we were still only closing in on Half way.
The church at Kilmurry provided some more refreshments in the form of water bottles – I was now in 3rd place – water outside the church – would this be considered holy water I thought to myself – trying to make up jokes now – definitely the heat was getting to my head. Time to switch back to race mode again now for the last 4K – downhill from Kilmurry to the turn off for Ballysheen – Time to bank, bank, bank crucial seconds for the climb past the graveyard.
As we reached the turn right onto the graveyard road I had l thoughts of stopping for a few seconds, slowing down etc crossed my mind but I decided to start setting shorter milestones – lets get to the graveyard and see from there – If you still want to stop then you can (as if). As I got to the graveyard I glanced in – My Dad is in there 5 years now – He would love to get up the hill to Russells one more time to see us, so this hill was not going to beat me. My PB time was gone out the window so thoughts of him and seeing and my cheer leaders at the finish line drove me on. I got up the incline and down the hill towards the finish line without really breaking stride to finish in 5th.
Afterwards I was informed the tannoy was heard saying – Colm Turner is home first, Keith Lynch is second, we are expecting Declan Murphy home in 3rd, 3rd came in and the loud speaker said Declan Murphy should be 4th but still no sign so then he says has anyone seen Declan Murphy from GoTri – I appeared around the corner to finish in 37:43. A minute down on last year but a 5th place finish all the same in tough conditions. This is a home race for me and also a special one because its where I first broke 40 Mins a few years ago before I joined GoTri with none other than STL pacing that night it turns out.
Well done to all the gang who took part – There were some super performances on the night with PBs achieved. While we had no podium reps in the individual categories we did take home the Team prize with the following scoring:
Emma Ryan, 4th Female. Aoife Fennell 9th Female,
Declan Murphy 5th Male, John Ryan 9th Male
For the record our other athletes were: Peter Power, Niall O'Grady, Kieran Boland, Martin Carey, Diarmuid Griffin, Richard Quinn, Paul Horan, Diego Maloney.
Full Results available here: http://www.bmoh.ie/wp-content/uploads/2016/06/BMOH-10k-Results-2016.pdf
Kudos to BMOH for their organisation of this race which is very well marshalled and organised in general with a super spread of food afterwards for all participants. The Ice Cream van was also a welcome surprise providing an alternative cool down for use precious athletes J
What next for this running group? Talks of Dublin Marathon which is:
138 Days, 20 Hours, 42 Mins, 18 Secs away as I sign off on this piece - Carpe Diem
KIR - PATT