Season Update 1  - Joey Hannan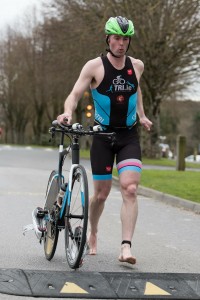 Well I toed the line for my first race of the season, the local opener of The Joey Hannan Memorial triathlon. A legendary race for a legend of an athlete. I never knew him, but by all accounts he touched many triathletes lives, leaving behind many stories of training achievements and the impact on Limerick Tri club is amazing. I still salute the Joey Hannan Tree in Cratloe famously pointed out to me by Mark Dempsey on a few runs, always the finishing point of a hill rep or the start of another loop...... I still however hate hills 🙂 
I'm blessed to riding the Giant Trinity this year supplied by Gary in Land and Leisure bikes Kilrush. I'll be honest and say I'm not too sure I'd be racing this year without his support. Between the bikes and support business wise, he deserves some luck on the lotto. Hopefully by the end of the year I can put his logo on a podium somewhere ....
I haven't swam more than twice since Christmas. No jokes, I've used the swim bench in the clubhouse once a week but when your coaching poolside all the time sometimes the mojo and time just isn't there to get in. I watch more swimming and love swimming more as I get older, internally I pray I get wiser in my methods. I doubt my bluntness will leave me however. 
The swim started with a lot of haggling between Ross and Peter Kern about who was leading the lane. No body wanting to own up to being the faster man, the Connor Mcgreggor talking German versus the polite sophisticated smiles of Higgins and the trash talking got him put first in line !!! Peter took it well and I was very grateful for this. 
Know your competitors. I can tell you swim styles and race approaches for most domestic elites if we are to call them that, but the minute you put the Wiley German first you always knew it going to be a slow one before the kicker was going to come. No disrespect intended to Peter, I just knew it tactically slow. 
Pop went the Ross Rifle about 700 in, the rustle and bustle from Richardson and Cranston to take feet while I attacked out the back..... Slowly .... Slowly .... Byeeee
Coaching point 
Note to others - push ups / trx / Snc will not replace actual swimming training, it can compliment only 
Out of the pool to the great club support. You get to see much of racing when watching triathlons, with the pool though you get to see at least the swim & transitions. The families screamed while the kids cried from the sights mamils in action or maybe the heat of the pool. Who knows ... But Roisin Doran said to me at registration, jokingly, " I compete & take part so I can get 3 hrs to myself" poor Jen 🙂 
The bike 
The Giant Trinity is a sweet ride, it just wants to go fast. But I'm not racing yet I'm pacing. There's no two's ways about things. In days gone by competitions where like euphoric near death experiences. Your soul trying to save your body by holding on to enough oxygen to keep your body moving forward. 
Kevin keane came past me at Vistakon just before the round about before turning left onto the main road. My first thoughts where go go go go in my legs while my head was saying hold on there now buddy old pal. You just popped your cherry in the swim. Calm down there now ted and let's get into this first. 
I pedalled a sustainable hard, all the while the Trinity, ( the our father, Holy Ghost & the good son ) giving the me a lecture as to why I have not done any long TT efforts 
Coaching point 
Time & effort X power & hr - hr controls power for duration of goal 
20 min efforts are great but you don't just do 20 min efforts on race day - embrace the grind - 60mins at X speed / HR / power - prepare to race like you race 
I jumped off the bike having caught up to Cranston, tenderly putting my feet to the ground, flinching on every stone. 
Transition 2.
A quick thank you to all the marshals. The most thankless job but as we all know nothing happens without them giving up their race. 
Brenda Cosgrove with a big smile cheering me in T2. 
The Run. 
I'm actually doing 4 runs a week, but until this week they have been runs to excuse the bad diet. I know, do what I say, not what I do. Truly though bad sleep is met with caffeine and sugar cravings. 
Gingerly the run started off well. I like the new adjusted run route and I like that we had the other waves on the course at the same time. There was always someone to say hello too or to chase. The two laps making it good for the spectators two. 
Made a rookie mistake not putting Vaseline on the inner arch of my shoes, the talking powder not being enough. After 4K where I thought I was getting faster the blisters where getting too much to bare. 
Such is life. Even with the blisters and loosing a few places. I'm happy with 9th. Great training and I truly enjoyed the day. 
Bigger and better days to come this season. The motivation is back to up the training within the balance of family time and work. 
Next stop will be one of our clubs main races Kilrush up the creek. 
Who knows what will happen in terms of results but I know I'll enjoy riding the Giant Trinity and the sodas after Crottys bar with all the West Clare Gang and GoTri Club lads. 
A huge well done to all the team who took part in Nenagh & Joey. Inspirational efforts. 
Thanks for reading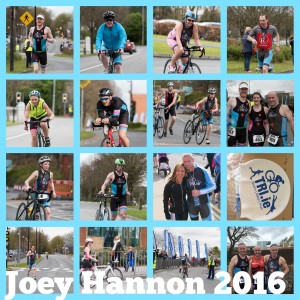 Season Update 1 – Joey Hannan