The TT series took a different format this week 3 with a 40km Hares and hounds night added to help mix up the fun training series and a return to the 15km format in week 4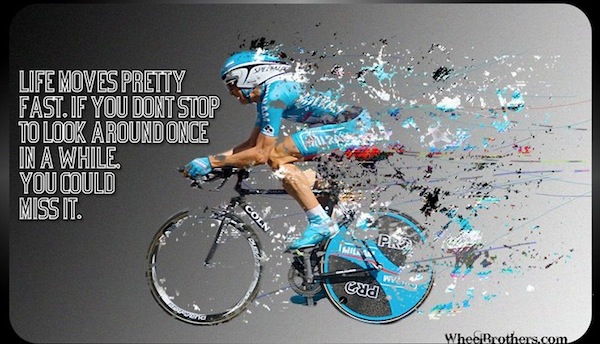 Athletes off according to groups 10 points available for being the first person from that group over the line and a further 10 for the finishing order overall. We hope that makes sense if not hit us up with a comment below
Finishing order
Mike Storan 10 +10
John Butler 8+ 9
Alan Dunlea 6 + 8
Dara O Neil 10 + 7
Nigel Laffan 8 +6
Luke O Neil 6+5
Phillip Purcell 4 +4
Maura O loughlin 10 + 3
Elena Hayes 8 + 2
Neil Gilespie 10 +1
Brock Semahedi 2
Niall O grady 10
James McIntyre 8
Anto Boyle 8
James Bullman 6
Brian sheedy 0
Mark Lillis 0
Andrew Sweeney 6
Things are getting interesting …… check out the screenshots of the league 🙂
Check out the rankings update of week 4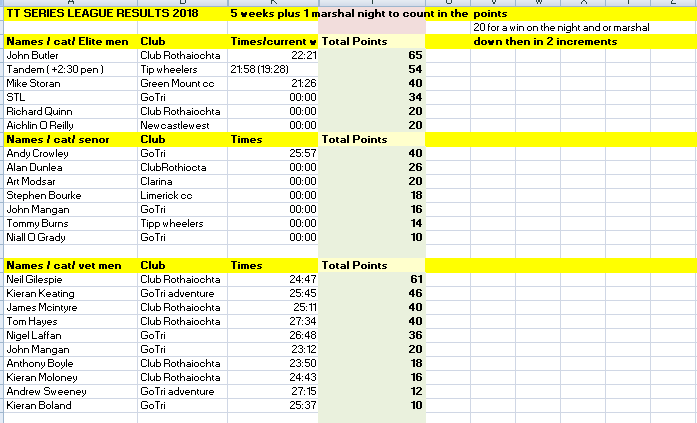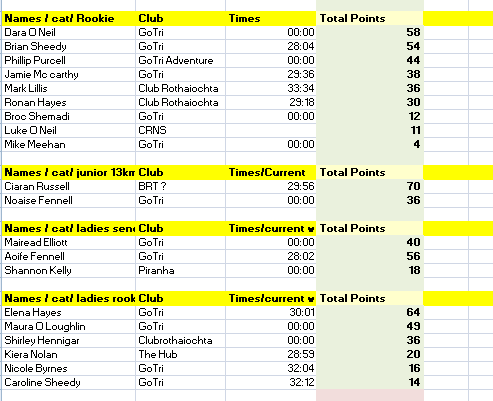 Things are certainly hotting up !! Congrats to Nigel Laffan on his promotion out of rookies and into Senor ranks, and we believe young Dara is about to follow him. ( we put him in the vets for banter 🙂
With the return of Mike Storan thing in the elite cat will begin to really hot up over the next few weeks. Eddy Merckx night might suit John Butler more this week and Maybe STL can ride it before or after to keep his points tally climbing.
The vets is getting interesting and will be a battle of wits between Calves Keating and the President Neil Gilespie
We are not allowed to give nick names to the ladies, as we are never quite sure how they will take it but…… they better keep showing up if they want to win the game of truth !!