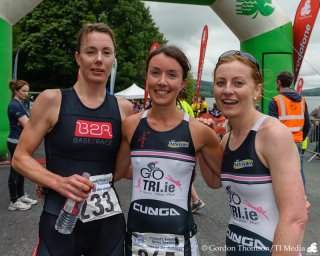 2014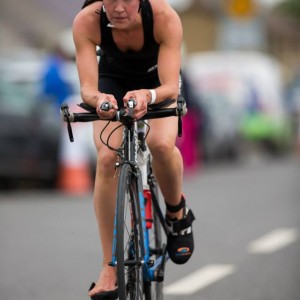 Anna retaining her title in Mullaghmhor national series triathlon 2014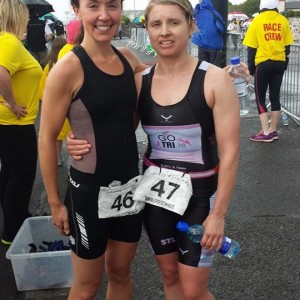 Victorious Anna winning Kilrush "up the creek " triathlon 2014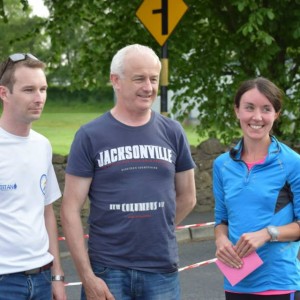 Anna won the Sixmilebridge 10km with BMOH in 2014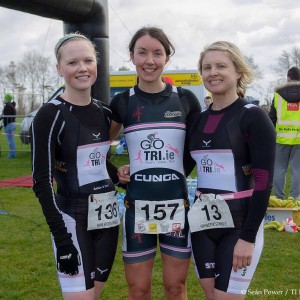 A GoTri group of smiling ladies with Anna Leading the way in 1st place at the Ennis Duathlon
Anna Crooks 2013
Race by race update 
Race one: Tri sport Duathlon 1st place
Race one of the Multi-sprt season got under way with the Tri-Sport Duathlon official results here 
Anna took first place showing impressive form after a heavy winter training block. The race course was a tuff challenge for the first race on the program but gives a good potential insight into the new ground achieved after a hard winter.
Distances for the race were 3.6km 21.5km 3.3km
Interesting times ahead.
Race two : 
Kinvara Rock and road 10k
Result: 1st place woman.
The Runner within her is beginning to blossom. Representing Ennis track Anna paced the hilly run well to come home under 40mins to win again. 3 from 3 in 2013
Results can be Found here 
Anna who is training to be a physical therapist is aiming high in 2013. Race report to follow.
 Race 3 : National duathlon champs Ashford. Co.Wicklow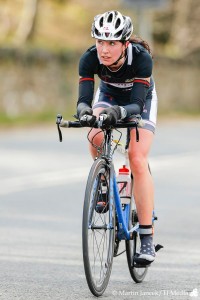 results: 2nd place 🙂 In the pursuit of excellence 
National Duathlon Championchips 2013
Silver Overall, 1st Age Group
2.05.55 (PB)
Run 1- 10KM 37.37 (PB) (5th fastest run split)
Tough first run with the girls going off very quickly. I was expecting to be one of the first over the run so I had to keep my head here and concentrate on my pacing as I was overtaken by 3 or 4 girls. I knew if I went too hard here I would blow up later. Came in in a bunch of 4 girls, 5th in. Time for a quick transition, made up a place here, then I had to chase like mad.
Bike 40KM- 1.09.57 (3rd Fastest Bike split)
Tough bike course incorporating hills, descents and fast flat bits. I knew this would be the make or break section of the race. Chased and caught two more women so now in 2nd. I was conscious of some strong bikers behind me so big ring all the way. Felt good on the bike (this never happens) and pushed hard. Never saw Horgan on the course ahead. 3 min deficit coming into T2.
Run 2 5KM- 17.13 (PB) (fastest run split)
Coming into T2 saw Duffy right behind me, time to fly. Horgan had a good 1km on me already and is a good runner. Time to chase and hold off attacks from behind. Felt good on the run, brick sessions paying off, just had to hold it together. Into final KM I knew I hadn't got the win I wanted but I was happy with the performance and 2nd position in what was a tough and hard fought race among the best in the country (and Belgium).
Nenagh Triathlon clubs North Tip sprint National series race
Result first place  😎
Report from Nenagh tri page here
Standing tall at number 1 spot in the national series after round 1