2015 Club Champions 

The final night of the weekly race league will forever be known as CLUB CHAMPIONSHIPS night.
The hotly contested last night of the year, the night when you know after this we have only the winter miles to look forward too and the cold coffee stop rides of October and early November to keep us warm at heart.
As all know the league race is run on a handicap start basis to encourage all to take part. 4 groups start on the final night with the majority of club riders in attendance. It was fast, it was furious, there where breaks and mechanicals but in the end there could only  be one. Mairead Elliott took the women's title for 2015.
Mairead has come on so much this season and her continued efforts where rewarded with crossing the line as first lady on the night. Her name will now be added to the Club Rothiochta shield of Honour and go down in club history 🙂
STL took the mens race, in a hard fought night of no holds barred action, it came down to a close sprint finish where taking a close 3rd place on the night to Mark Shannon & Mike Storan gave STL the sneaky win.
second and third on the night where Cathal Russell and Eamonn Morgan.
A huge thank you must go to all the marshals and volunteers over the summer who helped to run the training league and keep everyone safe.
The club has grown a huge amount this year and we want to continue to see everyone training and riding safely.
Onwards and upwards.
Club committee
lts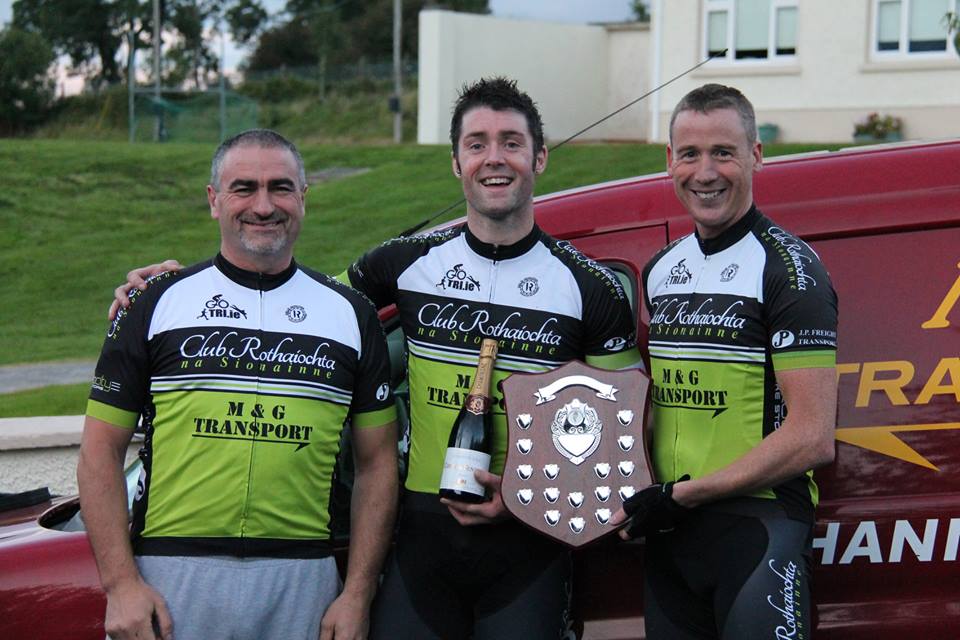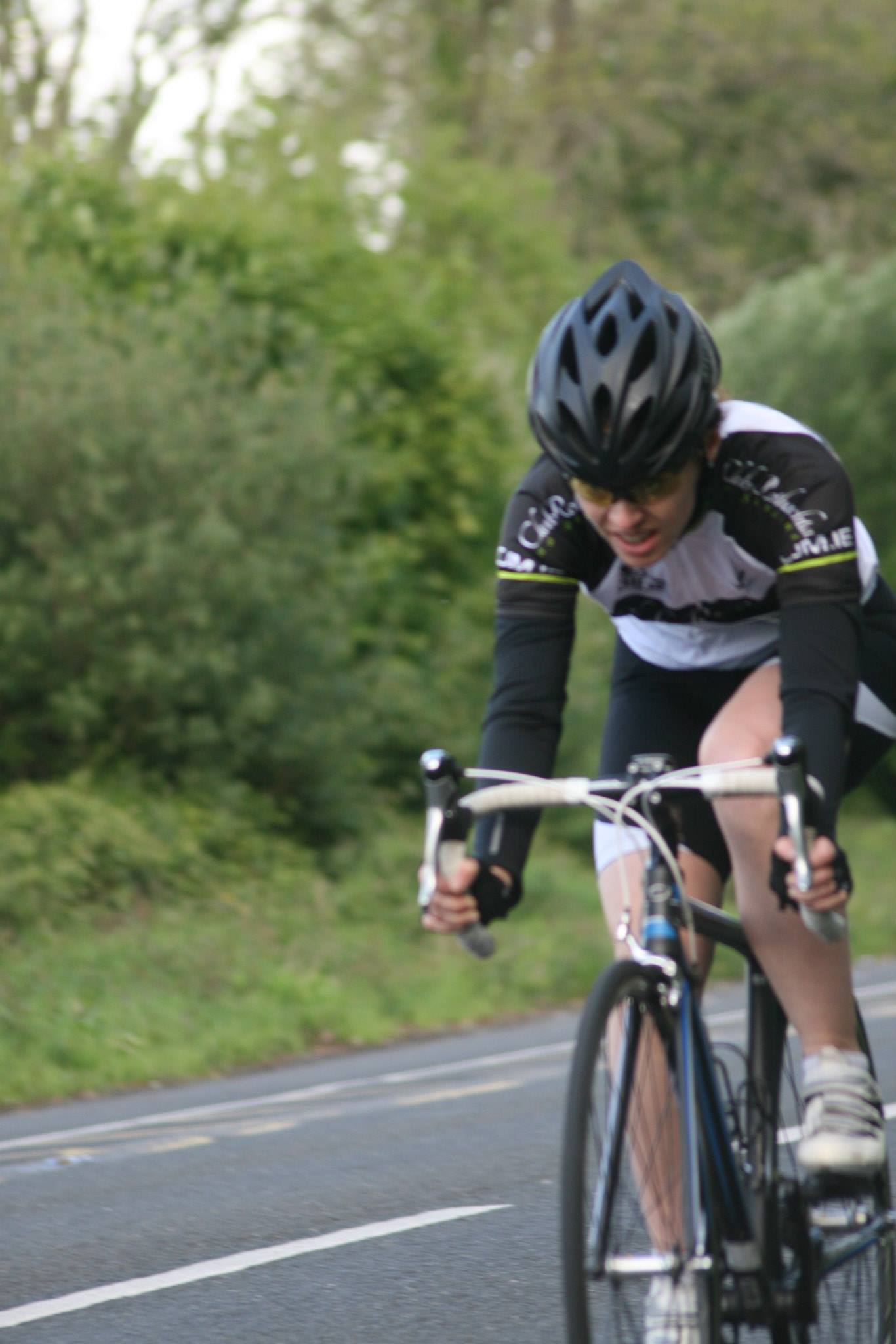 Club Rothaiochta Na Sionnaine ( Shannon Cycling club )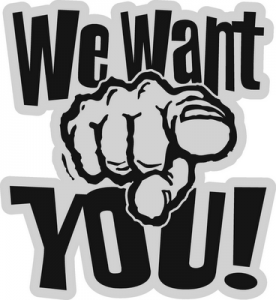 Our club meets EVERY Tuesday and Thursday for cycling training.
Every Tuesday we have a club cycling league for racing cyclists. This is open to anyone with a cycling Ireland licence. We meet at 6:45 to sign up and start at 7Pm with a novice group leading off with a generous time advantage over the experienced racers. Everyone is welcome.
Every Thursday during the summer months we hold a Time trial league. Meeting at the wells church at 6:40 first rider off 7pm.
Towards the second half of the summer we hold a hill tt and TT league. The start locations change so please keep an eye on the Facebook page www.facebook.com/clubrothaiochta.
Wednesday Night League race night 5
Cold Windy Wet ……. 19 riders signed on for what was to be a hard night. Hard on the legs and hard on the mind. 2 groups off a 2 min handy cap.
Its no wonder Mike Storan is hot property on the domestic scene, week on week he can be seen riding his heart out for his team leaders at Fitscience, Just back from a stint of racing at the Tour of de North, the local man was once again trucking. Disaster struck at the end of lap one as he went to go away and punctured out for a lap leaving him ineligible for a placing but he proved his fitness state went he tore the legs of the group with only Jarlath and Mark Shannon being able to go with him on the steep incline to the finish.
The 3 riders worked well on the long down hill to ministers cross, the group behind led a gallant effort in chasing on the drop to the first left turn closing to within 200m of the 3 escapee's the energy bulbs blew up as Roche and STL were missing horsepower to help bring back the 3 strong men out front.
A few brave efforts by those remaining to bridge across or drive from the front would not be enough to see the 3 again, and they would contest for the red whine on offer for the nights winner
Jarlath Hassett from Mike Storan with Mark Shannon grabbing third place
Damian Roche took the sprint win from the group and in so doing moved him up to third place with Mike moving off the score board due to only two laps.
Jarlath Hassett/Mark Shannon/ Damian Roche
Thats 4 weeks in a row where West Clare CC have won the honors ….. is it safe to say that maybe the club competition is won ?
A great night over all for Club Rothaiochta riders with a strong turnout, its great to see each rider improving as the week nights go on. Fingers crossed we can see these strong rides moving them up the placing on the weekends
As always we hope to see you all out for the weekend spin, check facebook for all our club spins
STL
Wednesday Night Training league 31st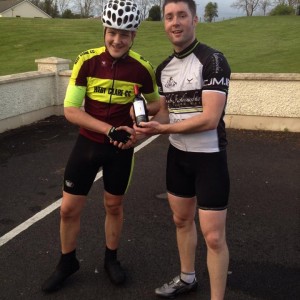 Can Jack be stopped, so far west clare cc and young rider Jack O Shea are on pedaling fire taking 3 of the last 4 rounds.
Visit Nenagh team of Gary MacDonald, Joe Noonan, Mark Shannon and Chris Jueken stole the show in terms of team riding last night but strong riders from Padraigh, Jarlath and Jack saw them outfox the boys in blue when the finish line approached.
A smaller than usual field of just 21 riders took off from the start line in 3 groups. 3mins, and 1 min advantages were given. Group 2 and the scratch group came together after just one of 3 laps with the front group consisting of A4 riders disintegrating and riders being picked up along the way.
Just before the end of the second lap, a strong attacking onslaught from Visit Nenagh who took it in turns to put a man up the road forced a split. From that group the winner would come, but not before Mark Shannon sprung from the second group to ride accross. A frantic finale of attacking by both West clare cc riders and Visit Nenagh riders Would see young sprinting pretender Jack O Shea hold Jarlath Hassett and Mark Shannon off.
A big thank you to all our marshals who took up their post in the rain. lead cars of Liam and Mr.Roche. Jen once again helping at sign on.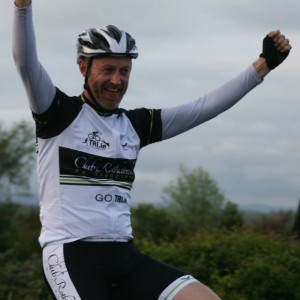 Wednesday Night Training League 23rd
3 groups took to the circuit last night with the front group of novice and a4's taking a 3min advantage over group 2 who had 1min over the scratch group. With a number of strong a3 riders in the mid group Mike Storan and Jarlath Hassett wasted no time in putting the hammer down. Speeds of 65 kph being recorded on the downhill section to ministers cross as the two rivals and close friends turned the screw on the small scratch group. Mike clearly in great form after a hard ride in Ras Mumhan for his LiquidWorx – Fit Science squad.
Scratch and group two came together after 2/3rd the first lap with another full lap of attacks and jumps before all 3 groups came together. Storan/ Jueken ( who joined after 1 lap) / Hassett and the strong riding combo of Eamonn Morgan and Damien Roche all started to launch attacks. Jack O Shea who is clearly riding very strong on that moment was closing gaps with STL and new kid on the block Clyde Gaffney
With a half lap remaining Storan Jumped again with Jueken/STL/Jack/Morgan/Hassett all going across and opening daylight to the remaining pack of riders behind. After a few turns by all the group no body would let go of Storan who tried to ride everyone off his wheel. After the final hill Jack O Shea jumped in support of team mate Hasset with Morgan closing for STL. Hassett jumped with Jeuken boxing STL in for the sprint.
A hard nights racing in torrential rain fall.The wind and the rain played a big part in bringing the classics feel of Belgium to our training spin.
Im sure all will join us in thanking all our marshals and supporters who gave up their time to stand around in the rain.

Club team  winners on the night were Club rothaiochta with 5 riders in the top 15 with West Clare being a close second

Wednesday Night week 2 16th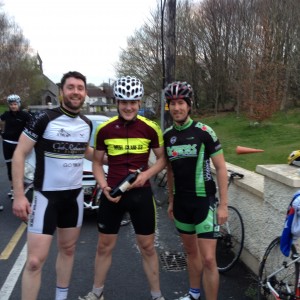 Another fast week and quicker than week 1 by all accounts on strava. Great to see Aidan Gallery back on the bici again and boy did the old winning ways kick in for the Clare man taking joint second with another Flyer tonight Will Henerby
The boys from the west took the honors back to coastal waters tonight with young Jack O Shea winning with a powerful sprint finish.
Two groups tonight with 27 riders in total. A4's were given a 3min advantage and with the scratch group working well to close the gap on the last lap with just over 10km to go. A few attempts at chasing glory were closed down with the pace sky- rocketing on the good surfaces on the sixmilebridge -Newmarket road road. Turning back towards to Drumline Jarlett Hassett of West Clare made a big move only to be closed down. Over the last dip STL & Eamonn Morgan made a bid for victory. STL leading Morgan out up the hill with 1.5km to go…. Morgan held on only to be swallowed with 200m to the checker flag.
Jack O shea jumped clear to Morgan flying past to win with daylight to second Aidan and Will followed by Cathal Russell in close 4th
Well done to all the riders tonight. Great to all the clubs out tonight aerospace wheelers , Clare crusaders and Dolmen riders joining us tonight. Chapeau guys
Video and team updates tomorrow

Thanks a million to all our volunteers again tonight
Liam K, Mairead and Andy, Dave, Sue, Patricia, Jake, Jenn and Liam D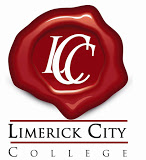 Wednesday Night League 9th April
A great turn out of cyclists of all categories tonight for the first of twelve league nights.  30 riders from all the local clubs turned out for some great training action.

A big thank you to our marshals tonight. Neil, Patricia, John, Neil, Mairead, Andy, Kieran and Robin Liam and Mr.Roche — as always these nights they cant happen without volunteers
A4 group were given a very generous 4mins A3 +2 A1/2 + 1
The A4 & A3 only came together on the last lap of 3 with 8km remaining to the finish and the A1/2 group of 6 never closed to closer than 40 seconds.
First across the line was Limerick rider Boby Coleman
Second across the line throwing his hands up in frustration was Club Rothaiochta rider Richard Quin
Third across the line was Visit Nenagh rider Aidan O Grady
Well done Lads – all of these riders are now promoted up a group. Boby to A1/A2, Richard to A3, and Aidan to A1/A2
Sponsor of the leading rider prize Trevor Askin from Amber Cost Cutter petrol station on Kilmalock road – who donated a gorgeous bottle of red vinto. All the limerick lads please pop into Trevors and fill up the tanks and grab some energy foods
Club award on the night ( awarded to the team with the most riders in the top 15 – A team/club prize will be given on the last night)
Limerick cc 1
CRNS 4
Visit Nenagh 1
Iverk Carrick 2
West Clare 4
Cycling for sick Kids 2
Clare crusaders 1
A draw on night one, but I think it will have to go to West Clare cc as they are the traveling team.
A BIG thank you to all the riders who took part and to all the locals for there support
Any questions please email Clubrothaiochta@hotmail.com  as a club we cater for all levels and look forward to helping you achieve your cycling goals
Pedal hard
STL
Information on tonight's Training race 
Cost for series of 12 Weeks = €50
Sign on from 6:30 Wells Church until 6:55
marshalls sign on 6:50 please bring a high viz – Stephan Teeling Lynch has lead car lights and last car lights
4 marshal points :
1. B&B corner – at this point you will have cars coming up from Shannon heading towards Sixmilebridge.
Riders will be coming from a side road onto this main road taking a left hand turn. (Start Line)
This marshal will walk back to the finish line 500meters back the road (towards B&B) and manage the finish.
2. Bottom of the hill (after garage) – the marshal shall position themselves on the main road warning traffic coming from Sixmilebridge heading towards Shannon of riders taking the left hand turn. (towards Waltons Lodge)
Riders are not allowed to cross the white line while taking this turn. Rules of the road apply.
3. Crossroad Junction at Newmarket Road R470/Sixmilebridge/Waltons Lodge – this is a critical marshal point. the marshal will need to slow and warn traffic of riders taking a fast left hand turn onto R470. Traffic direction will be coming from Sixmilebridge heading toward Newmarket. Please note riders are responsible. Roads are not closed.
4. T Junction at Newmarket Road R470/Woodpark-ArdKyle Rd – the marshal shall warn and slow traffic coming from Newmarket toward Sixmilebridge. Riders will be taking a left hand turn.
Rules of the Road apply at all times. The rider is responsible for their safety and the safety of other rider.Marshal info
Club update feb 19th 2014
Racing season is upon us and this weekend see's are young team head to Loughrae for our sins. We have an exciting new line up of riders racing this year with newcomers Damien Roche and Eamon Morgan coming across from the now defunct Planet Tri Team. Damien has a few big goals this season to ride the Ras Tailteann for the first time and Eamon who has years of experience will help guide and ever young and enthusiast Shannon Locals John Ryan, Richard Quinn, David Richardson and Eoughann Concannon.
News from Cycling Ireland on numbers – Please click link
http://www.cyclingireland.ie/cycling-news-item/important-notice-for-road-racers-from-commissaires/143
News from local club on the race here
http://www.westcoastwheelers.com/race
For all those not racing training will take place as usual on Saturday and Sunday.
We will launch our schedule of sportifs soon that we hope to encourage our members to attend and take part. Its not all about racing we want you all to enjoy riding the bike. A big thank you to Jim and Richard who led the team at the Ian's Trust Charity 60k recently taking in our local roads from Limerick to Clarecastle and back again. Not pictured our Prince King James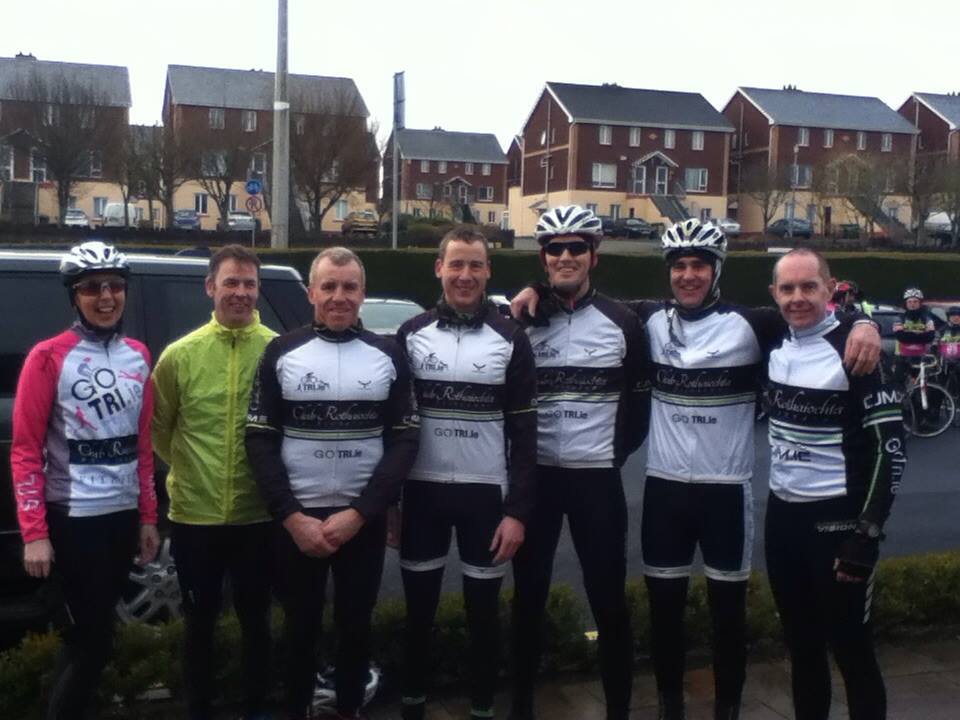 Club -Rothaiochta Na-Sionnaine
Team training every saturday at 9am am from the Shannon swimming and leisure centre
Team Training for ladies every sunday at 9am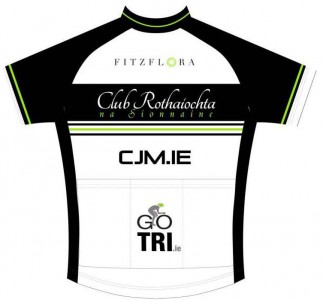 all levels catered for, all you need is enthusiasm
CRNS (Shannon cycling team) is officially registered with Cycling Ireland
www.cyclingireland.ie
If you are going to race/train and become a team member please take out a license so that your are covered for insurance reasons
During the summer we meet for group sessions tuesdays/thursdays/sats/sundays
email : clubrothaiochta@hotmail.com
ITS YOUR CLUB, ITS YOUR JERSEY, WEAR IT WITH PRIDE 
Club Training race series 
no license no race (please do not be offended this is for insurance purposes and your safety and the safety of your fellow riders)
when: wednesday evenings
starting date: April 3 
cost: 5e
starting time: 7pm sharp
registration location: Wells church car park- Please bring home all your rubbish and respect the area.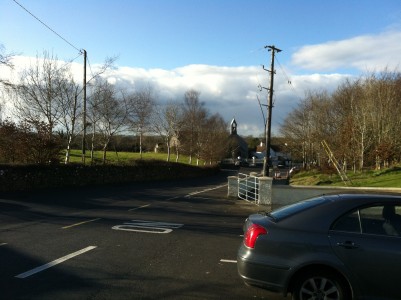 Rules of the road apply, at all times cyclist must obey stop signs,Marshals,lead cars, safety is paramount, no crossing of the white line, respect the locals and other road users.
COURSE INFO 
 Starting point: Hard shoulder on Sixmilebridge road.
Training groups: Are run on a time  hand-cap/ ability basis. Novice/A4 – first year riders will go first. A3 group and experienced A4, experienced female riders and returning vets will go next along with strong juniors who did not go in first group. A2 and strong vets will go next followed by our A1 groups. The groups will be selected and riders advised on a honesty policy.
Please note: The idea principal behind the groups is to work together to try and stay away from the chasing A1 group. If you are in groups 1+2+3 try to work together using up and overs and good communication to gain experience and fitness for racing at the weekends. This is not the world champs. It is a training series. bragging rights are gained via team work.
The Start
The start take your down a hill into a left hand corner. Be aware as you will be going through a junction here near to the Petrol station. Be cautious of cars – unfamiliar drivers can and will underestimate the speed of a group or individual rider. There will be a marshal at the first turn and you will be turning left. this is a tight enough turn. The inside line has a few small potholes. As seen below – please excuse the lovely shadow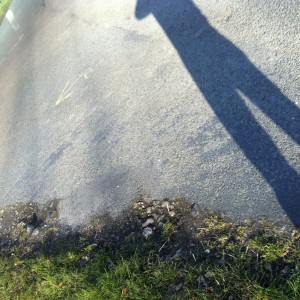 The road leading to the old sixmile-bridge- newmarket road is tight in places, please be careful of oncoming cars and at all times please communicate with your teammates of oncoming cars. First group and last group will have team cars/lead cars but be aware of other road users. roads are not closed.
Please see the next junction picture below where you will be taking a left hand turn again. Please note here traffic will be coming from your right, there will be a marshal in place at this junction.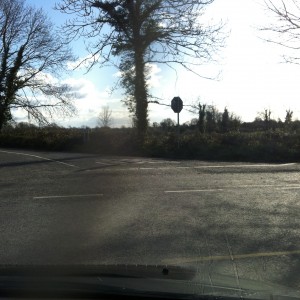 Video of second half of the course (including finishing section)
Any comments please address them to info@gotri.ie
Please note: the finish area is in front of local houses, no loitering after the finish please cycle on to the car park where there will be refreshments and a bit of banter as you say your prayers for good weather the following week.