STL " The Break down"
The who, the what and how it happened ……. Taking a deeper look at things, addressing some of the coaching and taking a closer look at the results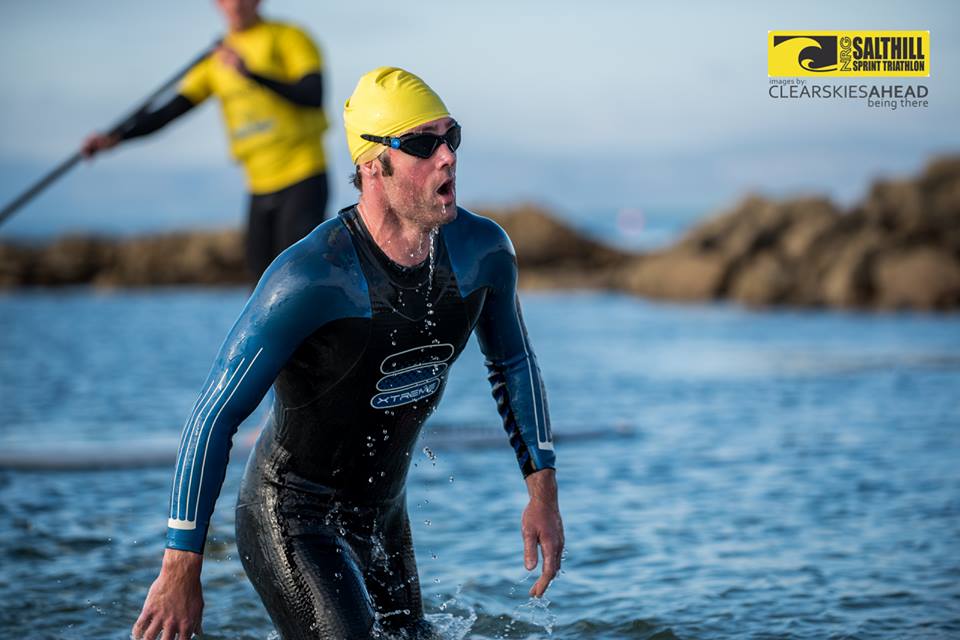 First and foremost – this is a new race venue with some links to old courses so we will use and abuse some old data and have a look at a few possible contenders …..
Run 1 = 4.6km
By all accounts this course is flat, so it will compare well to the run results from Tramore Duathlon link here 
Marc Flavin stole away in a super fast 16mins along with Enda Bagnal with the two lads putting a hole 45 seconds into the 3rd placed runner back into transition 1
Limerick duathlon will see a new run course where the surface is a mix of road and hard trail/path I don't expect the run times to be as fast as the super quick times below in Waterford.  Run route here
Both Marc and Enda clocked an av/p/km of of 3:12 which is phenomenal running for this time of year. who is able to go with that ?
Some thoughts ? These boys are motors but lets look a little deeper ?
Is Waterford a bit short ? well a little digging on strava tells me its 200m shy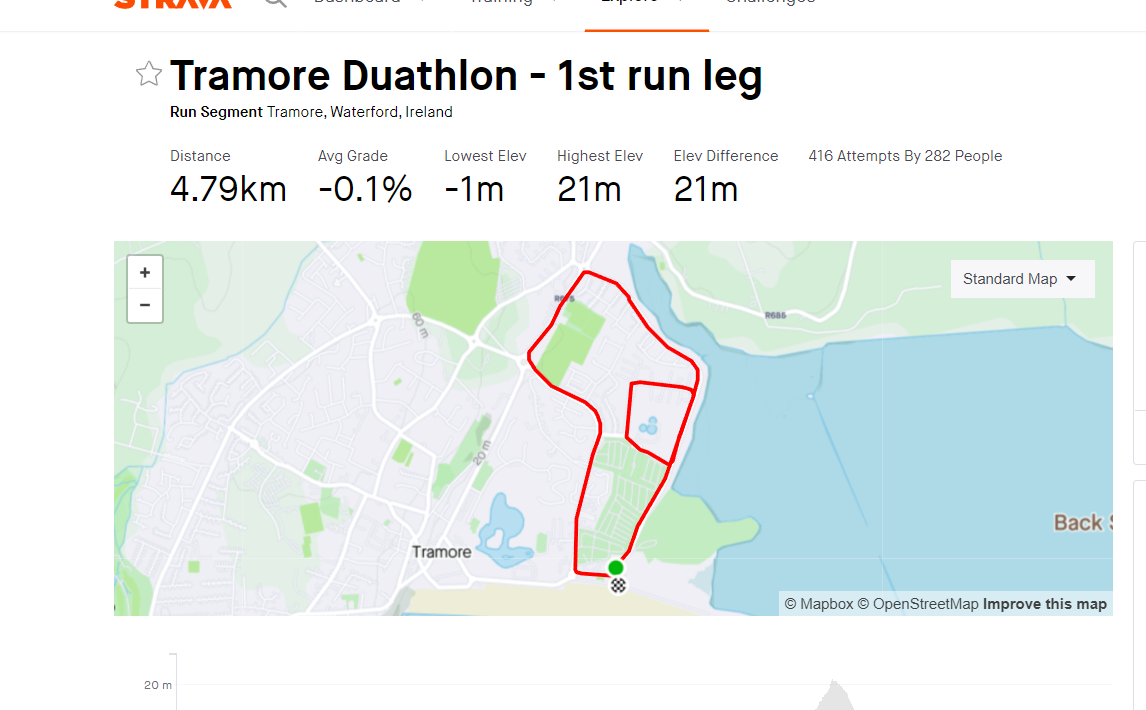 It may only be 200m but it does change the average pace per km results in a big way from 3:12 to 3:20 per km and this is I feel a lot more manageable for a lot of folks within the region.
We never know who is going to show up…..
What local will be in the running ?
lets look to Limerick Tri club first ?
Ronan Costello ? Colm Turner ? We could list off a lot of folks here …. but I think I need to go back and look at something, we never looked at the Naas Galco results from a few weeks ago, another new course location and a lot of new names ( to me at least banging on the door ) I have taken a look for a familiar name, Aubery Storey, a lot of folks will know Aubery, top class athlete racing many, many years on the Irish scene and a man of science from W.I.T
His 5km ? run in Nass Galco was 15:25 ( id retire if I ever hit those speeds again 🙂 ) and his run split from Tramore was 16:40 obviously without me searching for Strava segments both courses are a bit short, Average kph from Galco is 19.4kph versus an average of 18kph from Tramore. Now every course is different but both leave us wondering who was measuring these courses for 5km
Aubrey finished in a fine 10th place in the Galco race and a super 6th spot in Tramore. ( so we know Aubrey is the man to watch for the 40+ cat 🙂 )
When was the last time a duathlon was held in UL ? We will have to do a bit of digging here, The Old triclub would have made camp at St.Endas school most years, but with the fantastic facilities on offer in UL, they have used the rowing center as a base.
Well we know it wasnt 2015 results here ( when GoTri ruled the ladies )
We have had to go back to 2012 to find some times of the previous course used in UL. A lot of names I can see that are no longer banging out the miles or maybe just sticking to the "easier" one sport options 🙂
pics Here results here  ( I was kind of hoping I would find Aubrey had raced this one too for a simple comparison – but not to be )
Lets tie up the LOCALS with potential to Victor ?
Darren Dunne ? Is he back to his racing yet ? Im not too sure, He has put a lot of time in over seas, hanging out in one of Triathlon Irelands favorite training camp locations, Aguilas , Spain with Aichlin O Reily If either or show up, healthy and half rested they will be two big guns and both like hanging around UL after a few too many years of college etc etc
Con Doherty we know trains a lot in Ul along with his brother, who by all accounts seems to be more about the Instagram than training these days, who knows if either will show up, Young Aaron and his super fast bike splits would force the nippy runners to really show off on the first leg. I'm excited to see the youngest Doherty blow the cobwebs off in 2022 I think he is on the young side for racing this one however I could be wrong.
Who would win on a head to head of all 3 ? leaving a bit of luck out and a typical course we would have to say Con, Darren, Aichlin but if we say that to Aichlin he would try extra hard and might just take an upset victory 🙂
By the way none of these lads are local, but have been training here a long time. What about Ronan Costello ? he is an Uber biker who is building a solid solid run base. If the above lads don't show, then home crowd favorite status would naturally drift to this lad. I'm not really sure he is an early season candidate however as from previous pre covid times he always seems to go better as the season goes on ? he will argue that one with me , but what I do know is this lad over the 70.3 can give anyone a run for their money in the green isle. I haven't checked his strava but I do hope he is putting in the swim volume needed. According to insta however he is working on his GAA game
Colm Turner ….. like red whine this lad has gotten better with age but I don't know if Covid has maybe stolen some of his potentially best years. He likes to run us all down in the triathlons, a dogged determination stands him well and I highly doubt all his training is on Strava but if it is, well then im afraid then he will be good for a top 10 at best.
2019 was the last time the duathlon was held ( correct me if I'm wrong ) the results have quite a few names that will be missing but also throws up some potential winners if they travel, Stephen Donnelly will always take a favorites tag !!
Shane Scully or possibly a Ger Troy ?? who knows both maybe targeting the bike more these days
results here
Our own Rory Sexton, who could potentially be there and will be running well. We know from his recent win in the Gorgeous Gort 5K in a solid time of 16:38 where the bike legs will be ? will be found out on the course. Rory's always consistent and knows how to dig deep.
There a few young guns coming of age and who are training under various different coachs, almalgamations and cohorts that are now studying in UL …. Sabian K and a few of the Predator lads ? be prepared for new names !!!
This is not a national series event so will they travel ? is also high on my mind. A lot wont just for that reason and with that has me leaning towards lads and lassies that will be about the area anyways.
THE BIKE COURSE 
right we do have some data for this course, as it has been used before for a few of the Joey Hannon Memorial triathlons ! ! maybe will we see some of the favorite runners previous times and have a look then at comparing those with their run times from previous races
Images from previous years here 
The course is fast enough, small rise to the first round about, a few speed bumps and fast turn and then ok road surface  – A lot will depend on which way the wind blows.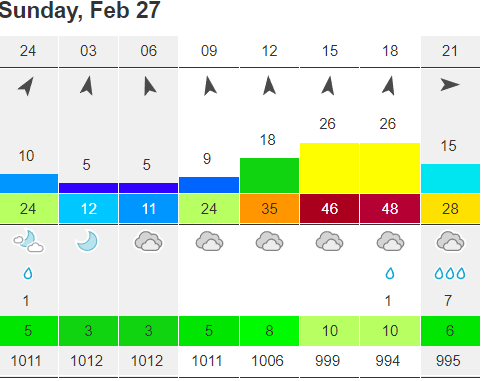 The bike splits from both Waterford and Naas look solid, with this course being 1km short we cant fully compare anything but speeds
We can see looking at Strava that the old apprentice and pocket rocket Barney McCullagh still has the segment crown from 2015 !!! This isnt the full course segment but does lead us to believe ( my memory has faded a bit with age ) that a nice tail wind does from time to time lead to some fast bike splits and obviously a tougher slog on the way back !! Now I could go look up the 2015 results and see the overall splits ….. however this article then would be very very long and I still haven't eaten my dinner !!!
Link to Bike course here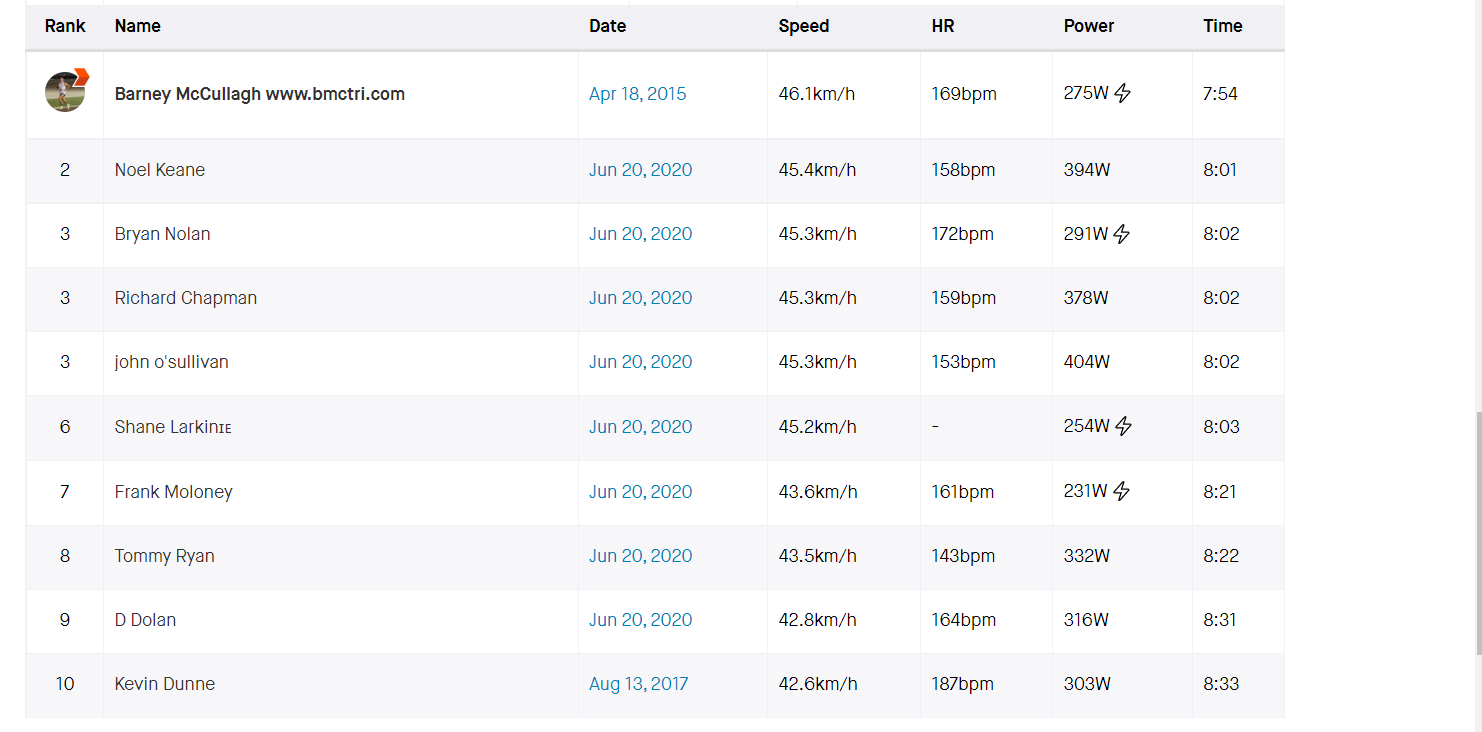 The average kph speeds from Naas and Galco
Naas I took the average at 33:30 for 20km which equates out at 35/36 kph  a bit slow I need to check that ( yup says 20km on the form )
Waterford 18km average times ( top 2 boys were heads and shoulders above the rest ) 23:30 gives an average kph of 45 !!!!!!!
As we can see from the above segments there are fast days in Limerick ! Its going to come down to who shows up and who is in Shape ? remember when races used to post race entry lists ? that was always helpful !!! It is a shame …..
The second run !
I've left out the transitions but this would be a big thing to analyze if racing to win, seconds count and I continuously see huge gains to made on them.
The second run in Limerick is a bit shorter than the first leg, it leaves me to think that whoever has the lead coming off the bike will hold on for the win !! That big V at the start of any season is one to saver and usually shows who put the work in over the winter and who will go on to maintain a solid summer of results. 4km and 13mins of hurt should see the winner across the line.
I've also neglected to mention any ladies in this post, sorry about that …. ill cover them below quickly and do a more in dept review after the event 🙂
Ciara Wilson ….. Shauna Doellken O Shea ….. Lisa Horgan….  These 3 ladies spring to mind, I would be saying Club Lassie Shannon Kelly but between working in the doctors robes and joining her new PTC coaching crew in Girona, she wont be there ( and by the looks of things on the social, the odd time im on, a lot of folks are learning the espanol these days !)
Possibly Rebecca Coughlan – another lady with a new team these days but always went well on Limerick duathlon road
The long and short of it ? who knows but I do hope you can see some interesting data and if you know who is racing, then you can do some research and some planning for some future events. You never know how any day will go but bring back the race entry lists so us armchair supports can get down to Paddy powers for some bets.
On a serious note : great times at both Naas and Tramore and Ill delve a bit deeper into things in the future 🙂
Quick tips :
know where your parking : know where your warming up : know where the toilets are : arrive early and bring snacks
yours in sports
STL

The break down – limerick Duathlon